You yell dragon, everyone stops to take a picture. You yell shark…you've got a panic on your hands the week of the Fourth of July. Since this week will mark the holiday that JAWS devoured and terrorized all those helpless islanders, we thought it only fitting to take a look at some of the tributes that remain throughout the new area at Universal Orlando. After all, JAWS was an original attraction in the park. Many park employees, including some that have gone on to do big things with Universal, were JAWS Skippers when they first started. As is the case with many attractions at Universal, JAWS was removed to make room for another timeless attraction-The Wizarding World of Harry Potter: Diagon Alley. The new area is set to open on July 8th. While JAWS may be gone, he certainly is not forgotten.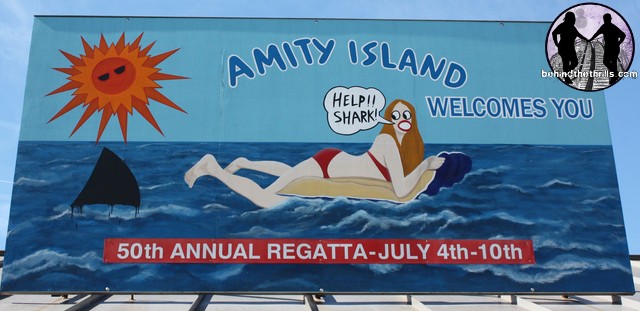 JAWS was a classic Universal attraction. The ride had it's ups and downs, but it was beloved by many. Sure, it was a little outdated (being based on a 1975 film) and the attraction seldom had all of the effects working at once, but when it was, it was an amazing attraction. It was also a costly attraction to maintain and operate. From fire effects, to huge hydraulic systems that were underwater, and even the fact it needed a live actor to operate the boat, JAWS was one costly attraction to maintain.
It came as no surprise that the ride had almost been on the chopping block several times as the park tried to weather through recessions, and downturns in the economy. For those who loved the ride, it was only a matter of time when the attraction would be taken down in favor of something new.
That fate was sealed when The Wizarding World of Harry Potter opened in 2010 to huge crowds. The park had no idea what kind of giant they had unleashed, but they learned quickly that Harry Potter was going to mean very big things for the entire resort.
Slideshow-Take one last look around Amity at Universal Studios Florida

Now, fast forward to just four years later, and not only is JAWS gone, but an all new area is about to open. The Wizarding World of Harry Potter takes the place of JAWS and Amity, but where there was one attraction, with just a few small shops…is now two major attractions, with several large shops that are attractions in and of themselves.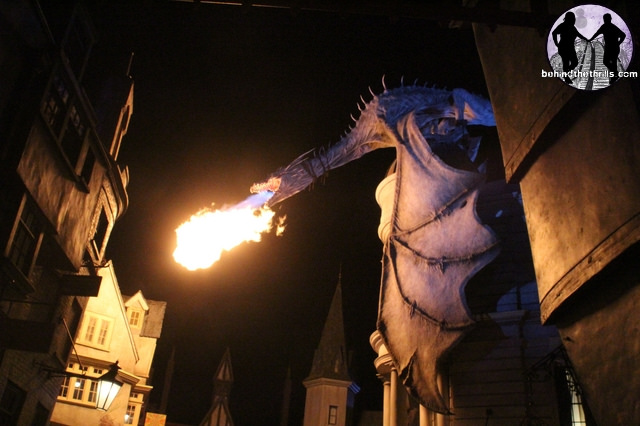 We were part of the huge media preview that happened a few weeks back, and we were just absolutely stunned at the level of detail and the fun that has gone into the new area and attractions. There's a dragon that breathes fire, goblins that talk to you, and ice cream that burns your tongue! But where does that leave poor old JAWS?
Well, he's not gone…not really. There are subtle little hints to the attraction all over the new area. Our friends over at Inside the Magic have a great interview with Mike Aiello about the many hidden items all over Diagon Alley.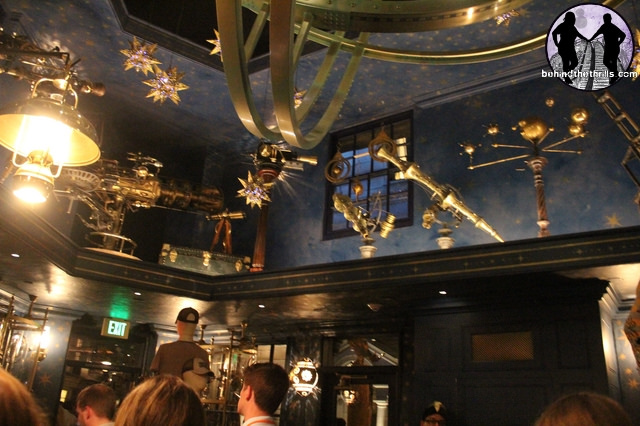 Here's a list of some of the items all over the area:
The telescopes inside Wiseacre's Wizarding Equipment are made from pieces of one of the old JAWS boats
There are literal JAWS inside the Apothecary next to Florian Fortesque's Ice Cream Parlor
In the record shop outside in London, there's a record called "Here's to Swimmin with Bowlegged Women" by the Quint Trio
There are several reports that a whole shark is located in the area somewhere. Some say buried beneath the fountain, others simply say "He will never leave the water". We have no idea ourselves
The absolute coolest, however, comes to us from Knockturn Alley as Shrunken Heads sing various songs including a little ditty heard in the film, sung by Quint, Hooper and Chief Brody.
Video-Show me the way to go home as sung by the Shrunken Heads


The heads do not sing in any kind of order, and they only sing one short refrain from the song, so you'll have to be very lucky to catch it. It's just one of the many cool little nods to the meanest shark of all time that are sprinkled all over Diagon Alley.
We've heard there are many more, so what was missed? What have you seen or heard throughout Diagon Alley about that big bad shark?
Let us know in the comments below!
SlideShow-Check out over a thousand pictures from this week's Diagon Alley Preview at Universal Orlando

Stay tuned for more from the Diagon Alley Preview, as we bring you every aspect of the all new Wizarding World of Harry Potter-Diagon Alley. For more from the Diagon Alley Preview, click here!
Get social with us on Facebook and be sure to follow along with us on Twitter @BehindThrills for the latest updates!
For more information about The Wizarding World of Harry Potter-Diagon Alley, including tickets, visit the official Universal Orlando website by clicking here!