Time, the ever flowing river. Time has not been kind to Six Flags New Orleans over the years. The park has remained abandoned ever since hurricane Katrina damaged large parts of it,  along with the city of New Orleans, in 2005. While the park sits empty and unused, a new time will take over the park. A time before man, when giants walked the earth.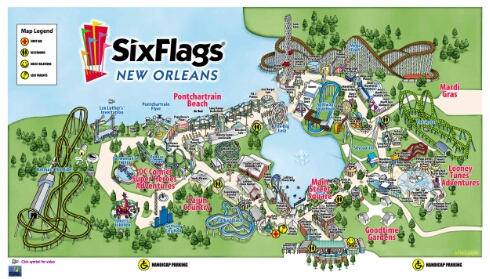 According to Slash Film, Six Flags New Orleans will be part of the all new film,  Jurassic World,  which is slated for a 2015 release. The film picks up about twenty years after the first Jurassic Park film, and sees the park on Isla Nublar thriving as a multi day resort. Of course the main attractions are the dinosaurs, but with the filming at Six Flags New Orleans,  it appears that maybe some amusement rides will be used.
The film has already started filming in Hawaii,  and will be moved to New Orleans under the name "Ebb Tide". The new film will hopefully be the first in an all new trilogy of films where dinosaurs and man mix, after millions of years of evolution. Classic dinosaurs like T-Rex and Velociraptors will definitely make an appearance, but new dinosaurs will also be featured, including some with very mixed up dna. While familiar dinosaurs will be featured, familiar characters will not. So far there are no confirmations of Dr. Grant, or Ian Malcolm being in the film. There's also no word on what kind of role Six Flags New Orleans will play in the film. It could be a run down part of the island, or it could very well end up being a part of the new theme park that the dinos rampage through. How cool would it be to see T-Rex picking passengers off of roller coasters or a Triceratops get into a bumping match with bumper cars?
The other mystery is what effect the film will have on the current Jurassic Park section of Universal's theme parks, in particular Islands of Adventure at Universal Orlando. The area has remained relatively unchanged since it's opened in 1999, though a King Kong attraction is rumored to open for 2015. There's also rumor of a huge Jurassic Park expansion at the park in the coming years as well.
Jurassic World hits theaters in Summer of 2015.
Stay tuned for more about Jurassic World, and Universal Orlando. Be sure to get social with us on Facebook and follow along with us on Twitter @BehindThrills for the latest updates!
For more information about Universal Orlando, including tickets, visit the official website by clicking here!