Universal Orlando is keeping the world on the edge of their seat with Diagon Alley. Unlike Hogsmeade, Universal Orlando has kept things fairly secret and they have only released little details here and there to keep everyone wanting more. Last week, Universal Orlando announced a tasty line-up of treats and sweets that guests will be able to eat or drink while they visit Diagon Alley. Today, Universal Orlando has announced something a little less sweet, but a whole lot of fun.
Universal Orlando will be bringing something fun and quite entertaining to the Wizarding World of Harry Potter – Diagon Alley! Yes, that's right – Inteactivity! As guests come upon the Knight Bus (pictured above), guests will be able to pose for a photo op, but they will also have the opportunity to chat with the shrunken head and the Knight Bus conductor prior to beginning their journey into Diagon Alley.
Similar to Hogsmeade, Universal Orlando will offer street entertainment that will be taking place within Diagon Alley. While guests can watch the students of Durmstrang Institute and Beauxbaton Academy perform, or listen to the Hogwarts Frog Choir in Hogsmeade, Diagon Alley will offer entertainment that will be unique from Hogsmeade. Universal Orlando will bring two brand new live shows to the streets of Diagon Alley.
The first show will bring The Tales of the Beetle Bard – "The Fountain of Fair Fortune" and "The Tale of the Three Brothers" from Harry Potter and the Deathly Hallows Part 1 film to life. The show will be performed by four people from the Wizarding Academy of Dramatic Arts and will include the use of scenic props, pieces, and puppetry all fabricated by Michael Curry, Emmy award-winning designer.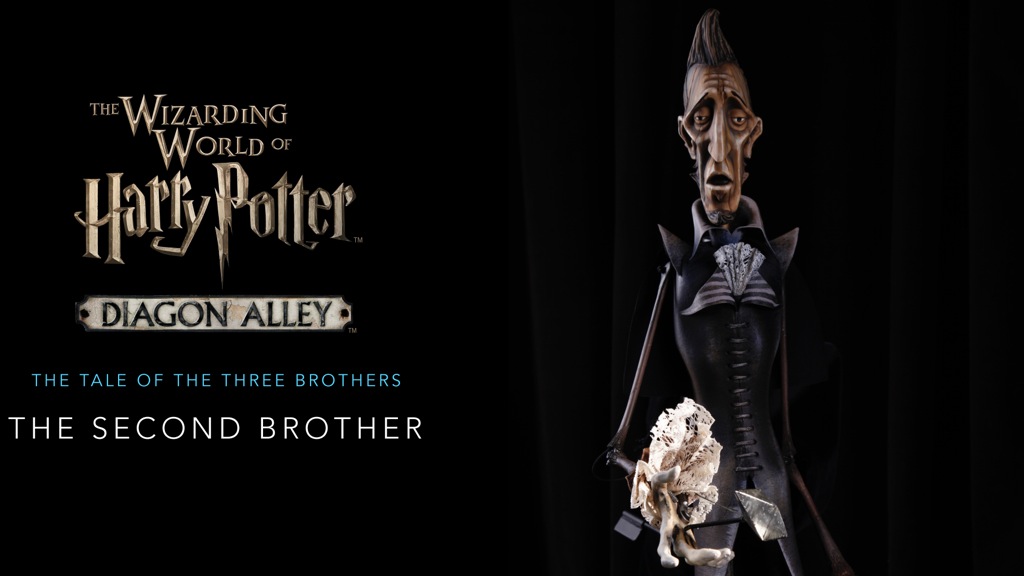 The second show will feature a musical performance, bringing some of J.K. Rowling's song title creations to life for the very first time. The Singing Sorceress: Celestina Warbeck and the Banshees will perform some of Molly Weasley's favorites including: "A Cauldron Full Of Hot, Strong Love," "You Stole My Cauldron But You Can't Have My Heart" and "You Charmed The Heart Right Out Of Me". The song lyrics also contain never-before-revealed information about Celestina's wand, which was written by Rowling for Pottermore. 
To make things even more fun for guests, Universal Orlando is offering guests the chance to visit Gringotts and exchange their Muggle currency for Wizarding Bank Notes, which can be used to purchase items within Diagon Alley and Hogsmeade (plus the rest of Universal Orlando Resort). Universal Orlando has even dedicated a Gobin to oversee Muggle transactions. This is very similar to Universal Bucks and Disney Dollars that have been in place for years. Now the biggest difference is that this is the first time that a Goblin has been involved in theme park currency.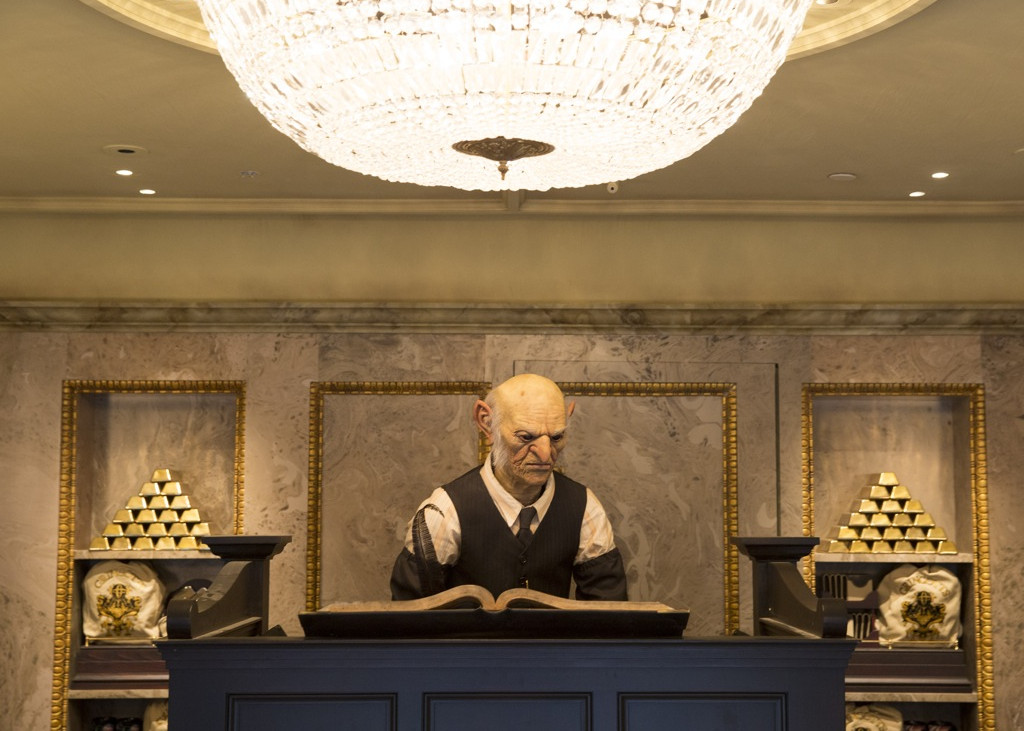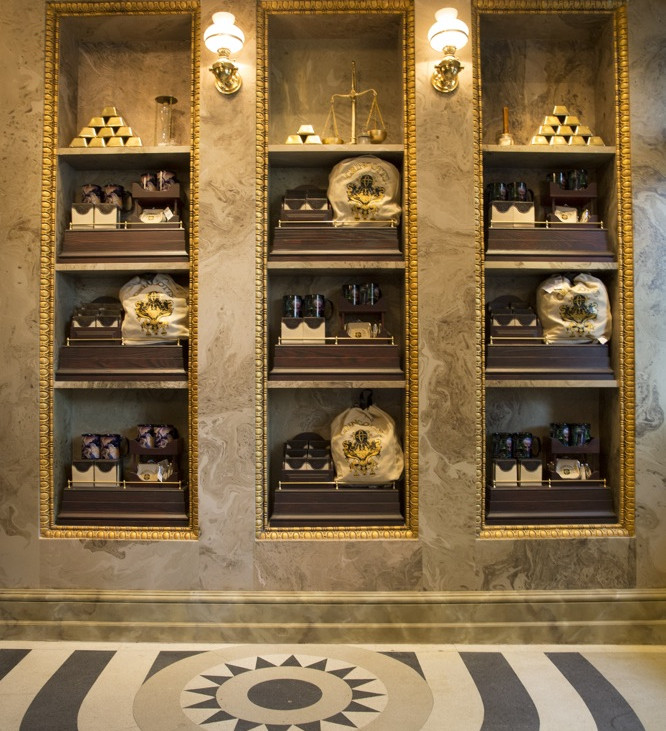 We first got a glimpse of the Wizard Gold a few weeks ago when a young trio raided the vaults of Gringotts and sent us our own big hunk of Goblin Gold. (click here!)
Video-Watch as we unbox our own piece of Goblin Gold from the Wizarding World of Harry Potter!

And last but not least, Universal Orlando has announced that Diagon Alley will include Ollivanders: Makers of Fine Wands since 382 BC. Guests will have the experience to step into Ollivanders and experience one of the most magical and awe-inspiring moments in the entire Harry Potter series when the wand choosing the Wizard. Guests will be able to experience Ollivanders in both Diagon Alley and Hogsmeade.
While Hogsmeade at Islands of Adventure simply blew the doors off the theme park industry with it's elaborate themeing and even food offerings, it appears that the state of the art ride, elaborate themeing and insane food offerings are going to once again redefine the theme park industry by setting it all on fire with a big scaly dragon!
If that's not enough, the entire "Muggle" area is just absolutely gorgeous to look at as well.
Video-Take a walk around Diagon Alley: AT NIGHT!

The Wizarding World is sure to bring enormous crowds to Universal Studios Florida, as well as Islands of Adventure. The resort is preparing by expanding their entertainment and dining district-CityWalk with eight new restaurants and eateries, and revamping two existing. So far CityWalk has opened Red Oven Pizza, Antojito's Authentic Mexican, Starbucks, ColdStone Creamery, Menchie's Frozen Yogurt and an all new Universal Studios Store. Vivo Italian Kitchen, and Hot Dog Hall of Fame will open later this month at CityWalk. The resort has also added it's fourth onsite hotel, Cabana Bay Beach Hotel.
Stay tuned as we bring you even more information about Diagon Alley and Universal Orlando!
For more information about Universal Orlando Resort, visit the official website by clicking here.
Get social with us!
Follow us on Twitter @BehindThrills and like us on Facebook @BehindThrills.
Need to get tickets? Click the banner below to get your tickets today!