Happy National Roller Coaster Day! August 16th is the day that the nation recognizes the international truth that enthusiasts tell them every day. Roller coasters are Awesome! In honor of National Roller Coaster Day, we asked you to vote for your favorite roller coaster in the nation! You voted from a list of 50 wooden roller coasters, and 50 steel roller coasters to name the Great American Coaster. It's been a battle of ups, downs, twists, turns, and a few 90 degree drops in there.
There are so many great roller coasters all over the world, and we wish we could have nominated them all. Since it is National Roller Coaster Day here in the United States, we decided to focus only on those coasters that call the good ole U.S. of A. home!
The coasters nominated in the poll were the top 50 in their category. We have 50 wood, and 50 steel coasters. We nominated the coasters by taking the top ranked coasters from other coaster organizations, other industry awards, and top searches for coasters on our site. Voters could choose up to three coasters a vote, once per day. We allowed theme parks and fans to promote the poll via social media outlets, and the resulting list is from that vote. The list was not chosen by BehindTheThrills.com staff, but by you, our readers!
Thank you to everyone who participated, promoted and voted!
So which coasters made our top ten? And which coaster will take home the coveted title of The Great American Coaster?
10.Expedition Everest-Disney's Animal Kingdom, Walt Disney World
Guests don't just ride a coaster, they embark on a journey to the tallest mountain in the world. Along the way you also encounter the mysterious, and supposedly mythical Yeti who disrupts your way. The ride is packed with enough punch to thrill those looking for adventure, but is tame enough for the smaller adventurers.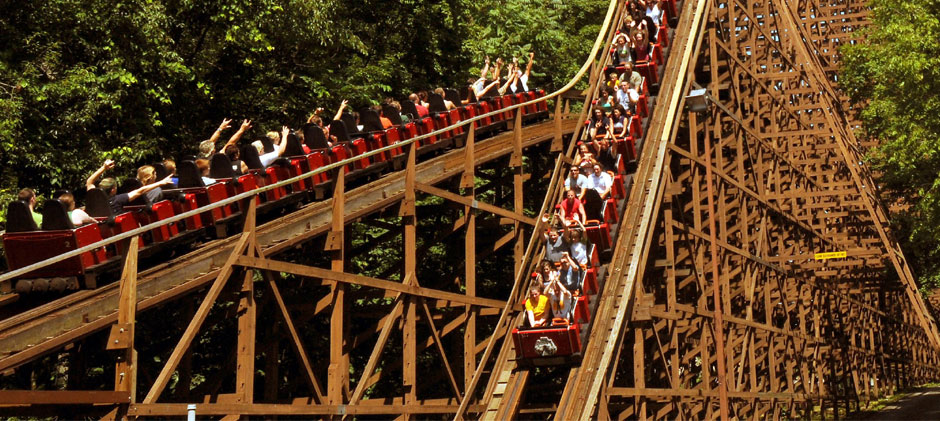 9.The Beast-Kings Island
The longest wooden roller coaster in the world opened in 1979 at Kings Island. It is celebrating 35 years of thrills through the hills of Ohio. It is a historic icon, and one of the most important wooden coasters to be built in the world. It takes guests through the woods on the back of Beast of unknown origin. The Beast can't be chained, and he can't be tamed!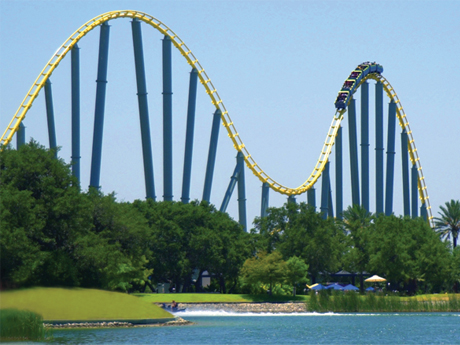 8.Steel Eel-SeaWorld San Antonio
It's the biggest monster at SeaWorld San Antonio, with over 3,700 feet of track and amazing hills that give you so many moments where you are lifting out of your seat, that you wonder why you even have them! Steel Eel is one of those coasters that you just have to ride every time you pull into San Antonio.
7.White Lightning-Fun Spot America
White Lightning is Orlando's only wooden coaster. It's also Orlando's most fun coasters, with tons of air time and very unique elements. The smoothness of the ride makes you forget everything you thought you knew about wooden coasters, while the speed takes your breath away. With it's double up, and double down hill it's a gem that every coaster lover needs to discover.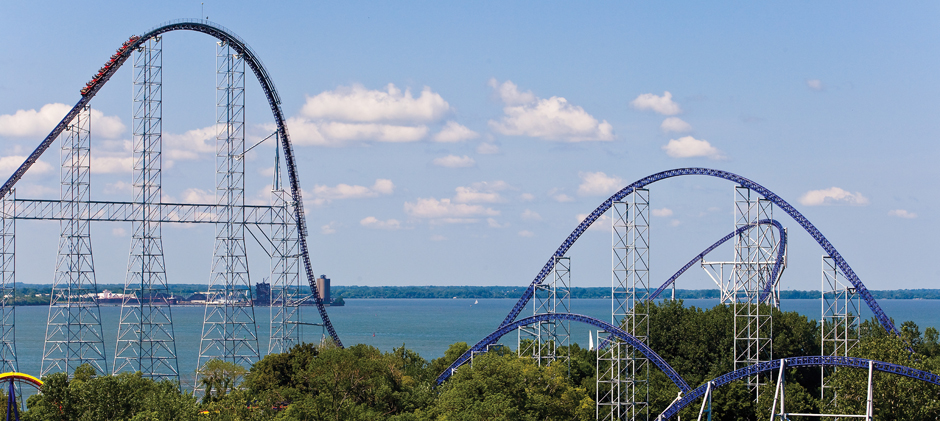 6.Millennium Force-Cedar Point
Cedar Point is one of America's favorite coaster parks. If you want to get an education on roller coasters, there is no better place to begin, learn and end than Cedar Point. Millennium Force is the jewel of the point, standing at 310 feet and taking riders on a ride over a mile long at 93 mph. No wonder it has been the Golden Ticket award winner for best roller coaster for longer than most people can remember!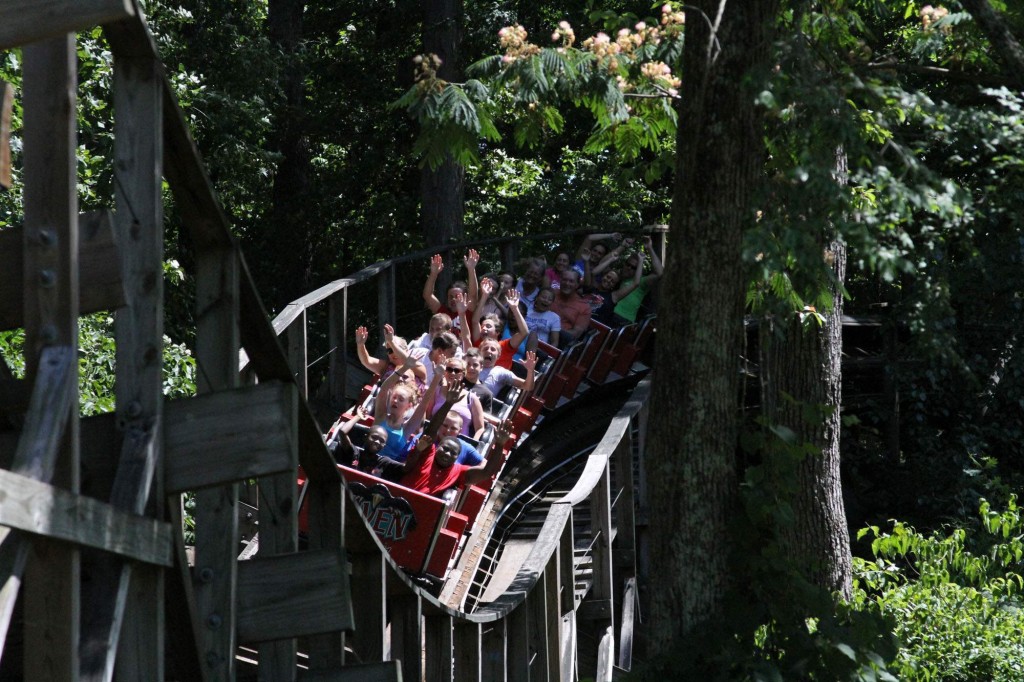 5.The Raven-Holiday World
The Raven is a traditional coaster in every sense of the word. It takes guests at Holiday World on a fun filled ride over the river, and  through the woods…quite literally! Instead of grandmothers' house, you are taken through tunnels and great drops for a ride fit for the whole family.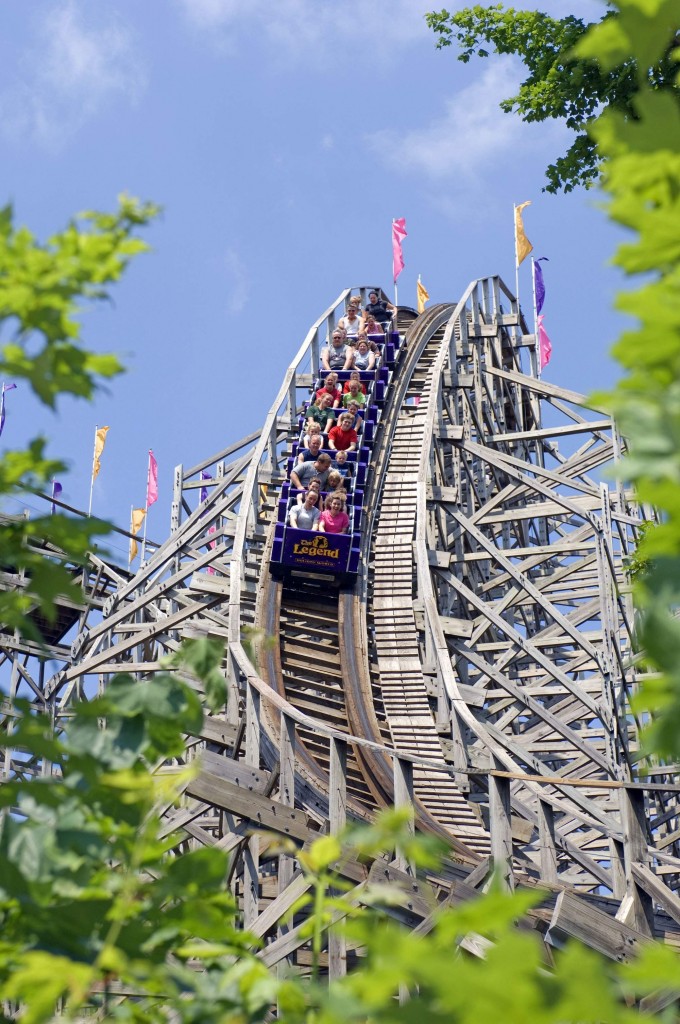 4.The Legend-Holiday World
The drop on Holiday World's middle coaster is taller than the actual lift! That makes for a very fast, very fun ride on this family wooden coaster. The coaster takes it's name from "The Legend of Sleepy Hollow" which is appropriate, since the coaster takes you screaming through the woods as if you're being chased by the Headless Horseman himself.
3.Powderkeg-Silver Dollar City
Powderkeg is located in Branson Missouri's Silver Dollar City, which is rich with history, and stories. The story of this coaster includes bat poop! Seriously! Powderkeg blasts riders off at 53 mph, and sends it rocketing over the rails as if you have just been blasted out of a mine. It then takes riders up a lift hill for that authentic coaster feel. It's fast, it's fun and it's a blast!
2.The Voyage-Holiday World
The Voyage is consistently rated as the top wooden coaster in the world by many theme park and roller coaster experts. It has over a mile of track, 1.2 to be exact, and gives you a feeling of weightlessness for a total of 24.3 seconds. This coaster has eight underground moments, where it takes you through five underground tunnels. Yes, instead of building a tunnel like a traditional coaster, Holiday World sends you underground. The coaster also has 90 degree banking , which turns you completely on your side without going upside down! It's earned our number two spot, and is a thrill machine.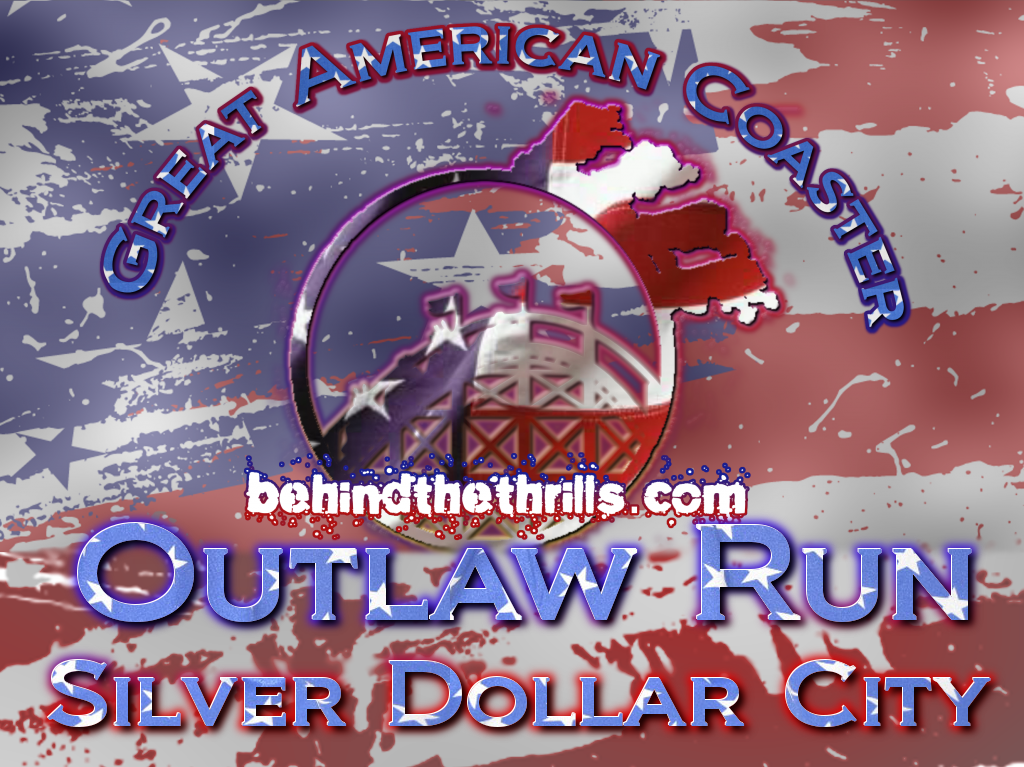 1.Outlaw Run-Silver Dollar City
Is it wood? Is it steel? It doesn't matter, because this wood-steel hybrid coaster does something that no other wooden coaster has done before it. It takes guests upside down three times with amazing barrel rolls, twisting you in directions that you didn't know you could go! It also has one steep drop, taking you down the first 162 foot drop at 81 degrees (almost vertical!) and reaching speeds of 68 mph. It has broken records, and has made it's way into the hearts of many thrill seekers all over the country!
Outlaw Run spurred the current coaster revolution that is taking wooden coasters and turning them into twisting and turning giants. For that reason, it was voted as our Great American Roller Coaster for 2014, taking over a whopping 39% of the votes! It takes the fun of a wooden coaster and mixes it with the high speed and spine tingling tricks of a steel coaster.
Video:Go for a ride on Outlaw Run-the Great American Coaster

For more information about Outlaw Run, visit the official Silver Dollar City website by clicking here! Congratulations to the Silver Dollar City Team!
Thanks to everyone who voted and shared in the fun! Be on the lookout in just a few short months for your chance to crown even more of the best, as we kick off our fifth annual Thrill Weekly Polls!
We hope everyone has a happy National Coaster Day! If you can't ride a coaster today, then at least ride one in spirit, and let out a huge scream! Riding coasters is one of the most thrilling experiences you can have while being completely and totally safe!
Happy riding everyone!
Be sure to get social with us on Facebook, and follow along with us on Twitter @BehindThrills for the latest updates!