The children of the night…what music they make. Or so you think. Universal's Halloween Horror Nights is looking to change the way you look at the original bloodsucker by bringing the all new film, Dracula Untold to life. The all new maze is based on the upcoming film-Dracula Untold and will show audiences and guests the story on why Dracula was turned to darkness.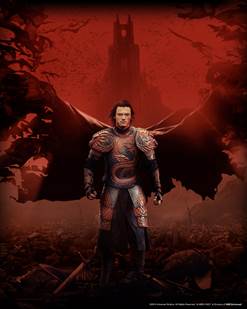 Dracula Untold:Reign of Blood will be based on the upcoming film by Universal and Legendary Pictures. The film stars Luke Evans as the legendary Vlad the Impaler. The film opens on October 17th, but the new maze will hit both Halloween Horror Nights Orlando and Hollywood on September 19th.
"'Everyone thinks they know the story of 'Dracula'," said John Murdy, Creative Director at Universal Studios Hollywood and Executive Producer of "Halloween Horror Nights." "But there is much more to the tale than just a dark figure lurking in the shadows, drinking blood.  WhileDracula Untold will reveal the origin story of the man who became Dracula, our 'Halloween Horror Nights' maze will invite guests to experience the atrocities Dracula imposed on his victims in the most frightening and immersive way possible."
"As a huge fan of the Universal Classic Monsters, my interest is certainly piqued any time a film explores other facets of the classic characters," said Michael Aiello, Director of Entertainment – Creative Development, Universal Orlando Resort. "Dracula Untold offers a unique perspective on the origin of the world's most famous vampire. Our maze will place guests within many of the pulse-pounding moments from the upcoming film, offering guests an unprecedented living preview of the horrors that await."
Video-Watch the story of Dracula unfold in the official trailer

Dracula Untold:Reign of Blood will take guests through the film and have them face Dracula like never before.

Universal has already announced a huge line up for both parks this year, including mazes and scare zones based on properties like The Walking Dead, From Dusk Till Dawn, SyFy's hit show-Face Off, The Purge, and Alien Vs. Predator.
Stay tuned for more from Halloween Horror Nights, and be sure to get social with us on Facebook, and follow along with us on Twitter @BehindThrills for the latest updates!
For more information about Halloween Horror Nights, including tickets, visit the official website by clicking here!