Chloe the clown has been a holiday tradition at Macy's for decades. She is the overseer of all the clowns of the parade, and a huge part. This year, she made an appearance unlike anything she's done before, and Universal loved the idea so much that they brought her all the way from New York to Orlando for the rest of the world to see. We recently got the chance to get up close and personal with Chloe and find out exactly what went into making her.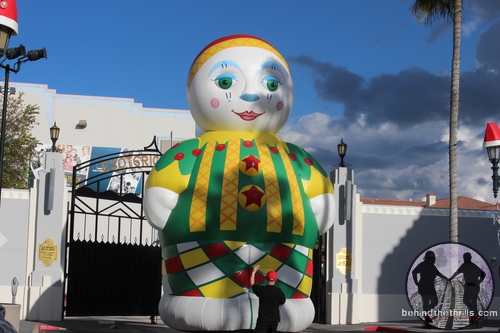 Chloe the Holiday Clown is a Macy's Tradition. She is normally a huge balloon that is  28.5-feet tall and 18-feet wide. She's a tad too big for Universal, and sometimes she gets carried away by the wind. So to make it a little easier this year, Chloe has been transformed into a "balloonicle". A balloonicle is a battery powered car with a helium balloon at the top. Air is then pumped into the vehicle to keep the rest of the body up. While she is smaller than her huge balloon counterpart, she's not much smaller, standing at 25 feet tall. She is bound to the ground, however, which makes her easier to maneuver through the streets of Universal Studios.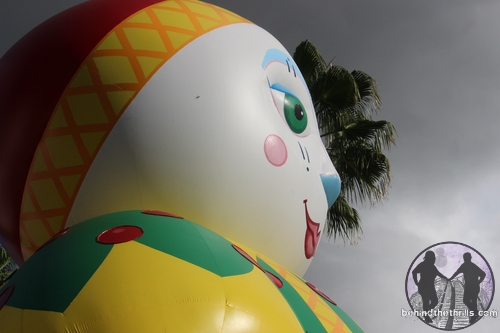 Clowns aren't usually that color? So why is Chloe the way she is? Chloe is actually a tradition that started way back when the parade first started. New York (and the United States in general) started with a ton of immigrants from all over the world. The Macy's Parade started out as a parade for the workers of Macy's, many of whom were immigrants from Europe. Chloe was designed to look like those old European clowns. Her face is the traditional whtie, with very few highlights. Her eyes are a bright green, surrounded by white and rosy red cheeks and lips. The rest of her outfit is very reminiscent of the European clowns, though the colors are a holiday scheme.
Video-Get more insight in and out of Chloe the Clown!


Chloe, as we said before, is a vehicle. People actually sit inside the balloon and drive it around. In New York she has plenty of room to roam back and forth through the streets on her own. In Orlando, while she does roam a bit, the drivers are more limited to just what they can do. They have a person in front guiding them along the way.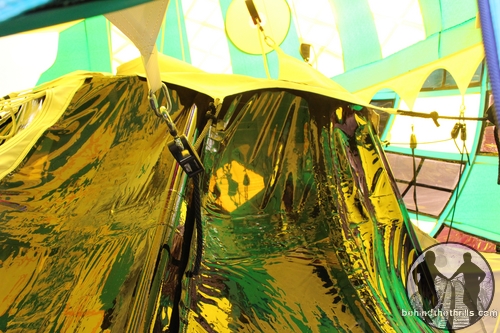 So what is it like to be inside the balloon? It's pretty much what you'd expect…very tight, and pretty warm. It's a great place to be on a cold day…unfortunately, Orlando doesn't get many of those. Still it's pretty cool to see inside.
Video-Go Inside Chloe the Clown at Universal Orlando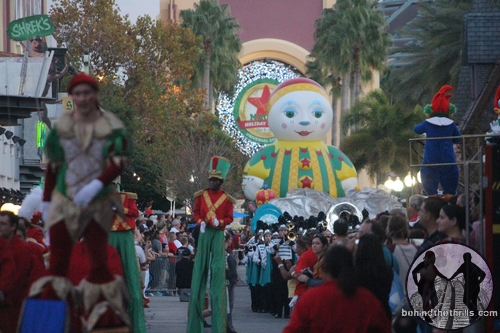 Chloe does appear in the parade daily at Universal Studios Florida, and is one of the coolest parts of the parade. She is brand new this year, and joins the other balloons, including the all new "Wiggle Worm".
Slideshow-Check out tons of pictures in our huge Universal Holiday collection!
Stay tuned for even more Universal Holidays, and be sure to get social with us on Facebook, and follow along with us on Twitter @BehindThrills for the latest updates!
For more information about Holidays at Universal, including tickets, visit the official website by clicking here!