Sapphire Falls is the fifth hotel to be opened onsite at Universal Orlando Resort.  Universal has released a ton of details about the new hotel, which will be opening in Summer of 2016. The hotel will also be open just over two years after their fourth hotel opened. That's a lot of construction for such a short time. The new hotel is going to be a 1,000 room resort, with tons of suites, restaurants and a pool that will take you to the Caribbean. Universal has released some more details,  as well a s the resorts opening date.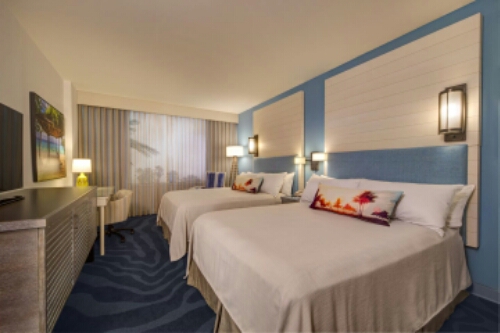 The all new Sapphire Falls Resort will be opening on July 14th and reservations are now available.  The resort will feature 1,000 guest rooms, 83 of those will be suites. It brings the total number of rooms up to 5,200 at Universal Orlando. There will be kids suites, as well as super luxurious rooms.
The huge pool will be the largest at Universal Orlando,  and will feature a massive waterslide, and fire pit. The new hotel and pool will be featured to the mountains of the Caribbean.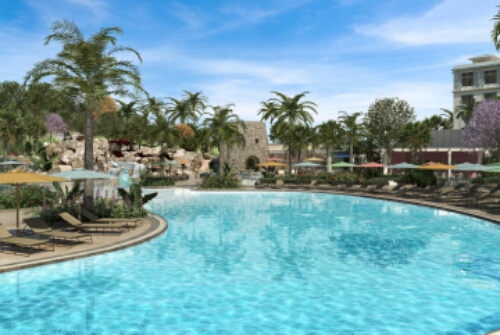 In addition,  the hotel will also boast at least four different restaurants and lounges, each with a different take and flair.
Here's the line up so far:
Strong Water Tavern – This lounge serves lunch and dinner and will be a great place for relaxing after a long day. Will feature daily rum tastings, and a more relaxed atmosphere.
Drhum Club Katine – Poolside restaurant, and lounges featuring tropical drinksm
Amatista Cookhouse – With an open exhibition kitchen, you can watch chefs prepare Caribbean fare right in front of you for breakfast, lunch or dinner.
New Dutch Trading Company– A Quick Service Marketplace.
The resort will also feature amenities at the Universal Parks. It will feature early entry, and shuttle buses. Like Cabana Bay Beach Resort, the new hotel will not feature free express.  It will also use the boat transportation system that the the original three onsite hotels, so there will be twice as many ways to get back amd forth to the parks. It also looks like guests will be able to take the same walking path as they do at Royal Pacific Resort.
As for pricing, value season rates start from $119 per night for a seven-night stay or $143 per night for a four-night stay, and summer season rates starting at $176 per night for a seven-night stay or $206 per night for a four-night stay.
There will be more information released bad the opening  date gets closer.
Stay tuned for more from Universal Orlando, and be sure to get social with us on Facebook and follow along with us on Twitter @BehindThrills for the latest updates!
For more information,  and reservations, visit the official website by clicking here!