Universal Orlando's Celebration of Harry Potter brought you tons of the films and characters that you've known and loved for years. It also brought you the first look into a new chapter in the Wizarding World, one that is a bit "Fantastic". Fantastic Beasts and Where to Find Them is an all new film, written by JK Rowling herself, and will take fans on the journeys of Newt Scamander as he catalogs and discovers all new magical creatures. Not a whole lot is known about the film, but thanks to several huge panels at this year's Celebration of Harry Potter at Universal Orlando, we know a bit more!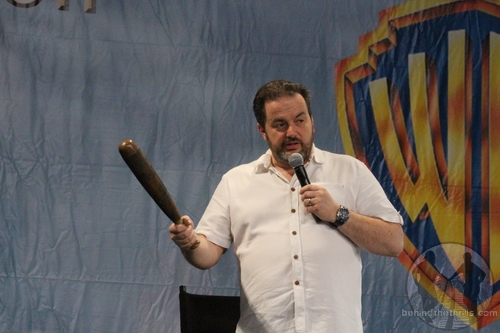 Our favorite bit of information comes from master prop maker on all the Harry Potter films, and now on the new Fantastic Beasts, Pierre Bohana. Wands are a huge part of the Wizarding World, and each one has a different magical power. We now know what Newt Scamanders wand will be made of.
Video-Newts Wand From Fantastic Beasts
Newts wand will be made of Lime Wood, bone, and shell. It's a small detail, but it's something that is really important if you're trying to figure out what kind of wizard Newt is.
Here's the entire conversation with Pierre Bohana:
In addition we also know a few more details about the film, thanks to some behind the scenes video from Warner Brothers.
The film will take place in 1920's New York
There are four major characters-Newt, two Wizard sisters, and a NoMag (Muggle) who gets mixed up
Newt's case is like Hermiones bag, it is bigger inside than out, and can carry tons of creatures inside of it
A few creatures get out of Newts bag, thanks to a mix up with a Muggle bag
We will see the American version of the Ministry of Magic
The new film hits this November, and is the first film in a planned trilogy, all written by JK Rowling.
While this year's Celebration of Harry Potter has ended, the event will most likely be back in 2017 with even more guests, and Harry Potter fun. PLUS, Harry Potter lives on year round at Universal Orlando as guests can experience Diagon Alley and Hogsmeade, and follow the path of Harry Potter in a working Wizarding World!
Slideshow-Check out even more pictures from a Celebration of Harry Potter!

Click here if you can't view the slideshow
Stay tuned for more from Universal Orlando, and be sure to get social with us on Facebook and follow along with us on Twitter @BehindThrills for the latest updates!
For our latest theme park videos please be sure to subscribe to us on YouTube!
For more information about Universal Orlando, including tickets, visit the official website by clicking here!