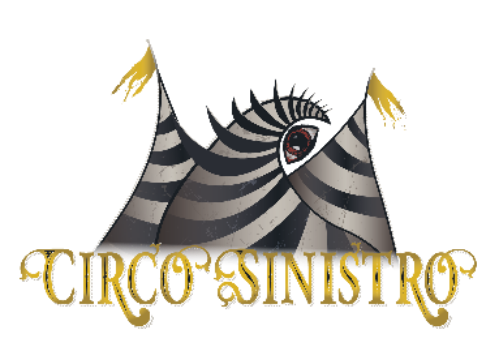 A twisted big top will rise in the distance, but first you have to get through the sideshow… and it's not going to be easy. Let's just say the residents of the new Terror-tory aren't…clowning around. This Howl O Scream at Busch Gardens Williamsburg, they are bringing the all new house, Circo Sinistro to town.
Circo Sinistro is one of seven haunted mazes happening at this year's Howl O Scream, and you get to not only see  the new insane new circus, but you also get to design it. Busch Gardens Williamsburg wants your ideas for a twisted room in the house. Guests can click here for the first of two steps…you actually get to pitch your idea!
Personally, I love the idea of getting bear wrestlers in the circus. It's not PC these days with all the animal activists, but that's kind of the point. Bear wrestling can go horribly wrong, people can lose a limb, or a head! Or how about the human cannonball? Huge explosions, bright flashes, actors flying through the air! Of course, every once in a while one might miss…and SPLAT! The ideas are limited only to what you can think of! So make em sick! Yes, clowns and chainsaws are scary…but there's so much more terror at the circus!
If that wasn't enough, there will be an all new TerrorTory, with Sideshow Square. Both will be located in Festa, Italia! 
Your jaw will drop on your way to the big top. What was once only in your imagination is now a frightening reality full of haunts, curiosities and plenty of scare to make you shriek. So step right up and brave Busch Gardens' newest terror-tory if you dare.
We hope for not only some great scares here, but this is also a chance for some real honest to goodness Freak Show performances! Sword and fire eaters, bearded ladies, lizard people, tons and tons of great fun is headed here!
There will be a total of seven haunted houses at Busch Gardens Williamsburg this year, with the other six major houses returning being some huge fan favorites.
Here's the line up:
Catacombs: Through a ruined cemetery filled with statues lies a tunnel that leads to an underground city. Its history is more terrifying than that of France's worst revolutions. Deep within these tunnels lie mile after mile of bones—the final resting place for those who are buried here. But all is not as quiet as it appears. As guests venture forth into the dank, dripping corridors of rat infested remains, the voices of the dead begin to speak, and some have taken shape.
Bitten: Suspicion, darkness and mind-numbing fear surround the "Bitten" house which is set in Eastern Europe in the late 1800s. Full of legends and lore of vampires and the undead that preyed on the innocent, this manor sits by the road upon which all travelers must pass but few return.
Dead Line: Deep underground, construction of the newest line of the Pompeii Metro was moving smoothly until an ancient pipe was accidentally struck. At first, it seemed like steam. Then the mist became thicker, more sinister. Now the strange gas is leaking quickly, and everyone trapped inside is infected. The difficult decision was made to cut off all communication to the outside world. The Dead Line is off the grid.
Cornered: It's 1977 and a picturesque farming community is in an uproar over the ongoing disappearances of its residents. Each time someone goes missing, an intricate corn husk doll is left behind leading many to suspect local corn-farmer Jasper McCobb. The McCobb farm has fallen into disrepair since the death of Jasper's mother. Could the missing townspeople be somewhere in the maze of maize? Join the search party and find out.
Lumberhack: Hikers beware: The woods hold a terrifying secret. More than 50 years ago a logging camp was abandoned after a horrific accident where saws ripped into human flesh instead of tree bark. Tragically, the loggers perished … only to inexplicably awaken from death sometime later filled with inhuman rage. The undead loggers rampaged until every living thing in the camp had felt the bite of their axes. Now the forgotten lumberjacks lie waiting for unsuspecting campers to stumble into their den of the damned.
Unearthed – Scarlett's Revenge: During maintenance at the park, an excavation crew uncovered a centuries-old house buried deep beneath the ground. Upon opening its door, a sinister force was unearthed—Scarlett—a furious demon who wields a deadly deck of magical cards she uses to summon her evil minions. Journey below to experience the splintered labyrinth of horrors and the revengeful wrath of this demon scorned.
There will also be amazing shows, tons of TerrorTories, and much more coming! All the fun kicks off for select nights on September 23rd until October 30th. Howl O Scream is included with park admission to Busch Gardens Williamsburg.

It's all part of the "Evil Encore" which will take over the entire park this September!
Stay tuned for more from Busch Gardens , and be sure to get social with us on Facebook and follow along with us on Twitter @BehindThrills for the latest updates!
For our latest theme park videos please be sure to subscribe to us on YouTube!
For more information about Busch Gardens Williamsburg, including tickets, visit the official website by clicking here!