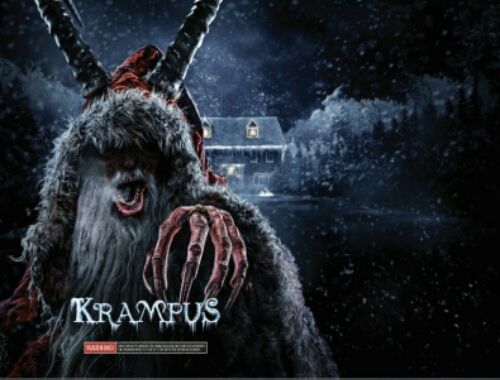 According to the Hollywood News, Universal Orlando and Universal Studios Hollywood is unleashing Krampus at Halloween Horror Nights. The maze will be based on the 2015 film that was a fresh take on both the horror and holiday genres. Krampus had a very family film gone wrong vibe, much like Gremlins.
https//www.youtube.com/watch?v=f4x38SoJ8y8
From a statement from Universal:
The dead of winter sets the stage for the terror that's about to unfold one cold, dank and dreary Christmas Eve as the fabled anthropomorphic "half-goat, half-demon" horned creature emerges to terrorize those devoid of holiday spirit. In scenes lifted from the film, guests will navigate the dysfunctional Engel family home to encounter the evil ancient spirit of Krampus – the dark shadow of Saint Nicholas – and his band of Dark Elves and sinister Gingerbread Men, who cause the family to fight to see the light of day.



Krampus is from Director Michael Dougherty, director of the amazing Trick r Treat. The film explores what happens when the Christmas spirit is dead. Instead of visits from St. Nicholas, you get a visit from Krampus. The movie was a hell of a lot of fun with gingerbread men, demon toys and…snow globes.
This isn't Universal's first offering into the world of Krampus, for two years Universal Studios Hollywood has held a scare zone called "Dark Christmas" themed to a world of demented Christmas toys and Krampus himself. The scare zone has been rated as one of the most popular in HHN history for 2 years in a row. Krampus is a naturally perfect fit.
If the maze is as half as fun as the film, guests are in for a massive treat. In Florida, The new maze joins The Exorcist, Texas Chainsaw Massacre, The Walking Dead, Halloween 2, and a house based around the icon, Chance. In Hollywood Krampus joins Freddy vs.Jason, Michael Myers in Halloween 2, Leatherface and Chop Top In Texas Chainsaw Massacre:Blood Brothers, and The Walking Dead Year round attraction! Theres still more to come as both Hollywood and Orlando have .ore tricks up their sleeves! The event kicks off on September 16th, and will be the biggest yet on both coasts.
Stay tuned for more from Halloween Horror Nights, and be sure to get social with us on Facebook and follow along with us on Twitter @BehindThrills for the latest updates!
For our latest theme park videos please be sure to subscribe to us on YouTube!
For more information about HHN, including tickets, visit the official website by clicking here!