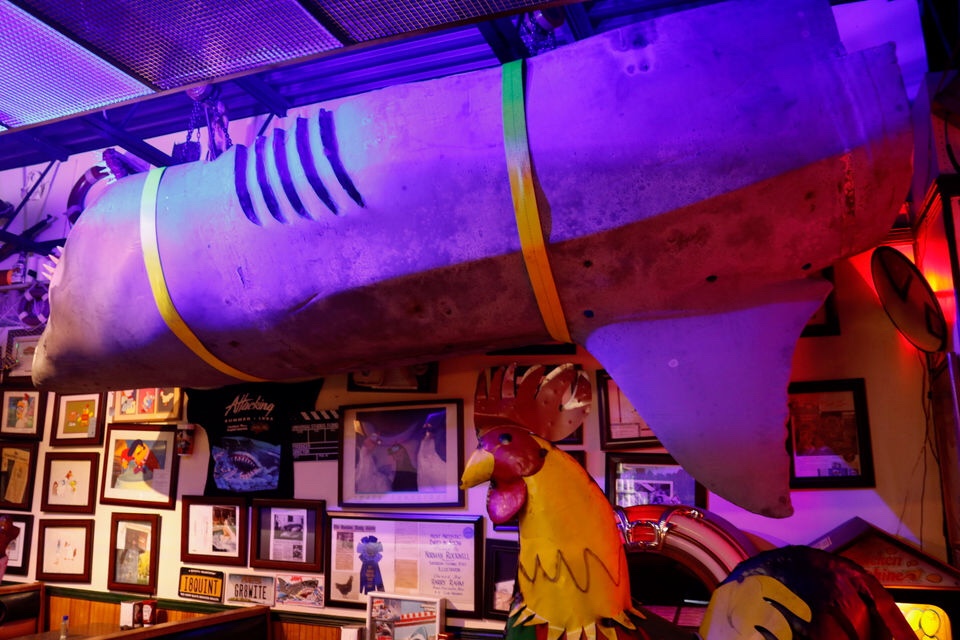 The Jaws Ride took guests at Universal Orlando on a scenic tour of Amity Island where that mean ole shark jaws DEVOURED helpless islanders. Things naturally took a turn for the worse as the waters around Amity Island seemed to be a magnet for Great White Shark Attacks, specifically the tour boats of Captain Jakes Amity Boat Tours. They always knew that of word about that little "fish episode" got out they'd be ruined. In 2012, word got out and indeed the entire land of Amity was shuttered and demolished.
The ride was closed and room was made for The Wizarding World of Harry Potter-Diagon Alley. And that was the last we heard about poor old Jaws on the East Coast.
Or was it?
According to SiLive.com one of the sharks from the ride still lives on, and it's in the most bizarre of places.
The shark now hangs from the ceiling of 494 Chicken in Staten Island, New York. It turns out the owners of the restaurant are massive Jaws fans.
"We're just really big 'Jaws' fans," owner John Ryan told the site. "Someone advertised that they had the original 'Jaws' model and I knew I had to see it to believe it."
He added, "It was a lot of work [getting it inside], but it actually inspired us to bring our collection to the restaurant. We're in the process of making our own little 'Jaws' area."
Lucky!
The Jaws ride still lives on at Universal Orlando in tributes sprinkled throughout the land, including the Shrunken Heads.
The ride still lives on at Universal Studios Hollywood as part of the Studio Tour, and a full version of the attraction still exists at Universal Studios Japan.
The Orlando version famously went through changes and problems since opening day, with the entire ride being scrapped before getting the final version we knew and love.
Jump to SiLive.com for more details, and some even cooler pictures.
And, if you happen to have any Jaws Ride memorabilia, how about letting us know?
Stay tuned for more from Universal, and be sure to get social with us on Facebook and follow along with us on Twitter @BehindThrills for the latest updates!
For our latest theme park videos please be sure to subscribe to us on YouTube!
For more information about Universal Orlando,including tickets, visit the official website by clicking here!