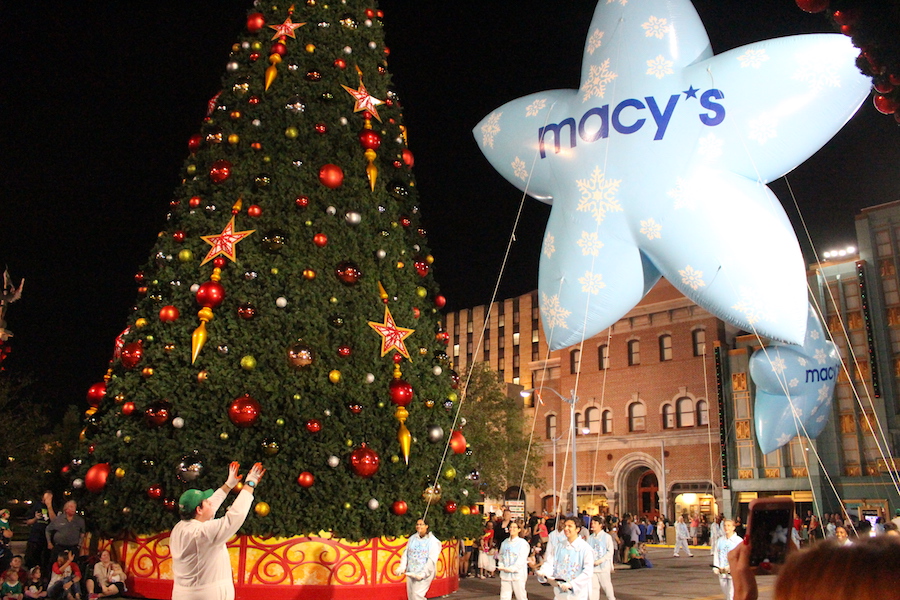 The Macy's Day Parade is a holiday tradition that goes back generations. It has dazzled watchers with massive floats, music and larger than life balloons. For over 15 years, guests at Universal Studios Florida have been seeing a smaller snippet of that parade traverse the streets of New York…only in Florida. As we wind down 2018, Universal wants you to start a new tradition, as they take all of your favorite ideas from the Macy's Holiday Parade, and wrap it up in a style all their own with the Universal Holiday Parade Featuring Macy's.
The parade made it's debut in 2017, and is back this year with amazing floats, great characters and of course the amazing balloons you know and love from Macy's. The parade kicks off daily at the park, and features characters from Madagascar, Shrek, Despicable Me, and some original Universal creations.
Video-Check out the FULL Universal Parade featuring Macy's!
The parade happens daily now until January 6th and kicks off every night in the Hollywood section of the park. Times vary, so check the park map for more.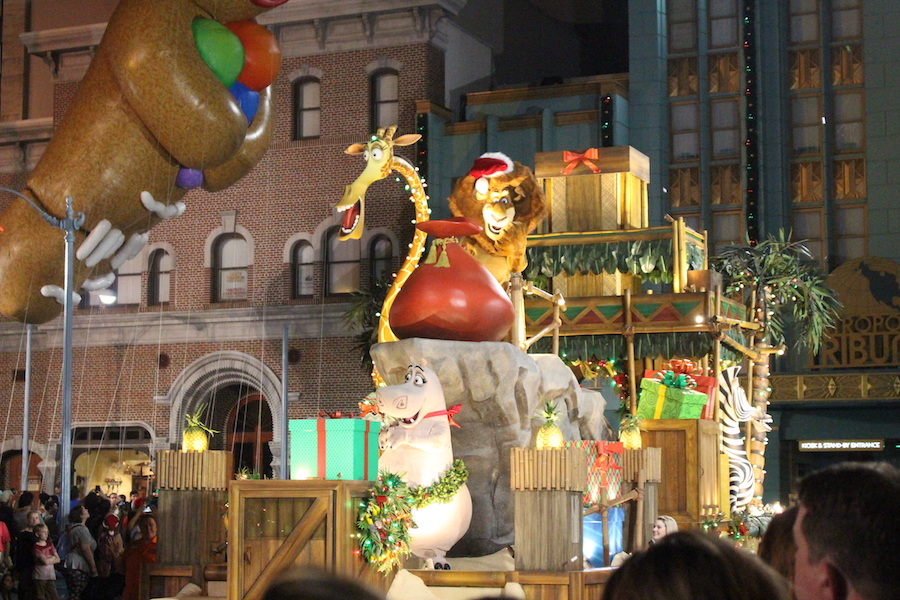 Everyone loves a parade, and there's nothing like a parade at Christmas to help you celebrate the season. Universal's Holiday Parade takes that idea and kicks it up to 1000 by offering a parade that is both contemporary and timeless. I know it's kind of hard to think of characters like "King Julien" and the gang from Madagascar as "timeless", but the characters have been around so long now, and have been so entrenched into our lives that yes…they are now part of the culture. They have their own Christmas shows that have become part of holiday traditions for many families.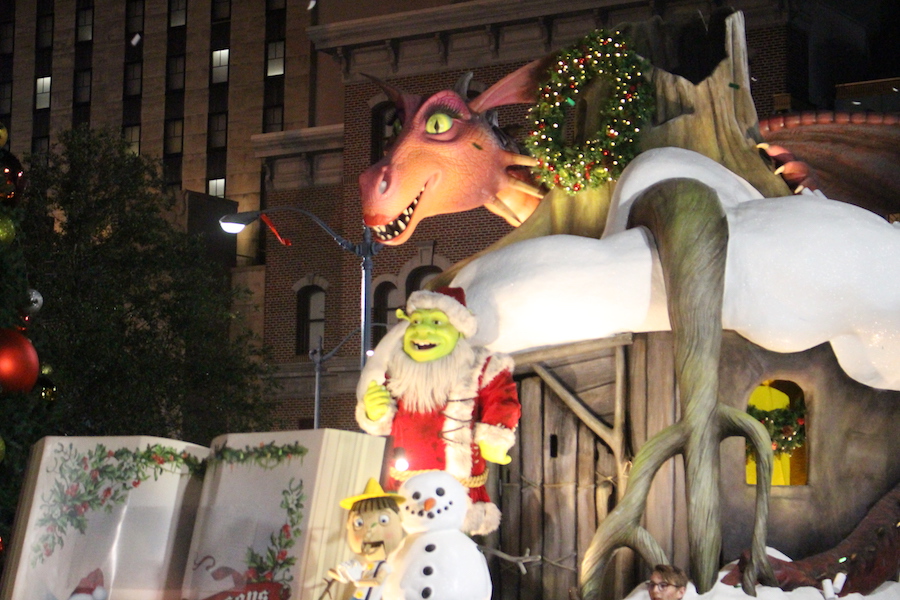 The floats are also larger than life in some cases. Dragon comes blowing down the street with Shrek and the gang, smoke billowing from time to time. It's a sight to behold. Of course it also wouldn't be a Macy's parade without balloons. They are here in full affect, with several balloons created by Macy's just for the Universal Parade. Like the Macy's Holiday parade in New York, each balloon is armed with several handlers that walk it down the streets of Universal.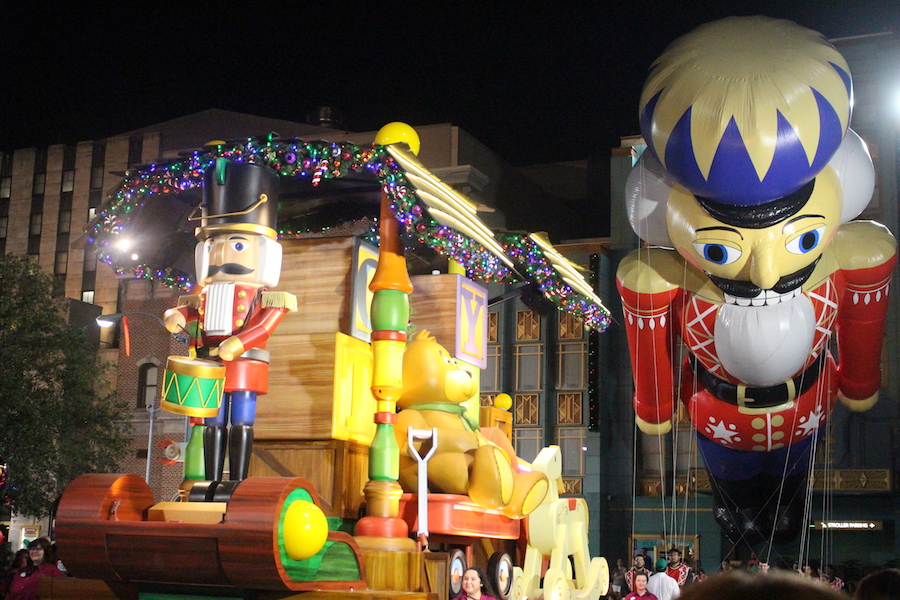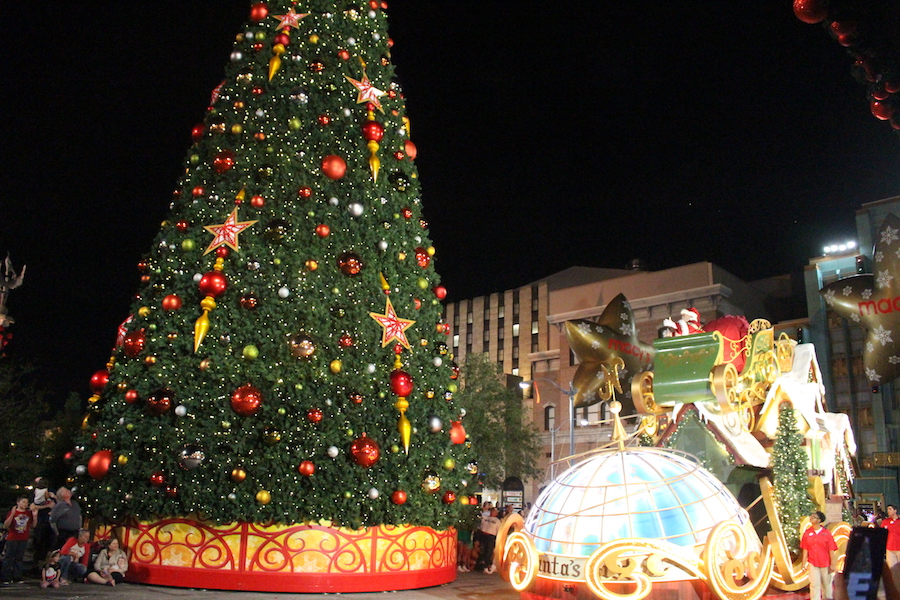 The parade isn't just full of references to movies. While the parade does make huge use of characters from popular films, they also bring out several call backs to everything we love about Christmas. There's nutcrackers, and toys all dancing and playing in the streets. And of course, the centerpiece of the parade and the big finale is Santa, making his way around the globe on a beautiful float. The best place to see Santa is right in front of Macy's, across from the massive Christmas tree. He'll stop in front of the tree, where it's lit nightly in a massive dazzling display of lights and color.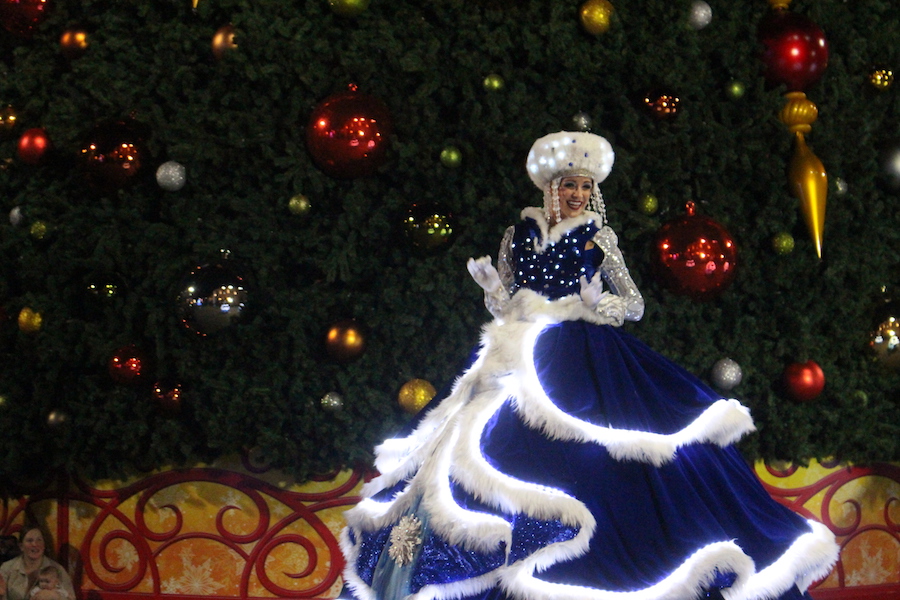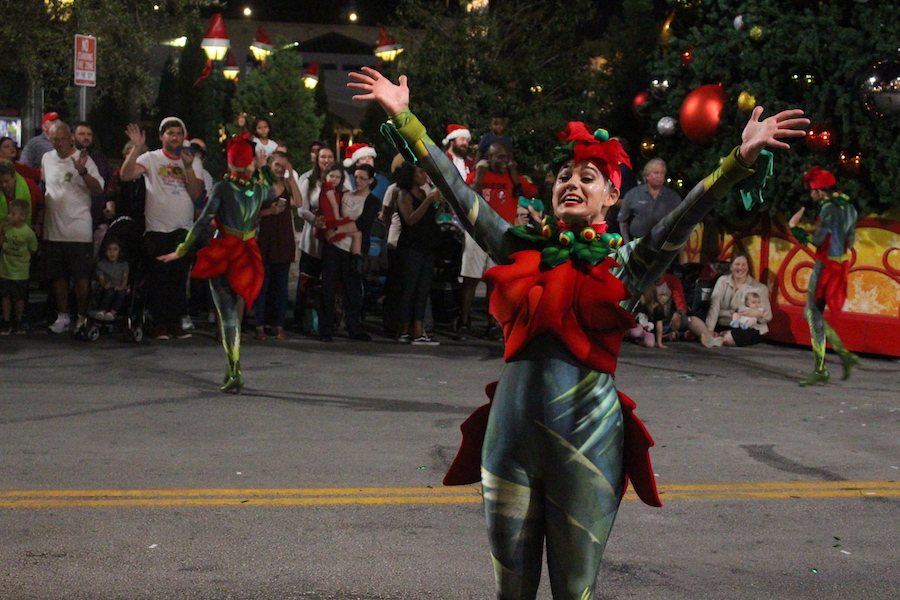 While the floats are amazing, the balloons are breathtaking, and Santa is awesome, the real highlight of the parade are the unique characters that Universal has created for the parade. Each character dances and interacts with the crowd and really brings the parade to life.
If there's any complaints about the parade, it's just this. While I love the characters and floats, they all seem to be grouped together too closely. You have a string of floats from movies, then you have a string of floats that are original. Instead of grouping it up, it may benefit to break things down a little. Mix the characters in with original floats. But that's just an opinion.
Want to see more? Of course you do. Check out our picture gallery below for hundreds of pictures from Holidays at Universal Orlando!
[flickrpics type='flickr' user_id='49755663@N02′ view='photosets' photoset_id='72157703776051354′ media='photos' tag_mode='any' sort='date-posted-desc' layout='no-strip' caption='title-desc' thumb_size='s' main_size='z' ]
The Holiday Parade Featuring Macy's is just one of the many Christmas offerings happening at Universal Orlando this holiday season. There's tons of holiday magic happening in the Wizarding World of Harry Potter as both parks light up and come alive with songs of the season. Both Celestina Warbeck and The Frog Choir dazzle with Christmas Carols. Hogwarts Castle also comes alive with the spirit of Christmas in a massive and dazzling show featuring projections and fireworks.
There's also Grinchmas, happening daily at Universal's Islands of Adventure, featuring a retelling of How the Grinch Stole Christmas. And on select nights, Christmas super group, Mannheim Steam Roller and Chip Davis perform on the Universal Music Plaza Stage.

Stay tuned for more from Universal, and be sure to get social with us on Facebook and follow along with us on Twitter @BehindThrills for the latest updates!
For our latest theme park videos please be sure to subscribe to us on YouTube!
For more information about Universal Orlando,including tickets, visit the official website by clicking here!