I'm a sucker for things that are cool, unique, and everything Disney. Magic Bands are a great concept as a whole. Your theme park ticket, FastPass+, and even your credit card (if you're staying on site) are tied to your wrist. No more digging through your pocket or bag to find your ticket. The idea is scan and go!
Corey Allen Designs is making a splash with Magic Puck Pals which are Magic Band accessories that allows you to rock your Magic Band in your own unique style. While Disney offers their own designs in the parks with a similar concept, Corey Allen Designs is constantly coming up with a variety of available designs, some of which even glow in the dark. Magic Puck Pals was launched with just a handful of designs available, but new designs are regularly being added. From Disney Parks to Star Wars, there are currently thirteen different designs to choose from including one that really got our attention.
We spoke to the owner of Corey Allen Designs and this is what Corey had to say about Magic Puck Pals:
I think for me, I've always had a knack for design and a desire to up the ante on anything I see. Like, I'll see something and immediately think: "there's gotta be a way to 'plus' and enhance that.". And I think Magic Puck Pals was my way of taking something that's already great and seeing an opportunity to give people another way to customize something that has already become so integral to the parks.

Corey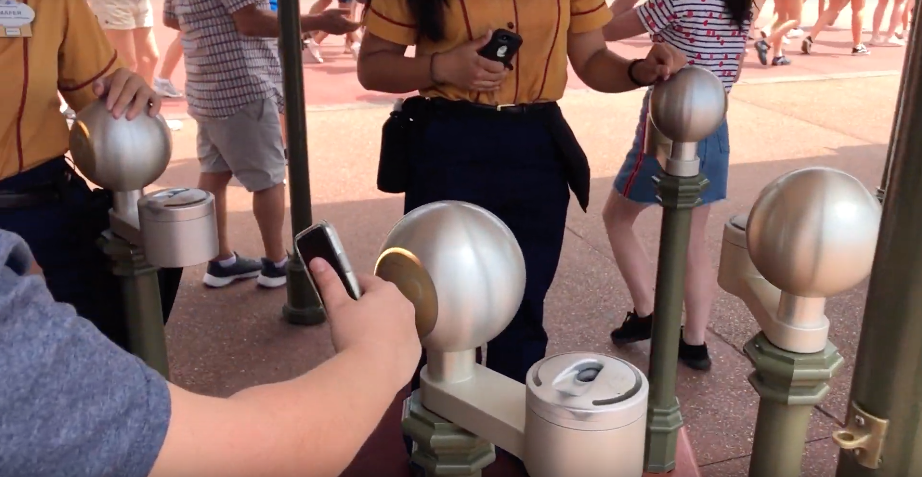 Corey Allen Designs recently released a Magic Puck Pal that fits onto your existing PopSocket. Just pop the existing plate off your PopSocket and replace it with a Magic Puck Pal PopSocket Cover and you're ready to hit the parks.
Video: Review of Magic Puck Pal PopSocket Cover
After spending a day in the parks with it, I found that this was a product I absolutely love. I'm notoriously forgetful when it comes to remembering to bring things like my Annual Pass and my Magic Band. Now that my Magic Band lives on the back of my phone, I will probably never forget it again.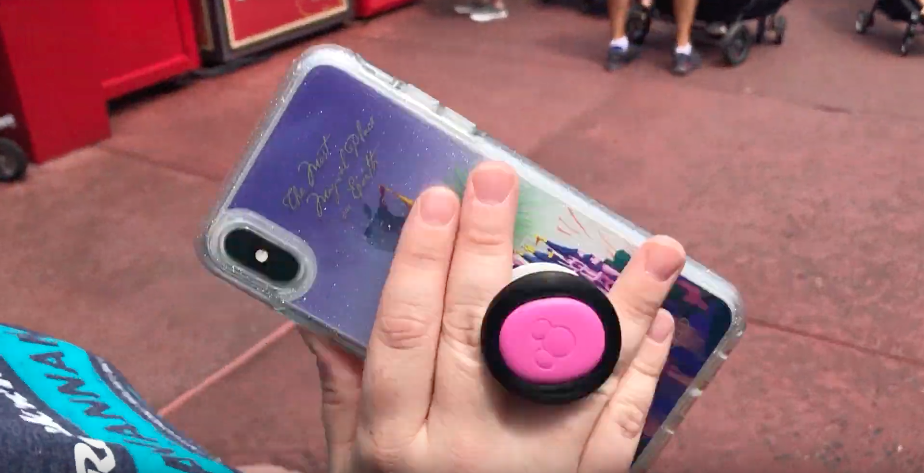 The interesting part about using this was that cast members had really never seen these before. Upon parking at Magic Kingdom, the cast member in the parking booth gave us a strange look before realizing the Magic Band was on the back of my phone. After taking some photos with Pooh and Tigger, the Photopass cast member said it was unexpected to see a Magic Band on the back of a phone and a really cool concept.
It was super convenient, too. I normally walk around with my phone in my hand anyway since I am always taking pictures when I am in the parks. I did try several times to scan my Apple Watch since I am used to wearing my Magic Band on my wrist, but I think it will be something I can quickly adjust to.
The only downfall is minute in my eyes, but after using the PopSocket Cover in the park for a full day at Magic Kingdom, I noticed sometimes after scanning, my phone would pop up with "Double Click for Apple Pay". It did not pop up on my screen at all locations, but it did pop up more than once. This would not deter me from continuing to use this product, but you should be aware that it could happen and don't be alarmed if it does.
The PopSocket Cover is available in two colors: black and white. It comes at a price of $10.99 plus shipping and includes a screwdriver so you can remove the puck from your magic band. The Magic Puck Pal PopSocket Cover can be purchased by clicking here.
Installation is simple and only takes a few minutes at most. It does not include a PopSocket, so if you already have one, you're set. If not, you will need to purchase one. It doesn't matter which one if you just plan to replace it and leave it on your phone at all times, so just pick up the cheapest you can find. Sometimes you can pick up PopSockets on clearance for around $6-$8 at Target.
Overall, Corey Allen Designs makes a solid product that makes carrying around your Magic Band in a convenient and stylish way. They're perfect for your next Disney trip.
Here's some photos of the Spaceship Earth Magic Puck Pal we purchased:
While we have purchased products from Corey Allen Design on our own accord (as pictured above), Corey Allen Designs did provide PopSocket Covers for the purposes of a product review. I genuinely enjoy their products and would recommend this product to anyone with a PopSocket!
Be sure to head over to Corey Allen Designs' shop on Etsy to check out their other designs that are available by clicking here.
Use promo code BTT10off to save 10% on your next order!
You can also follow Corey Allen Designs on Facebook and Instagram for the latest designs, updates, and even sales!
Stay tuned for more and be sure to get social with us on Facebook, Twitter, and Instagram @BehindThrills for the latest updates!
For our latest theme park videos please be sure to subscribe to us on YouTube!