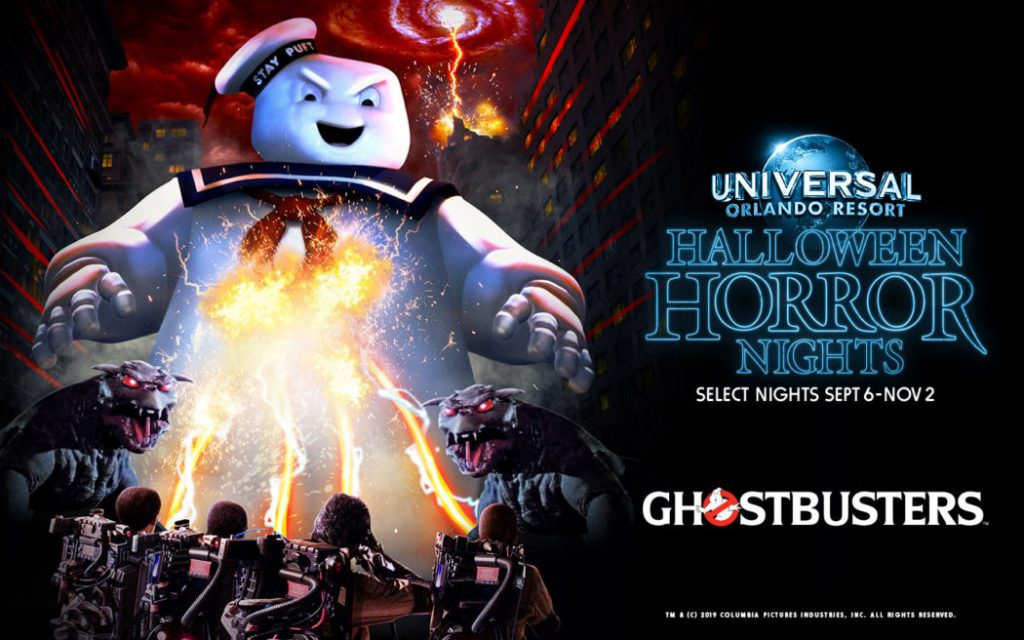 Listen…do you smell something? It's another announcement, and this time we got one! Universal has announced that the classic 1985 hit, Ghostbusters will be coming to Halloween Horror Nights at both Universal Studios Hollywood and Universal Studios Florida. I know what you're thinking…a comedy at Halloween Horror Nights? It's nuts, human sacrifice, dogs and cats living together…mass hysteria. But actually, it's kind of a genius idea.
The new house will take guests through all the favorite moments of the film, from the demon dogs, to seeing ghosts and yes, even a showdown with the big man himself…The Stay Puft Marshmallow Man.
The announcement comes as Ghostbusters celebrates their 35th anniversary, and as a new movie is being prepped for release next year! We already know that the movie is getting ready to film and will see the return of most of the original cast, including Dan Akroyd, Sigourney Weaver, Ernie Hutson, Annie Potts and yes…Bill Murray. And Universal does know how to do Ghostbusters. They had a really cool meet and greet in the park, as well as an amazing show where Jimmy Fallon now sits. That show also took you face to face with Stay Puft, and technology has come a really long way since then. It's going to be amazing to see what scares and thrills Universal has up their sleeves now.
Ghostbusters joins Stranger Things, Depths of Fear, Universal Monsters, YETI: Terorr of the Yukon and Nightingales Blood Pits at Universal Orlando which begins this year on September 6th and runs select nights through November 2nd.
In Hollywood, Ghostbusters joins Holidayz in Hell, Stranger Things and Frankenstein Meets the Wolfman. That event starts Friday, September 13th and runs on select nights through November 2nd.
Stay tuned for more from Halloween Horror Nights, and be sure to get social with us on Facebook, Twitter, and Instagram @BehindThrills for the latest updates!
For our latest theme park videos please be sure to subscribe to us on YouTube!
For more information about HHN, including tickets, visit the official website by clicking here!