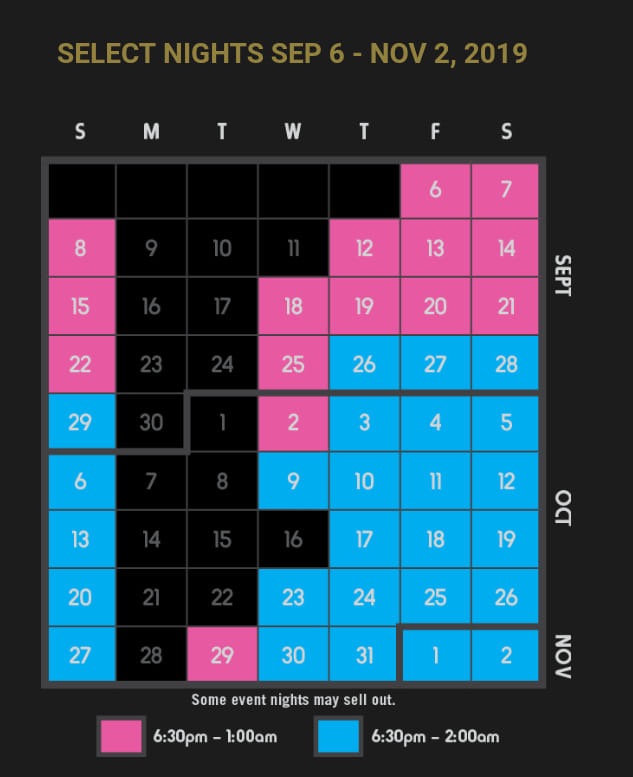 There are more nights at Halloween Horror Nights Orlando than ever before. And now, we have the hours! Most event nights will be from 6:30-1am which is an amazing amount of time, but as you get into the later event dates, you'll have the event going even later. The key to everything though, is to get to the park before it closes if you have a day ticket or annual pass. If not, camp out at the front gates starting around 5p.m. We'll have a full guide on how to get the most out of your night as the event gets closer.
Thanks to our friends over at Sunshine Frights (go like them!) we have our first Scare Zone construction update of the year. Of course this year we have yet another amazing show from Academy of Villains to look forward to called, Altered States. Definitely a mad monster, Jekyll and Hyde feel to it. But Fear Factor is officially closed for the season, and will likely reopen after HHN.
This year there are five scare zones, each will have their own unique feel and look as they tackle the theme and feel of the event.
Over in Central Park we have Vikings Undead. The scare zone will feature undead vikings trying to get into Valhalla. More importantly, there seems to be something going on in the trees of the scare zone. Traditionally, these trees are home to hundreds of pumpkins, and without the amazing lights of the pumpkins, it doesn't seem to pop as much. Thankfully we'll have something, and from the look of it, we definitely get a torch lit lantern feel.
Over in Hollywood we get Vanity Ball, which will see crazy plastic surgery nightmares come to life. Already we have a very elegant feel to the scare zone with marble like stages, slabs and very fancy looking banners. Definitely get a rich/high end vibe. We'll see how well it looks when there's bloody bodies and gore walking around. In the front of the park is Anarch-cade, which will likely be fleshed out over the next few weeks.
In New York, we have Zombieland: Double Tap. Of course you're going to expect craziness and zombies, but a cupcake truck? There's also port a potties, and what looks like a carnival booth. We're hoping for a mess of zombie fun in this scare zone, and looking forward to seeing what it has in store, especially since we really don't know what to expect as Double Tap doesn't hit theaters until October.
Finally, in San Francisco, we get Rob Zombie's Hellbilly Deluxe. The scare zone will feature the music of Rob Zombie, as well as imagery from his music videos. Judging from the current construction, well it certainly looks like you're going to see the same kind of zaniness from his videos. Should be a lot of fun.
While it's not exactly HHN related, Hello Kitty has donned a new outfit in the latest edition of merchandise. Last year she was Bride of Frankenstein, this year she's just flat out Dracula! Super Cute!
Special thanks to Sunshine Frights for the use of the pictures, be sure to follow them on Facebook.
We are just about two weeks away from Halloween Horror Nights, and we just cant' wait! What scare zone are you most excited for?
Stay tuned for more from Halloween Horror Nights, and be sure to get social with us on Facebook, Twitter, and Instagram @BehindThrills for the latest updates!
For our latest theme park videos please be sure to subscribe to us on YouTube!
For more information about HHN, including tickets, visit the official website by clicking here!