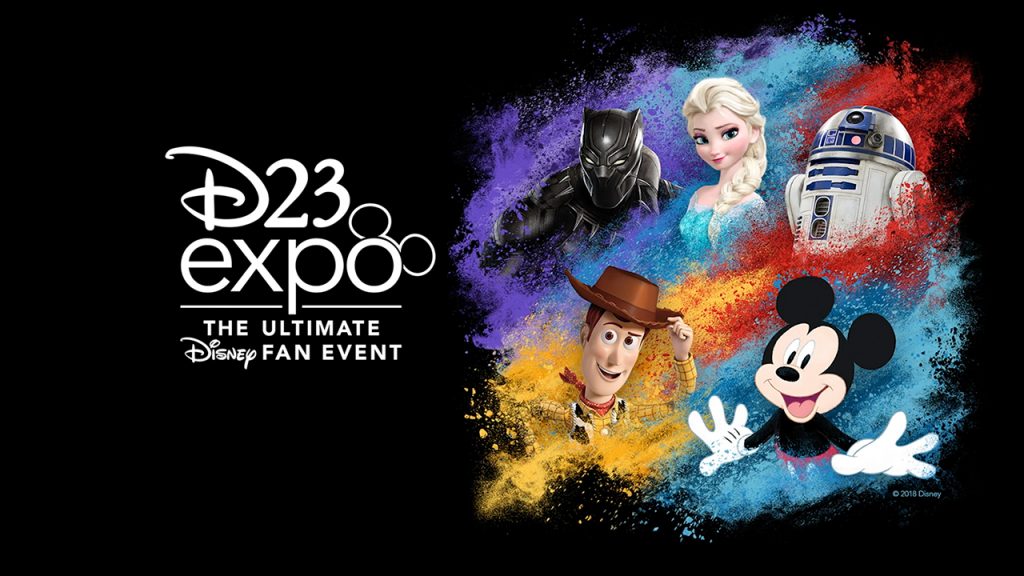 It's that time again! This weekend will mark the return of the huge D23 Expo in Anaheim. The event always brings out tons of news and information about everything Disney. Of course the panel that we're most anticipating is the huge Disney Parks Panel, which happens Sunday. The panel is always full of information about new experiences coming to parks all over the world, with the focus usually being on Walt Disney World in Florida and Disneyland Resort in California. It's always fun.
But what will be announced? We've compiled a list of 23 things that COULD be announced. These are all things that are either rumored to be happening, or things that have been announced but getting more details, or even things that we just want to see happen. Either way, we think the possibility is very strong of seeing some (if not all) of these items get announced.
Opening Dates-There are tons of things under construction right now at Disneyland, Disneyland Paris and Walt Disney World. We could see some opening dates for things like Tron, Mickey and Minnie's Runaway Railway, Marvel Land at Disneyland and even Guardians of the Galaxy. There's so much happening that we could get a year's worth of opening dates this weekend.
Tower of Terror Retheme– Nobody really WANTS it to happen. No one wants to see Tower of Terror at Walt Disney World taken from the Twilight Zone, but we all know it's an inevitability, right? Despite the fact that no one wants it, Disney pays CBS fees to use the rights to Twilight Zone, and the show has gotten a pretty good revamp. Disney does have the power to do great original stories, and let's hope we get something amazing that fits the reputation of the Hollywood Tower Hotel.

Rockin Rolle

r Coaster Retheme– We've talked about how it's going to get rethemed. We've accepted it. But what will it be? We have faith that we're going to find out this weekend.
Toon Town Upgrade at Disneyland– The long running Toontown has seen better days. The new Mickey and Minnie's Runaway Railway is coming, which will breathe life into the area best known for family brawls lately. We're predicting that there will be other upgrades to the area announced as well.
Runaway Railway Test Footage-Speaking of Runaway Railway. The ride was announced a few years back, and though we've seen some great concept art, and have heard how amazing it's going to be, we have yet to see anything. The ride is expected to open early next year at Hollywood Studios, so let's keep fingers crossed for a new update on what to expect.
Tomorrowland Refurbishment-Both Tomorrowland in Walt Disney World and Disneyland are in desperate need. There's lots of outdated architecture, lights and even attractions. We could get a slew of new announcements for the beloved future area in both parks, including a new damn attraction for Stitch!
New Countries in Epcot -We've heard for years that new countries are coming. But which ones? Will there be attractions, or just restaurants and shops? Brazil is one country that seems to be on the board, so what will it be like? When will it be built…and where? We can't wait to see if anything is mentioned.
Epcot Forever Details-Illuminations ends next month! The next day, we get a brand new show dedicated to the past experiences of Epcot. Here's hoping we get new artwork, first looks and maybe a sample of what they're calling an amazing soundtrack.
Illuminations Permanent Replacement Details-I don't think the permanent replacement of Illuminations has gotten an official name or even synopsis. We know that it will celebrate music all around the world, but that's it, right? We can get a lot more, and even see details about the new show.
Marvel in Disneyland Concept Art and Details-So we know that there's a new Spider-Man attraction coming to Disneyland. There's a new land as well. We have some ideas, but no official details, ride names or anything other than some brief concept art.
Disneyland Paris Marvel Concept Art and Details-We know there's a new land and that some of the Avengers will be there, but how will it all tie together with Rockin Roller Coaster and the rest of the land. Who will be officially there, what else will we see?
New Hotel at any park- Disney is great at building Disney vacation club hotels lately. There are three either being built or opening at Walt Disney World alone. Where's the next one going to be, and what level of elegance or fun will it take?
Fantasyland Expansion at Disneyland-Disneyland in California hasn't seen a major Fantasyland expansion like many of the other parks around the world. There's rumors of Frozen, Arendell, and even Be Our Guest.
New Land at Animal Kingdom-Whether it's Zootopia, Wakanda or something else, a new land has been rumored to be happening at Animal Kingdom ever since Pandora opened. There's also rumor that Dinoland USA will be removed for this new land, but what will replace it?
Indiana Jones Ride Somewhere at Walt Disney World-Another long standing rumor that has gotten some steam in the past few years, Indiana Jones Ride coming to Walt Disney World. The whip cracking archaeologist already has a stunt show, but that's it. When and where will a new ride go?
Disney Studios Paris Expansion Details-It's been said that it's coming, but what will it entail? We don't know! Hopefully that changes.
More Walt Disney World 50th Anniversary Details-50 new attractions resort wide, over the next few years. There's been a lot of stuff announced, and a lot of things happening, but have we gotten near 50 yet? And what will happen when we finally get there? What other kind of party can we expect?
Walt Disney World Monorail Refurb-It was talked about briefly at a fan event, but nothing has been announced since. Is it happening? It needs to, but will it? What will it entail? When will work start? So many questions!
New Coco Ride at Epcot-Coco was a huge hit for Pixar and Disney. The next obvious step is a ride…but will it take over the Mexico Pavilion like Frozen did Norway? Seems like a no brainer, but we want details!
SpaceShip Earth Rehab Announcement-Spaceship Earth is allegedly scheduled for a long rehab later this year or early next. What will happen when it finally goes? What will we get in it's place? There's a lot that we'd like to see happen, but Thank the Phoenicians, there's no talk of closing it!
Epcot Refurb Model Reveal-There's a lot of work happening at Epcot, as it is getting a massive refurbishment. But what will that look like? We've seen models for just about every other new land, this is a rehab of a park we're talking, could we see a cool model reveal?
Cirque Du Soleil La Nouba Replacement Details-It's been a few years since we've heard ANYTHING about the now closed show at Disney Springs. When can we expect to see it reopen? What will the show look like? We know it's going to pay tribute to Disney animation, but how?
Hatbox Ghost and Other Upgrades Come to Haunted Mansion -It's been a point of jealousy for WDW passholders and fans for years. When will Haunted Mansion get some of the cool effects and upgrades that other parks have gotten? Hatbox Ghost has been long rumored, but then again so has Haunted Mansion Holiday with Nightmare Before Christmas. Could we FINALLY see something happening?
So what do you think will be happening? What else would you like to see announced? Yes, there's tons of stuff that won't happen, but we hope that at least some of the items on the list get a mention or details.
Want to see even more D23? Head over to the official D23 Website to see more information. Tickets to the expo are completely SOLD OUT.
Stay tuned for more from Disney, and be sure to get social with us on Facebook and follow along with us on Twitter @BehindThrills for the latest updates!
For our latest theme park videos please be sure to subscribe to us on YouTube!