A look behind the scenes at Liseberg's new "Oceana" indoor/outdoor waterpark! The new park covers an area of 14,000 square meters, offering 14 rides and 4 massive waterslides. Take a hard hat tour inside the construction site of this impressive new park opening in 2024.
---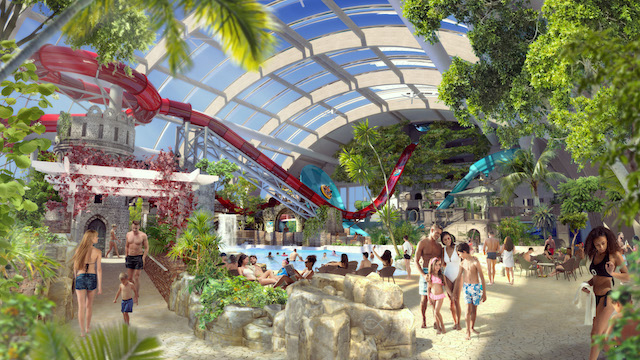 ---
Liseberg has owned the land that houses its 100-year anniversary project for approximately 30 years. In 2013, 33 different options were brought to the table of what to do with the large plot of land, and in 2015, the project, which would cost approximately $250 million USD, was decided. A hotel-waterpark combination would occupy the space, something that was unique for the park and the Gothenburg region. The hotel opened this year for the 100-year celebration of Liseberg.
"Historically, this part of Gothenburg was factories, so we're using that as a memorial when we're building this so it will fit well in the area," points out Pontus, our guide for the tour.
---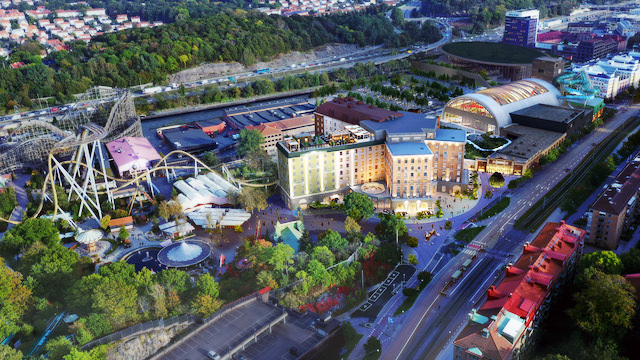 ---
Hotel guests can use the second floor to gain access to the waterpark without stepping outside. The second floor has a theme of water, which will continue down a corridor with music and lighting. The main storyline of the hotel continues into the waterpark's entrance, sparking curiosity and adventure.
"Once upon a time …
Agnes and Mr. Daler lived in Gothenburg in the mid-eighteenth century. Agnes came from a reputable and well-to-do family and had a passionate desire for adventure, as well as the ability to see beauty in everything around her. Her husband, Mr. Daler, came from a very different background. He was a successful businessman with exceptional vision, although his success may have entailed one or two shady deals."
---
---
"Agnes was driven by a desire for adventure and thanks to their business contacts in the Swedish East India Company she had the opportunity to travel the world many times. The idea was that she should find business opportunities on her travels, but what she actually brought back was something quite different. Instead, when she stepped ashore her arms were filled with curiosities, remarkable items, and magical experiences."
The reception area for the waterpark will be packed with more of these items.
---
The Oceana indoor waterpark will also have the first six-person raft rides in Europe and the highest mega-drop Master Blaster in the World. Take a look inside with the construction tour below to learn more about the slides, theming, and overall feel of the park: