It's technically not even Summer yet and we've already got Halloween on the brain. Many haunts go dormant right after Halloween, but during the "off season", there's stuff that's happening behind the scenes in order to bring some of the creepiest ghouls and scariest monsters to life. Spring and Summer plays quite a large role in haunts around the country, including Halloween Horror Nights at both Universal Orlando and Universal Hollywood. In fact, both parks have already been teasing their fans with code names for each house and trying to get fans thinking about what's coming this year. Don't fall asleep, because the dead never do.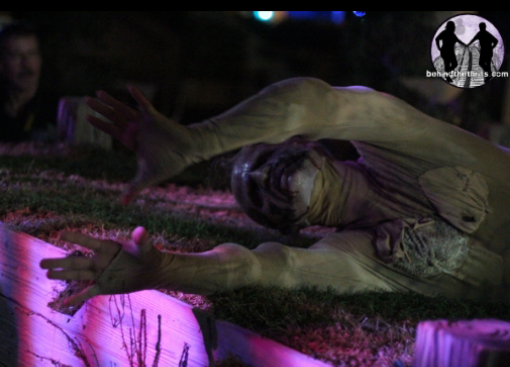 AMC's hit horror drama The Walking Dead is coming back…again. According to an exclusive announcement from USA Today, the horror show is returning for another year of screams in both Universal Orlando and Universal Hollywood.
"Bringing a horror property back for a third year in a row is always a decision that is carefully considered. Fortunately, The Walking Dead is unlike any horror brand around. Its appeal spreads across so many types of viewers. Hardcore and casual horror fans alike are watching week after week, and season 4 offered many new and unique environments and walkers," said Michael Aiello, Creative Development Director  for Universal Orlando's Entertainment team. "This year, we are taking this partnership to the next level, with a monstrous soundstage maze and a scope that is bigger and badder than anything we've ever done in the history of our event."
The property has grown over the past three years in both parks, with 2013 being the most aggressive yet. Hollywood not only had a maze based on the show, the entire Hollywood backlot was transformed for the dead to terrorize guests. The tram tour was also transformed into "Terror Tram" featuring The Walking Dead.
Video – Universal's HHN Hollywood Dead on Arrival

Universal Orlando, meanwhile had the entire park engulfed in Walkers as the streets were overrun with the dead.
Video – Walkers Terrorize HHN Orlando

Both parks had a similar version of the same houses that explored the 3rd season of the show.
Video – The Walking Dead:No safe haven

This year, the third time is the charm, as both parks will go over the top in all new ways. Hollywood will have a massive maze based around the prison from season four. A scare zone will engulf the entire park, and the Terror Tram will once again be overrun.
In Orlando, the largest maze in HHN history which will throw the prison in with many other scenes from the fourth season. Mike Aiello hints that there's more that will take over the park, but kept the details quiet. In 2013 the park was fully engulfed with The Walking Dead as multiple scare zones throughout the park. It's not clear if that will be the case this year, but every indication points at at least one scare zone in the park as well.
The park has confirmed that we can expect to see a huge helicopter ripping through the ceiling, new Walkers and Terminus. No word if there will be cannibals though.
So what do you think? Are you excited to once again have the dead stalk guests at Halloween Horror Nights?
Right now Florida Residents can book early and save for HHN in Orlando.
SPECIAL FLORIDA RESIDENT HALLOWEEN HORROR NIGHTS OFFERS
Halloween Horror Nights Florida Resident Tickets and Vacation Packages
Florida Resident Single Night
Event Ticket
~ Starts at $45.99 plus tax
· Includes admission to one night of Halloween Horror Nights
· Advance purchase required with a UPC code from Coca-Cola, Coca-Cola Zero or Sprite products
· Prices vary depending on date of visit
Frequent Fear Pass
~ Starts at $86.99 plus tax
· Experience 16 nights of the event for less than the price of one
· Includes admission to Halloween Horror Nights on Sept. 19, 20, 25, 28 & Oct. 2, 5, 9, 12, 15, 16, 19, 22, 23, 26, 29 and 30
· Other Frequent Fear Pass options available
FL 2-Night Halloween Horror Nights
Hotel + Ticket Package
~ Starts at $149 per adult, per night,
tax inclusive if booked by Aug. 31
(Purchase early and save: discounted rate
available for a limited time only)

· 2-night on-site hotel accommodations at Universal's Cabana Bay
Beach Resort
· Florida Resident 2-day park-to-park ticket
· Early Park Admission during daytime admission
· 1-night admission to Halloween Horror Nights
· Priority access to a special Halloween Horror Nights entry gate
each event night until 8 p.m.
· Access to live entertainment at Universal CityWalk
· 1-Night packages are also available
· Additional options at Universal Orlando's three AAA Four
Diamond Award deluxe on-site hotels and Universal Partner
Hotels are also available
Stay tuned as we bring you more about Halloween Horror Nights, and be sure to get social with us on http://Facebook.com/behindthrills and follow along with us on Twitter @BehindThrills for the latest updates!
For more information about Universal's Halloween Horror Nights, visit the official website by clicking here.