Rumors have been flying all morning about some big news about a big icon at Disney's Hollywood Studios. According to several cast members,  the iconic Sorcerer's Hat in front of the Chinese Theatre is going under the axe, and could be removed as early as January. Disney confirmed it later this afternoon.  This is the end of an icon, but why?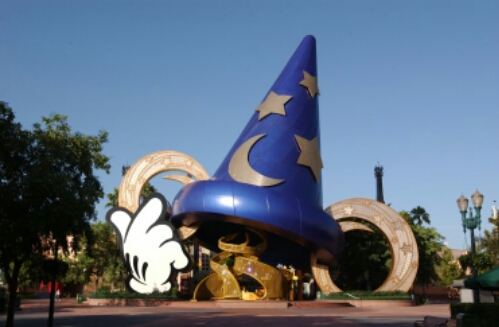 It's been no secret that Disney's Hollywood Studios is going through some big changes. Frozen is taking over for American Idol, something HUGE is coming from Star Wars, and well…things are just going to shake up a lot for one of the smallest Disney parks. Now comes word that the iconic hat that marked the park is going to be removed. Disney has confirmed that it will be removed.
The hat was intentionally installed in front of the replica of The Chinese Theater in 2001 when the original theater changed owners. Those owners wanted a cut of all pictures sold of the replica in the park. While it has become an icon, many fans have hated it from day one.
The rumor started to gain steam when maps were spotted without the iconic landmark, and came to a head this morning when it was announced to cast members. There is no word on what will replace it, if anything at all. It's quite possible that a deal has been reached with the current owners and we may finally see the Chinese Theater become the focal point of the studios again. The hat blocked the view of the Theater, and ruined the ultimate "Hidden Mickey".
Other news around Disney's Hollywood Studios are that the "Legend of Captain Jack Sparrow" attraction, which is a show featuring the notorious pirate in a brief show is closing down November 6th.
Earlier this year, The Backlot Tour was shut down as well. The entire park is being prepped for something major.
No word yet on what will replace it, but there has been some speculation that the show will be absorbed into another track for Disney's very popular Toy Stor Midway Mania. There's also more talk of the long rumored Monster's Inc. coaster, and several flat rides that are already in place at other Disney parks around the world. Of course, there's the ever popular Star Wars Land rumors as well.
Stay tuned for more from Walt Disney World, and be sure to get social with us on Facebook, and follow along with us on Twitter @BehindThrills for the latest updates!