Legoland hosted an open house today, open to anyone and everyone to attend and see some concept art for the park, help build a mural (made completely of Legos), check out some Lego models, and most importantly ask questions. Representatives from the park did several Q&A sessions with the crowd. So, what's new with Legoland?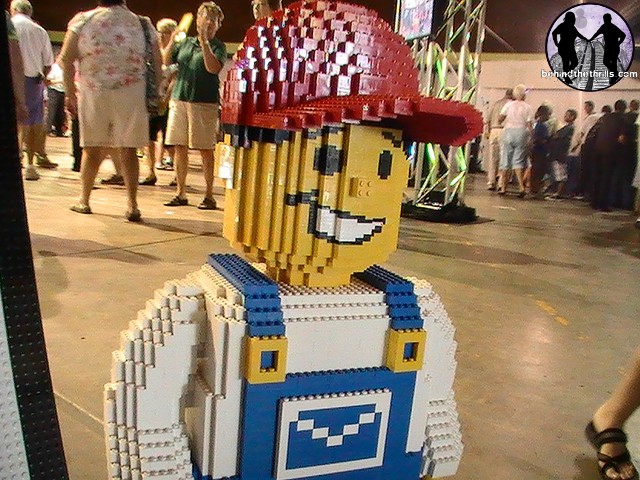 The Starliner
It's a sad sight to see the coaster being removed, but they are officially in the process of removing the coaster. According to a representative from the park, John, they will be removing The Starliner, taking extreme care to ensure it's not damaged. The pieces will be put into storage for re-constructing it. With high hopes to sell the coaster and it's current demolition, could this really be the beginning of it's survival? The Starliner has been up for sale for quite some time now and has yet to have a buyer, however, if the park is moving it into storage to be re-erected somewhere else, it's very well possible the ride might have a buyer. Nothing has been confirmed by Legoland except for it's removal to be stored.
Employment
Legoland has hired 25 people to work for the park so far. They are looking to fill 975 more by the time the park opens. Visit www.legolandfloridaresort.com to view current positions that are open.
The Gardens/Ski-show
The park is keeping the gardens and will be very much like they are now. It will be located in the back of the park. Legoland will also keep the Ski-show and it will be themed to Legos. They currently have three plans proposed for the show and will be doing a conference call this coming Monday to make a final decision on which show to use. There will also be plenty of shade and benches for parents/grandparents.
Waterpark
Legoland has plans to re-open the waterpark..eventually. Right now they are busy concentrating on getting the main part of the park open first. It will be a future project.
Road system
To help with traffic, the road between the park and the residental area will become a parking lot. Residents that live near the park will have a different entrance to their neighborhood to help alleviate traffic to park guests and residents. Construction on Cypress Gardens Blvd. is scheduled to begin in just a few days. If this is for the proposed road to Legoland is beyond me. It's a possibility though (considering road construction takes time). Also, the park has no current plans to rename Cypress Gardens Blvd.
Lego store at Disney/Ticket pricing
The burning question here: What's going to happen to the Lego store at Downtown Disney? Nothing. The Lego store at Disney is in no way owned by Legoland and is just a Lego retail store. It will remain at Downtown Disney. Legoland is a theme park with over 50 rides, shows, and attractions. Ticket prices will be similar to parks in the area. From the sounds of that, it will be comparable to Busch Gardens, Seaworld, Universal, and Disney, and possibly it's sister park in California. One day ticket prices for Legoland California are $67 for adults and $57 for children.
–
In general, construction has not started on the park yet as crews work to dismantle what's left of Cypress Gardens. Another coaster (Okeechobee Rampage) and a water slide have been removed and is sitting in pieces in the parking lot. Galaxy Spin has been previously removed and is being moved to Fun Spot in Orlando. According to some of the concept art, it seems that Triple Hurricane will become a dinosaur themed roller coaster in Land of Adventure. The Castle Hill concept art also promotes a "new block". Kind of looks like a roller coaster, doesn't it? Most of the concept art is all "before" and "after", featuring re-themed buildings and rides. The official press release announces all of the areas of the park, not including the Gardens. City, Duplo, Castle Hill and Dino Island will be the new areas of the park, and by the sounds of things will feature a signature ride with smaller rides shops and play areas. Castle Hill will feature a indoor/outdoor coaster. The footage of the other parks kept featuring the Bob the Builder Dark ride that is featured at Legoland California, so it's pretty reasonable to think it will end up here as well.
Check out these pictures from Legoland and the open house today.
[flickr-gallery mode="photoset" photoset="72157626477339165″]