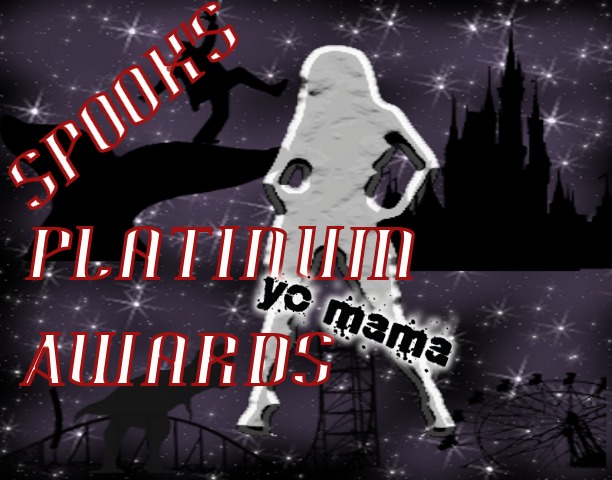 Well as Golden Ticket prepares to Give us the Cedar Point is the Greatest Park ever awards. I was asked to give a fair and balanced(stolen yes) Award ceremony. Then I said to myself, "Why Bother?"
So here is another award ceremony from a real fan for real fans, and without the pomp and circumstance of other Awards. You won't find a more fair and balanced award, unless you look somewhere else.

And here we go…
Park of the Year
Universal Orlando, Yep even I have to give them this award this year. They Opened the Wizarding World of Harry Potter and fans came and bought and they did in one week what another theme park in Ohio does in a Month. So for finally adding something new to IOA after 10 years I give them park of the year.
Ride of the Year
Nope haven't ridden it but I don't think it still takes away from the ride. Harry Potter and the Forbidden Journey. Any ride that can make geeks lose weight you have to give it's do.
Best Food
The Pizza Buffet and Busch Gardens Tampa. OK this is the ebst deal at a theme park. Unlimited non alcoholic beverages, really good pizza, great pasta and choice of sauces and salad pus dessert all for 9.99 per person Busch keeps the great deals coming.
Biggest Ripoff of the year
It's a tie Universal and Walt Disney raising there prices. We are still in a recession family's are struggling and how do these parks respond by raising the prices.
Cleanest Park
Busch Gardens Williamsburg. There are few parks that match this park in landscape and scenic beauty.
Best separate ticket event
Mickeys Not so Scary Halloween Party. I do enjoy my Halloween events but this event is by far the most fun event at any park. I say the best for a few reasons. First you can Trick or Treat as you get older you realize how much you miss this event from your childhood. 2nd one of the best parades that Disney offers it is similar every year but everyone still turns out to see the Headless Horseman. Fireworks no one does fireworks like Disney and when the villains take over it is amazing. And last Disney does it's best to make a feel like fall in central Florida.
Best Waterpark
I have to say I have never been but it looks so amazing and cool on TV and even though I am not a fan of Texas I still have to give it to
Schlitterbahn.

Most overpriced item at a park
Parking ………..I could go on and on but then I found out that one theme park charges you to park at there hotel…and that Theme park UNIVERSAL………
Best drink
Yep haven't had it myself but after taking a poll, I am going with butter beer. The sad part is all the pictures of the people who think there in a Got Milk? Commercial but with butterbeer.
Best Coaster in the state of Florida
MONTU, yep I am a huge fan of the Hulk but I had a long conversation while walking around BGT and some one explained there view on why Montu was the best and I had to agree after riding it again. Montu never lets up once you drop it just keeps you flipping and dropping like a coaster should do.
Best use of social networking by a theme park
Howl-o-Scream and Miss Vayne on Twitter. Busch jumped on there in state Horror competition with both feet in 09 with a twittering Vampire. Even non fans had to admit that the interaction with Miss Vayne was a great concept. Sadly HHN tried to counter with a tweeting Chucky after the fact.
Best Family Ride
Toy Story Midway Mania…….I don't think anyone who has ridden this ride can say it wasn't any fun. I had friends from Ohio who said there whole family loved this ride and they had people from 4 to 70's how many rides can say that it entertained everyone? There is not a better interactive ride out there period.
Biggest really you call this a New ride?
Dragon Challenge I am not even going to get on my soapbox but I hope the title says enough.
And Finally
The lifetime Bsquare Golden Pizza Award for Lifetime Achievement goes to: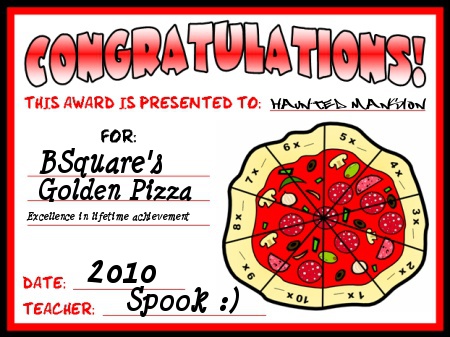 The Haunted Mansion…… This was the last ride that the greatest mind in family entertainment had a hand in designing. This is a close to perfect as a theme park ride gets and with the upgrades done in 08 it made it even better. So it is with great pride we give this outstanding ride our Highest honor.
Ok, those are mine add what you want and have fun.