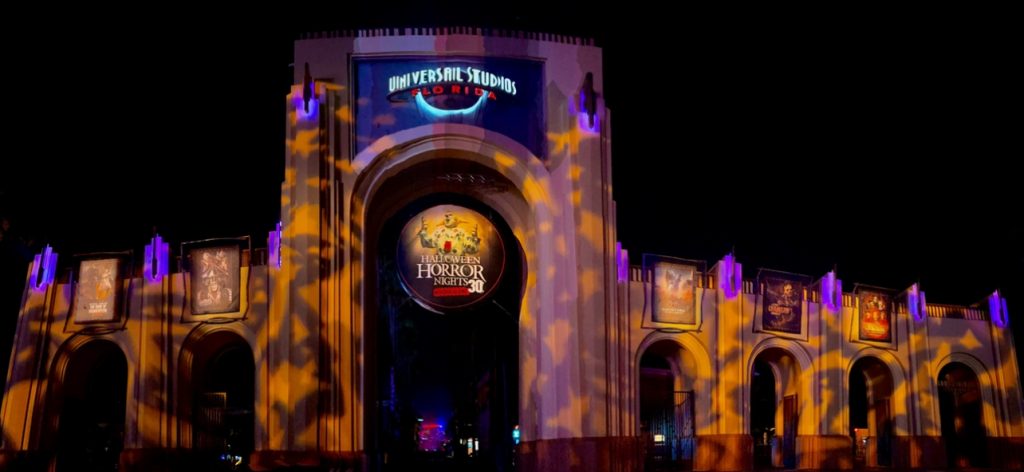 If there is one event that we here at Behind The Thrills look forward to every single year it is Halloween Horror Nights. This event comes to Universal Studios Orlando, Hollywood, Singapore, and Japan! We will be focusing on the Hollywood and Orlando events today, with our first house announcement, rumor round up, and ticket links! Read on to find out more.
ORLANDO:
Lets start at the PREMIER event. Orlando Florida is the blow out Halloween Horror Nights event, celebrating their 31st year this year! Since 1990 this event has only taken one year "off" and that was thanks to the pandemic, but last year they were back and with a vengeance! Let's take a look at what this year has in store for us – and what hasn't been announced yet that MIGHT be coming.
Confirmed:
It looks like this year the theme of the event is that Woody Woodpecker has gone crazy…As confirmed by the UNIVERSAL ORLANDO Halloween Horror Nights team on twitter: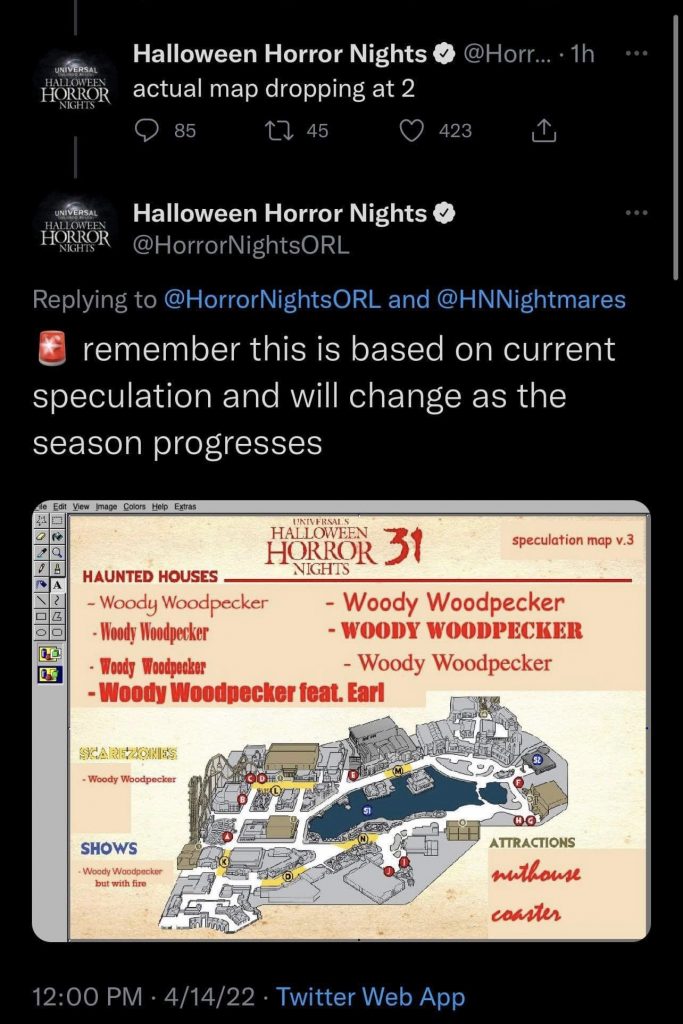 We are kidding – obviously, as were they. This was in response to a rumor and speculation map – the map that we will be basing MOST of our information on today. A map that comes from the team over at http://www.horrornightnightmares.com – BUT FIRST: Here is what Universal has ACTUALLY CONFIRMED so far: It's not much at all -we will get 10 houses this year, 5 scare zones, and 2 live shows. We have 1 house confirmed. Over the next few months more and more will be revealed and by August we should know all.
House: Universal Monsters: Legends collide. The description reads
You're about to get caught in the middle of an epic battle between The Wolf Man, Dracula and The Mummy, together for the first time ever.
Universal loves playing with the classic monsters – Bride of Frankenstein last year was incredible.
RUMORS:
Ok ok ok….let's get to the good part: The rumors.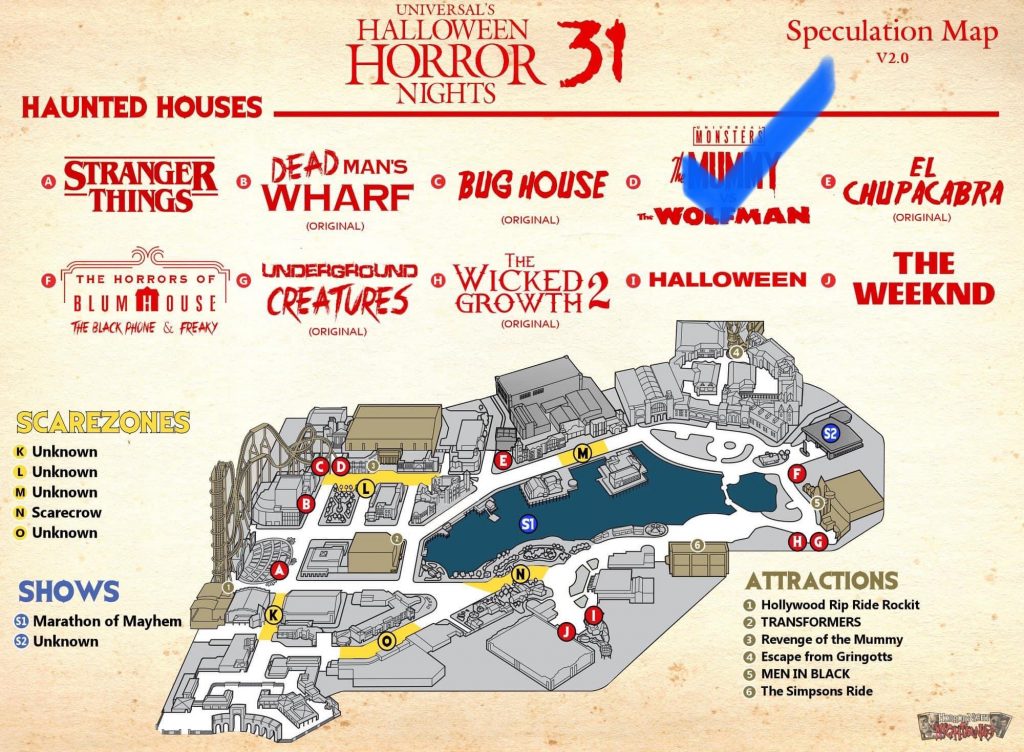 This speculation map comes to us from Horror Night Nightmares: A fan page and forum that has been around for over 15 years. They have a history of getting some information correct, and gathering rumors far in advance. So far they are 1 announcement for 1 correct MOSTLY. They predicted The Mummy VS The Wolfman, and as we just saw above we are indeed getting that, just with Dracula in the mix as well.
So, onto the other rumors:
Houses:
Stranger Things has been done before, but I give this one a fair bit of plausibility based on the fact that the show is returning for the first time in 3 years. I'm giving this one a high possibility of being correct.
Dead Man's Wharf I would be a lot more inclined to believe this one as a possibility if it was not in a sound stage – but rather marked for location E – the San Fran Wharf. Could this be a thing? Yes. Will it be where they think? I wouldn't put it there when the logical choice is in the section themed to a waterfront wharf, that could be tied into a scare zone rather easily.
Bug House There isn't much I can say one way or the other to the reality of this being possible – except that I hope not. I'm not a fan of creepy crawlies!
Universal Monsters Mummy Vs Wolfman SOOO CLOSE! We are indeed getting this house – just with the added piece of Dracula! This one is something I am extremely excited for! The Bride of Frankenstein last year was AMAZING.
El Chupacabra Based on the urban legend. We have seen Urban Legend houses in the past such as La Llorona – so I am saying this is plausible!
Horrors Of BlumHouse Black Phone & Freaky This one is also a totally plausible house. We have seen a wide variety of Blumhouse projects appear at Horror Nights in the past such as The Purge, and Get Out.
Underground Creatures I could also see this house coming to life, with a creature of the black lagoon style of monsters attacking. They have used similar monsters to Creature of the Black Lagoon in the past, and even had an actual Creature in a test vial in Bride of Frankenstein last year!
The Wicked Growth 2 If you chose ANY other house last year and said it was coming back already I would have shrugged it off and said not likely. Yes, sure, we have seen Horror Nights do The Walking Dead for what felt like a decade straight, but that is not common. This house was so popular last year I see it happening .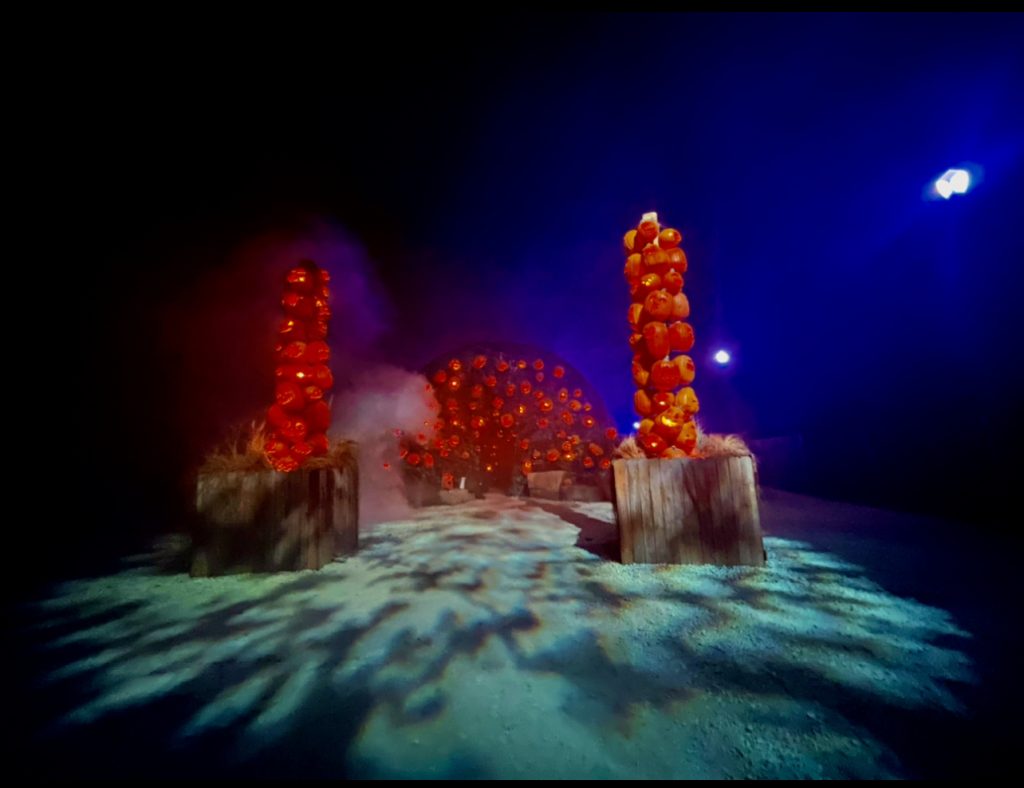 Halloween All I can say is I hope not. There have been many iterations of the Halloween Houses over the past years, and I did not even bother seeing the latest film after the reviews were….not good.
The Weeknd Billie Eilish, The Weeknd, Brittney Spears, Backstreet Boys, N*Sync? Why? The Alice Cooper house a few years ago was a bit of a stretch but they made it work…I just don't know that this is a good choice. (All those other artists are just thrown in there by the way, they all deserve a chance too right?)
Scarezones:
Scarecrow I could see this – they have it marked for Central Park which makes a lot of sense. Lots of trees in the area. That is the only scare zone that Horror Night Nightmares has guessed at.
I am going to make my own prediction here though that we see a Dead Mans Wharf scare zone in the San Fran area to tie into the house. This makes logical sense and I hope is the way Universal is going.
Show: Marathon of Mayhem Lagoon Show: This is a good guess. It has been a popular way to pull in a large crowd and help control house lines.
Could we see a show in the Fear Factor Live sound stage? I'm not sure…There have been other rumors surrounding that stage for a long time. The Blue Man Group old building is now being used as a theater for random events and we could see a new show be held there instead.
TICKETS: Tickets are on sale now UNLESS you want a Frequent Fear Pass. Single Day, VIP, and tour tickets are available here: https://www.universalorlando.com/web-store/en/us/add-ons?tab=Halloween%20horror%20nights

That concludes Florida's rumors for Halloween Horror Nights – now onto California.
Confirmed House: The Mummy/Wolfman/Dracula house is also coming to California. Nothing else has been confirmed except that there will be 8 houses, "live entertainment" and "scare zones."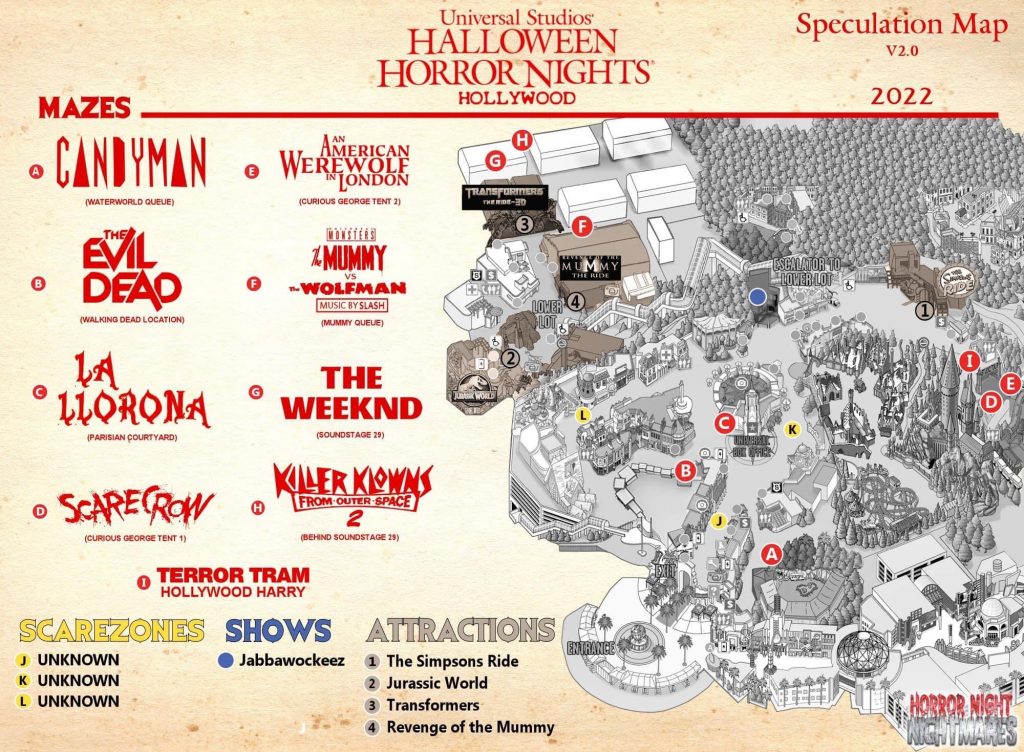 One thing to note right away is this event is always much smaller than Orlando. I went last year for the first time, and compared to Orlando I did NOT have a good time – the Orlando event spoils you. You can read my review of last year's event HERE. Based on me only attending the event once, I will not go into detail on the likelihood of each house or Scare Zones as I would not know.
House Rumors:
Candyman based on the Jordan Peele 2021 remake. Horror Nights has worked with Peele in the past on Blumhouse project Get Out.
The Evil Dead This was an Orlando House a few years ago and was spectacularly done. The photo below is from the unmasking the horror tour I did that included that house.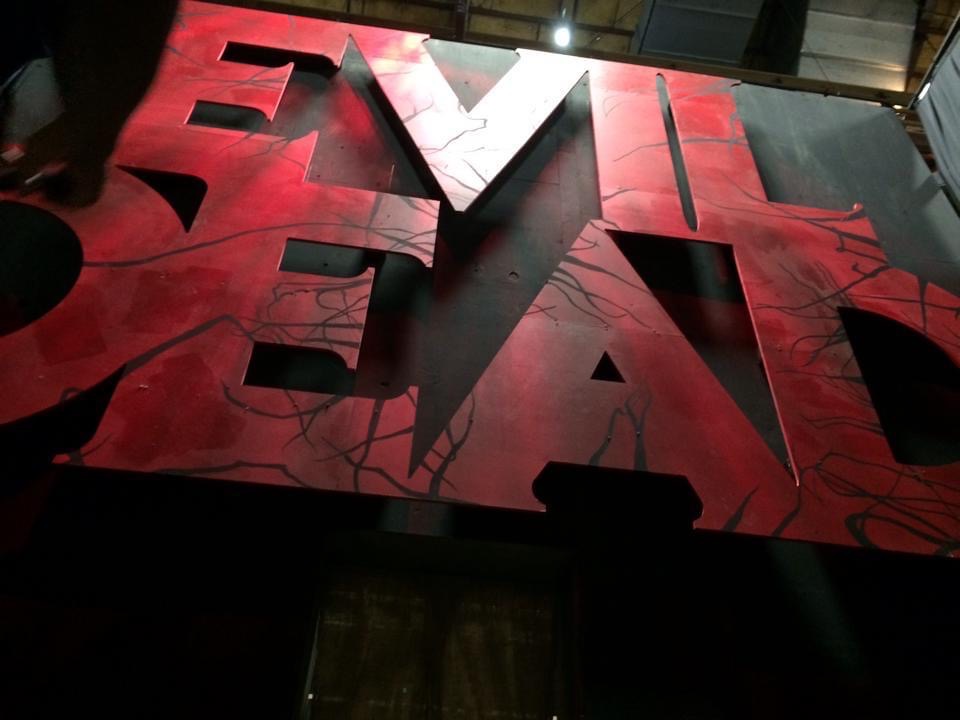 La Llorona Another house that has existed in Orlando before – based on the urban legend. This was a beautiful house in Orlando with amazing effects.
Scarecrow Orlando gets a scare zone and Hollywood a house? Maybe?
The American Werewolf in London Also a house that has appeared in Orlando before! Wolf Puppet!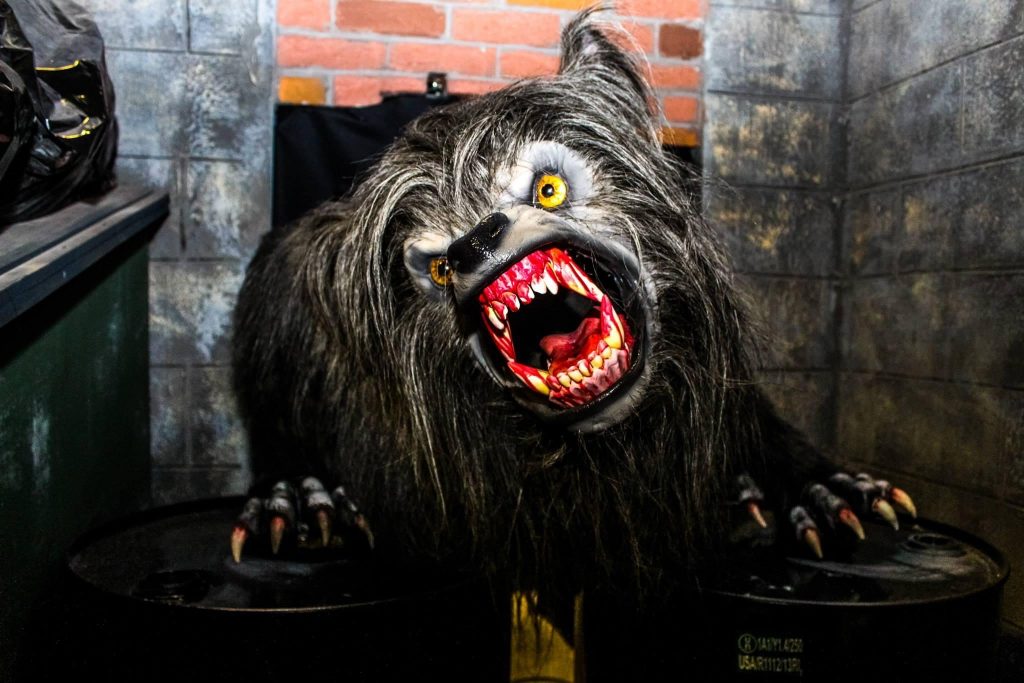 The Mummy Vs Wolfman Again: Add Dracula in and you got it! This will appear in Orlando and California so we will get a direct comparison!
The Weeknd Also rumored to appear in Orlando – I still don't like music based houses as a concept.
Killer Clowns From Outer-Space 2 We had a house based on the first movie in Orlando, I am not sure if California got that house or not, but the movie title is actually: The Return of the Killer Klowns from Outer Space in 3D. We have seen 3D houses in the past. Could California get a 3D this year?
Scarezones: None Predicted. Last year there were only 2 scare zones in the park, and I would love to see them extend that and give more detail to their zones.
Show: Horror Night Nightmares predicts the return of the Jabbawockeez. They have performed at Horror Nights Hollywood in the past, I am not sure if this is a safe bet or not.
TICKETS: California Tickets are not yet available. They will be available soon.
That pretty well concludes our rumors. We will continue to provide updates as the event gets closer!
Stay tuned for more theme park information, and be sure to get social with us on Facebook , Instagram, Twitter @BehindThrills for the latest updates! For our latest theme park videos please be sure to subscribe to us on YouTube!
Justin Landers is 30 year's old and owns Just Shoot Light Multimedia Productions, a freelance photo and video company involved in the theme park industry since 2013. You can find him on Instagram at @Inverted_Therapy and @Just_Shoot_Light and on YouTube or Facebook.