"Long Live the King" came across Twitter from one of the folks we follow. My automatic thought "Groovy". That's right, there's only one King…Ash from the Evil Dead movies. Come to find out they were quoting "The Lion King". While I have much love and respect for Mufasa(oooohhoo…say it again…mufasa mufasa mufasa!) there is but one true King..and it ain't Elvis, he ain't no lion, and he's not from England. Ash baby. All hail the king.
Now. Who wants to see my theme park news BOOM STICK!?!

Disney
Oh dear me. Primeval Whirl was shut down in January for refurbishment. In March a worker was struck by a train on the coaster, fell and died. Now the earliest it seems the coaster will reopen will be in September. This is the 2nd death of a worker on the coaster, and there have been a few more injuries. Could it be time to shut down the dual track wild mouse coaster and put something else in it's place? More details.
Tron 3 is in the early stages of development. Good news for fans like me. I loved Tron:Legacy and want more. David Digilio has signed on to do the script work this go around. This doesn't necessarily mean we'll get the movie anytime soon, just that it's being written. The film was a mild commercial success and critical bomb. Who cares what critics think anyway? More details.
Hershey Park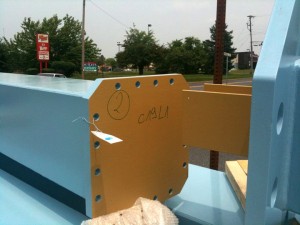 Supports have arrived on site for Hershey Park's 2012 coaster. Based on the shape of the supports, this looks like it's going to be an Intamin coaster. Also, we've heard they'll be announcing what the attraction is on August 2nd. Photo above courtesy of Jan Van Der Velde on Facebook.
Knotts Berry Farm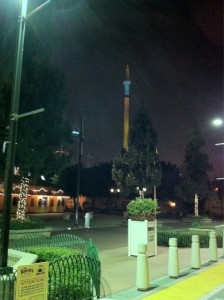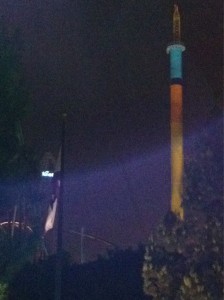 Windseeker at Knotts Berry Farm has been officially topped off. Big thanks to @WesFrater on Twitter for the photos.
Other
According to the official Howl O Scream Tampa Facebook Page, something like Alone will be coming to the event this year. A fan of the page flat out asked
"Will something like Alone be coming back this year?" to which the park replied "From what I'm hearing, Yes (And the crowds rejoice!).
I don't know. Are you rejoicing? Will it be an all new experience, or will it follow the Busch Conservation example of "Reuse, Recycle" like so many other houses have done? We'll find out soon. If memory serves me, last year it was right about now that we got a tease on the official Howl O Scream website. So far the only thing that we know for sure is that the event will most likely, probably, maybe be themed to Zombies. If you judge on recent trends with the event, it will be a female zombie who eats her ex boyfriends…or something similar. Hell, Inside the Magic heard a rumor earlier (A RUMOR!) that it was going to be a zombie love story, but quickly recanted. It's anyone's guess at this point.
Rocker Tommy Lee has long been known for his drumming abilities almost as much as his offstage life. There is video out now of the current Motley Crue tour featuring Tommy Lee's drum "rollercoaster". It's actually more like a Super Loop you'd find at the local fair, but cool none the less

Toledo Blade reports that the Wildcat at Cedar Point reopened about noon on Tuesday after the braking system had been readjusted and inspected. The coaster injured 7 people on Sunday when the brakes failed and two coaster cars collided.
A woman died Sunday of unknown reasons at Beech Bend amusement park while riding the Rumbler. She was found unresponsive and had CPR performed on her by EMT's but she was later pronounced dead. More info.
11 people were transported to local hospitals after reporting breathing trouble at Mt. Olympus water park in Lake Delton. It seemed to be isolated just at the wave pool in the park, which was promptly closed, while the rest of the park remained open. More info.
Universal took it's sweet ass time releasing the Wolfman in 2010. It didn't do so well in the box office, or with the critics. It seems that the planned sequel was scrapped and instead the studio plans to "reboot" the wolfman…this time calling it werewolf. Werewolf and wolfman are two separate things. Werewolf is a man that turns into a wolf, and a wolfman is a man that is part man part wolf. Of course I could be reading too much into it….anytime we get some good horror, I'm on board. Now let's see if Universal can actually get it right this time. Listen to me Universal…LET THE FILMMAKER DO WHAT HE WANTS! Check out Latino Review for more details.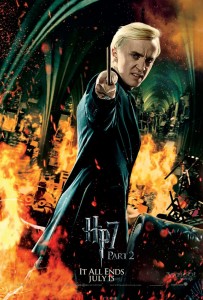 WB has released 11 character posters for the upcoming Harry Potter and the Deathly Hallows Part 2. Some of them are pretty on the amazing side, some of them are kind of meh. All worth taking a look at. Personally I think this one of Draco is a bid of bad ass. Make the jump to Coming Soon for even more!
Whitewater has revealed the first ever gigantic water geyser. Here's the full press release:
It's Beach Party time at Michigan's Adventure Park! Beach Party is the first waterpark attraction to debut WhiteWater's gigantic water geyser feature that erupts high above its AquaPlay RainFortressTM multi-level interactive structure.

At the height of the geyser's eruption, this newest and coolest AquaPlayTM feature surges water up 95 feet in the air from a three-dimensional, custom-themed lighthouse! The explosion of water then splashes down to an eruption of laughter and squeals, as guests get drenched below.

The custom beach-themed AquaPlay RainFortressTM bursts with over 150 play elements including a large tipping bucket, dozens of interactive spray jets, water guns, net bridges, and 8 waterslides that cater to kids of all ages.

For more information on WhiteWater, The Waterpark Company, please visit www.WhiteWaterWest.com
Ride of the Day
You seek the treasure of Mara? Many do. Get your bullwhip and hang on as you seek the treasure, narrowly miss death and snakes…it had to be snakes. Which is why Indiana Jones and the Temple of the Forbidden Eye is today's Ride of the Day.