Merry Christmas! Christmas has become a time, for us, that some of the most wonderful memories are made. Since the staff of Behind the Thrills spends most of our holidays, in addition to most non-holidays, hanging out in theme parks we thought it might be fun to share some of our favorite holiday memories with you.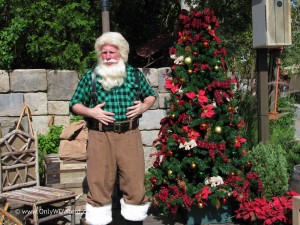 Keeper's Memories:
Back many years ago, before the lighthouse was built, our favorite park was EpcotCenter.  The mix of real and imagined, culture and fantasy, struck a chord with me. One of the greatest examples of a concept that perfectly fit what I felt Epcot was all about is the holiday storytellers around World Showcase. My memory involves the first year this was staged. I had done my homework and designed a near-impossible schedule that allowed us to visit each storyteller and still be in time for the tree lighting ceremony. One of our early stops was atMorocco. At that time there was not an actor playing the part of the Taaji, like there is now, but just a cast member that got to tell the customs of his country. With a new untested attraction and not the name recognition of Saint Nick or Pere Noel you might not be surprised that we were the only ones in attendance on his first show that day. He went a little off script and we had an interesting non theatrical conversation about his country and their traditions. We told him our goal for the day and he wished us well and reminded us to not miss the tree lighting.

Our day continued and we fell in love with the program and it's talented performers. The little keeper got excited each time she heard the bell that signified the arrival of another "santa". It was a rare, magical, journey where time and countries blurred; we were fueled by gingerbread, plum pudding and chocolate. We met every storyteller, took pictures with most and tempers did not get short even with traveling World Showcase 2 and a half times. We made it on time to be in front of the stage for the tree lighting ceremony. A mail carrier came out and told us the story about young Virginia many years ago then pulled a letter from his sack and read the reply the complete essay "yes Virginia, there is a Santa Clause". Being the sentimental sort that I am I will admit that there were no dry eyes in our group or the ones near us. When I thought the day couldn't get any better ALL the storytellers came out on stage, all our friends from our journey returning for a final bow, and encore if you will. As one they gestured to the tree and it magically lit! If that wasn't enough our Moroccan friend from early in our journey noticed us as they were leaving the stage, darted away from the exiting processional of storytellers and dashed over to shake our hands and tell us he was glad to see we finished our journey well and wished us a happy holiday. How he knew we had made it to every stop is a mystery to this day, but I like to think that when you hang out with Father Christmas that some tricks just may rub off after a while.  After all these years it still remains a truly magical memory.
Erik's Memories
Working for the site, we have gotten to do some pretty amazing things that normal theme park guests don't get to experience. One such thing came in 2009 at Sea World Orlando. They were just rolling out their expanded Christmas program with "Winter Wonderland on Ice", and "Clyde&Seamore's Countdown to Christmas". Racheal and I were invited out to Sea World to take a few pictures, do a few interviews, and watch the skating team rehearse. Unbeknownst to us, we were also going to ice skate. Being from Florida I've only ever Ice Skated once….ever…before that moment. I think they knew this too. The first time I'd ever been ice skating, I ran over several little kids, and ended in an embrace with a young lady who had also been experiencing her first time ice skating. Somewhere there's video of it. It's hilarious.

After chatting with the director of the show, I laced up and took to the ice. It was going great, until the rather attractive young skater said "let's spin!" Yeah…you can tell where this is going. We spun, and as we spun I found myself getting further and further away from my feet until…PLOP…on my face, in the middle of the rink, with spectators…at Sea World. As bad as it sounds, it was amazing, and it was a lot of fun. Later that day I got another treat, I interviewed Seamore from Clyde and Seamore! It's not very often you can say you interviewed a Sea Lion, and it's even less often that you can say the interview went well…but it did, and it was definitely one of the best things that happened that Christmas.

Just a few hours later, I was awoken from my long winters nap by a sharp shooting pain, so unbearable that I had to go to the hospital. My gall bladder was moving out, and it was raising hell on the way out. Maybe it was the ice skating, or the loads of hot chocolate that was the final straw…but I think it was the fish smell of Seamore's breath! Still, it stands as such a sharp contrast from a happy memory one moment, to a painful adventure the next. In fact, I kept telling the nurses "Man, just a few hours ago I was interviewing a sea lion, and now look at me!". They chalked it up to the drugs.
Racheal's memories
 I don't have near the amount of experience in the "Christmas" field within theme parks since I moved to Florida in August of 2009.

I will say that the best memories I have of Christmas at a park is at Seaworld. I remember the first time I went to Seaworld for their Christmas event. So many festivities, special shows, and hot chocolate (and not the crappy powdery-kind you can buy at Walmart). I don't think I'd ever seen anything as amazing! I was completely amazed at the lighting around the water. If only I knew "The Sea of Trees" was coming in 2010. Yeah, Sea of Trees is pretty effin' amazing.

I'm hoping to experience more Christmas events across the midway, including Christmas Town at Busch Gardens Williamsburg, Grinchmas at Universal Orlando, and more! (Gee, I picked the wrong year to move! Christmas Town started in 2009!)
Here's hoping that you and your family's holiday season are filled with love, joy, magic, adventure, and  a never ending supply of unforgettable memories.