February 29th only comes around once every four years. Is it an extra day, or just another day to add into the mix? Disney wants you to make it special by celebrating for 24 hours. Starting tomorrow at 6 a.m. (and going until Thursday at 6a.m.) Disney is having "one more Disney Day". It's a clever marketing ploy to get people to spend more time in the park. And it works. The original Disneyland in California, and the Magic Kingdom at Walt Disney World Resort in Florida is going to be open 24 hours. But what can you do with one more Disney Day that you can't do any other time?
For starters there will be special merchandise just for the occasion. Everything from commemorative mouse ears, and watches to hoodies and t-shirts.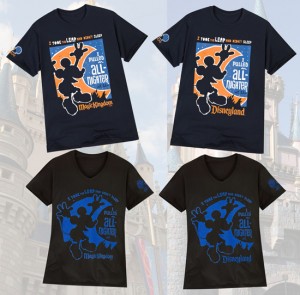 In addition, each park will be having a different line up of events to mark the occasion.
Disneyland(California)
Dance party featuring KIIS DJs at Tomorrowland Terrace from 8:30 p.m. – 4 a.m.
Second showing of Mickey's Soundsational Parade at 10 p.m.
Performances by Billy Hill & the Hillbillies at The Golden Horseshoe from 11:15 p.m. – 4:45 a.m.
Special showing of "Fantasmic!" at 1 a.m.
Character meet & greets throughout the night (subject to change):

Mickey Mouse and friends in pajamas at Carnation Plaza Gardens
Darth Vader and Stormtroopers in Tomorrowland
Country Bears in Frontierland
Special Food-Disneyland will also have a special menu to make the occasion. Everything from old favorites that haven't been around for a while to new creations just for the event, there will be new items to feast on. Also, The Disney Parks Blog will host a "Midnight Snack" at Big Thunder Mountain Ranch. This will be limited to about 200 guests, and is on a first come first serve basis. Guests can line up as early as 10 p.m. for the event. Check out the Disney Parks Blog for more.
Walt Disney World (Florida)
Two performances of the Main Street Electrical Parade, at 10 p.m. and midnight
Four showings of "The Magic, The Memories and You!" at 7:45 p.m., 9 p.m., 11 p.m. and 5:30 a.m. (March 1)
The Frontierland Hoedown near Country Bear Jamboree, at 2:45 a.m., 3:30 a.m. and 4:30 a.m.
Disney's Dance the Night Away Party at Cinderella Castle, from 1 a.m. – 5:30 a.m.
Character greetings throughout the night, including:

Phineas and Ferb in Tomorrowland
Snow White and the Seven Dwarfs in Fantasyland
Mickey and Minnie Mouse in Town Square, wearing their pajamas for the party in Florida before heading out west to visit guests at Disneyland park
Make sure to follow along with us on Twitter as we will be tweeting from all the parks all day (and night!) long!