Disney's California Adventure is about to complete one of the biggest expansions in theme park history. Once Carsland opens this year the park will have completed a $1 billion dollar overhaul. Still, the majority of the park is covered with construction walls. We take a stroll around and see what's under construction, and what is done.

Construction is well underway on Disney California Adventures brand new 1920's themed entrance, which has greatly vastly changed the skyline of DCA. Tarps are slowly being peeled off the east side of Buena Vista Street and revealing some of the first bits of the new entrance.
While details continue emerge on the eastern side of the street, framing has been completed on the west side allowing electrical and dry walling to begin very soon.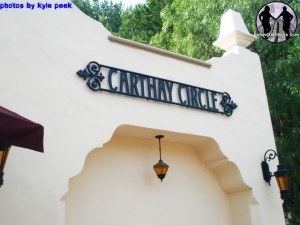 At the northern point of Beuna Vista Street, Carthay Circle is nearing completion, but will mostly remain behind constructions walls until the grand opening this summer. However this past winter, the Pump House just east of Carthay Theatre was revealed and opened to the public, it currently is home to Guest Information kiosk, but will become a Red Car Trolley stop once Buena Vista Street is completed.
More Buena Vista Street:

Elsewhere in the park Grizzly River Run has gone under a significant multi-month refurbishment as part of "Project Sparkle", which holds the goal of sprucing up and beautifying some attractions for Disneyland Resort's BIG summer.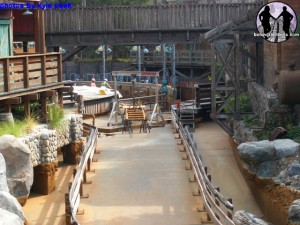 Most of the modern "Extreme Sports" elements of the rides queue, loading area, and rafts themselves have been replaced with more 1940-1950s period appropriate elements.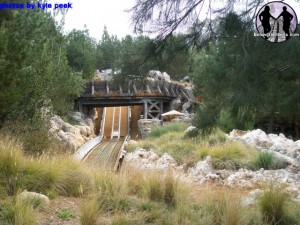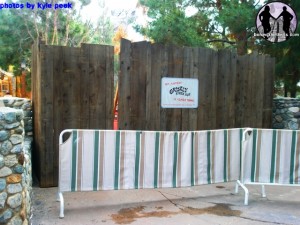 Lastly this past Friday, Minnie's Fly Girls debuted and had a very positive response (unlike the short lived Disney Channel Rocks and Disney Dance Crew shows), and for the first time at Disneyland Resort, utilizes an animatronic Minnie Mouse on a daily basis.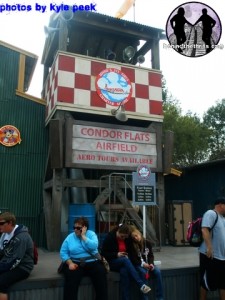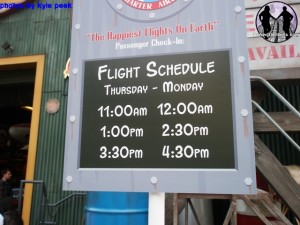 After 3 years of construction finishing touches are beginning to be added to the Carsland addition to California Adventure.
This past week Imagineers added large trees near the front of route 66 making the view down Radiator Springs much harder to see until construction walls come down.
Also this past week, the brand new Cozy Cone Motel sign was installed.

The steel structure which will become the large "CARSLAND" Entrance sign (not to be confused with the "Welcome To Radiator Springs Sign". Has gone up.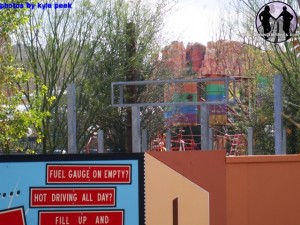 Work on Mater's Junkyard Jamboree is nearly completed, and the ride has been undergoing testing for the past few weeks.
Mater's Shack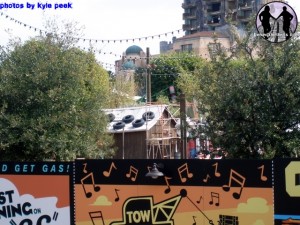 The loading area and ride vehicles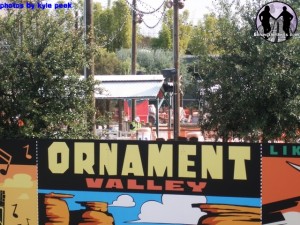 Here is a panorama image that really shows the vastness of the new land.


Special Thanks to Kyle Peek for all the great pics and the write up!
For more information on Carsland and the other attractions at Disneyland, visit the official website!
For more of our theme park adventures, be sure to follow us on Twitter!