Beards, guitars and coasters. Universal Studios Florida played host to Legendary Rock Gods ZZ Top Saturday Night as part of their annual Summer Concert Series. The group shared the bill with Mississippi natives 3 Doors Down as part of their "Gang of Outlaws" tour. The tour, which has included "Redneck Woman" Gretchen Wilson, has included stops in Hollywood Florida, and Clearwater among the Florida dates. But Saturday night among the coasters and characters, ZZ Top seemed right at home.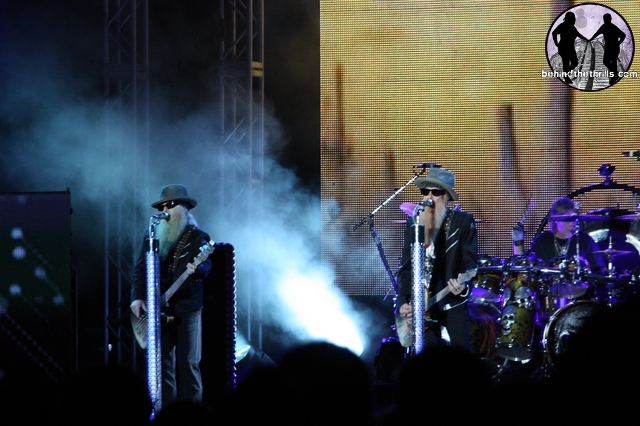 ZZ Top has been one of the most prolific bands of the past 30 years. They started out as "that little band from Texas" with a very hard and bluesy sound. Over the years they've kept the same look, the same members and the same sound…though it's been tweaked a little to grow with changing times. In the 80's they were fixtures on MTV with incredibly catchy songs, videos featuring sexy scantily clad women, and their own attitudes. The songs use tongue in cheek innuendo with amazing guitar riffs and a vocals that changed styles from song to song while keeping the blues-rock sound grinding hard in most of the songs. The band even had a song in the Universal film, Back to the Future 3 and played an "old west" version of themselves. In other words…it was good shit.
Flash forward to almost 30 years later and the band is still together,and while they may no longer be staples on MTV (hell, music isn't even a staple on MTV anymore) they still tour on a regular basis all over the world. What's more amazing is that all three are senior citizens, and even retirement age! Age be damned, it doesn't stop them from sounding as good as they did over 30 years ago, and playing with more energy than most bands half their age.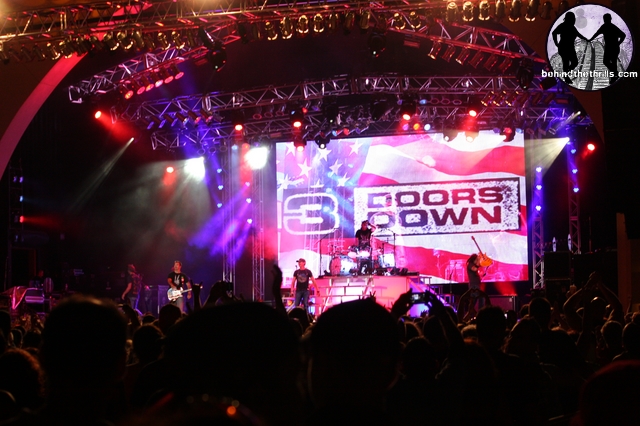 3 Doors Down took the stage first in the double line up at Universal Studios Florida Saturday night, and played a huge range of their hits, including the signature Kryptonite. The band had tons of energy, performing each song just as well as if you were to play the music at home. While that's definitely a compliment to the band, it felt as if they were just going through the motions, and knew they were just warming up the stage for "the old guys".
One very cool thing, the band is now partnered with DiscLive Network and offers their Live USB. You can purchase the limited edition USB drive for around $25 bucks. Once purchased, you could go home and watch the concert again, as it was performed. If you missed the concert and are a huge 3 Doors Down fan, you can still purchase (click here) the concert from Universal Orlando. It's not known if ZZ Top is included with that set.
While 3 Doors Down did a great job, and really make a good pairing with ZZ Top, I personally was getting impatient to see the bearded boy wonders. Ever since I was a kid, you could be no cooler than ZZ Top. I would mimic their moves from the videos played on MTV and even learned to play a few of the songs (on piano….fingers were too fat for guitar). While I love the concerts that Universal does for Summer Concert Series, and Mardi Gras, I must admit I've never really been excited for a show. Sure, I'd make sure that I was there, but if the crowds were too much or the weather was bad…I had no problem skipping. Not this time. I was giddy like a school girl…something a guy probably shouldn't admit when talking about a group of guys that could probably kick his ass, and look cool doing it.  There was just no way they could live up to the hype I had built up in my own mind.
As the lights went back down after a brief stage shift, the three of them took the stage and they ripped right into a heavy guitar riff with pounding bass. Billy Gibbons, now in his 60's, still growled just as mean as ever on the mic. Dusty Hill kept right up, playing for laughs off of Billy. He sang a large portion of back ups, and even some lead vocals on a few songs. While also in his 60's, his voice didn't seem as strong as it once was…but still carried beautifully. Frank Beard (ironically the only guy in the group without a beard) tore the drums up as he has for years. And the guys didn't live up to my hype…they blew it away. It also helped that the rock gods were smiling on the guys and had an unseasonably cool and breezy summer night. Low 80's with a steady breeze under partly cloudy skies. Yeah, we'll take it. Younger kids in the crowd had no clue who the band was, and were only there for 3 Doors Down. By the end of the night, you could see they all wanted beards just as long as the guys. Gibbons even had his signature 1959 Les Paul  on hand to make things loud. Did they live up to the hype? No…they blew the hype away.
More ZZ Top pics:

As for the venue. Universal Orlando has had a long history of great performers. In the past few years, they've taken that and not only embraced their concerts but grew on them. In 2009 they opened Music Plaza near the front of the park with a huge new stage and amazing sound system. If you haven't caught a concert at Universal, you probably just missed the best, but there are other chances to see some really great concerts in the coming weeks.
For more information about Universal Orlando's Summer Concert Series, visit the official website.