We are officially two weeks away (this article was originally published on September 7th) from opening night of Halloween Horror Nights 22. Details for the event were released a couple of weeks ago and tickets have been on sale all summer. The moment we have been waiting for all year is almost here. Today, the map made it to the internet, which shows the locations for all the houses, shows, and more. Keep in mind the map below is just a pre-release and may change.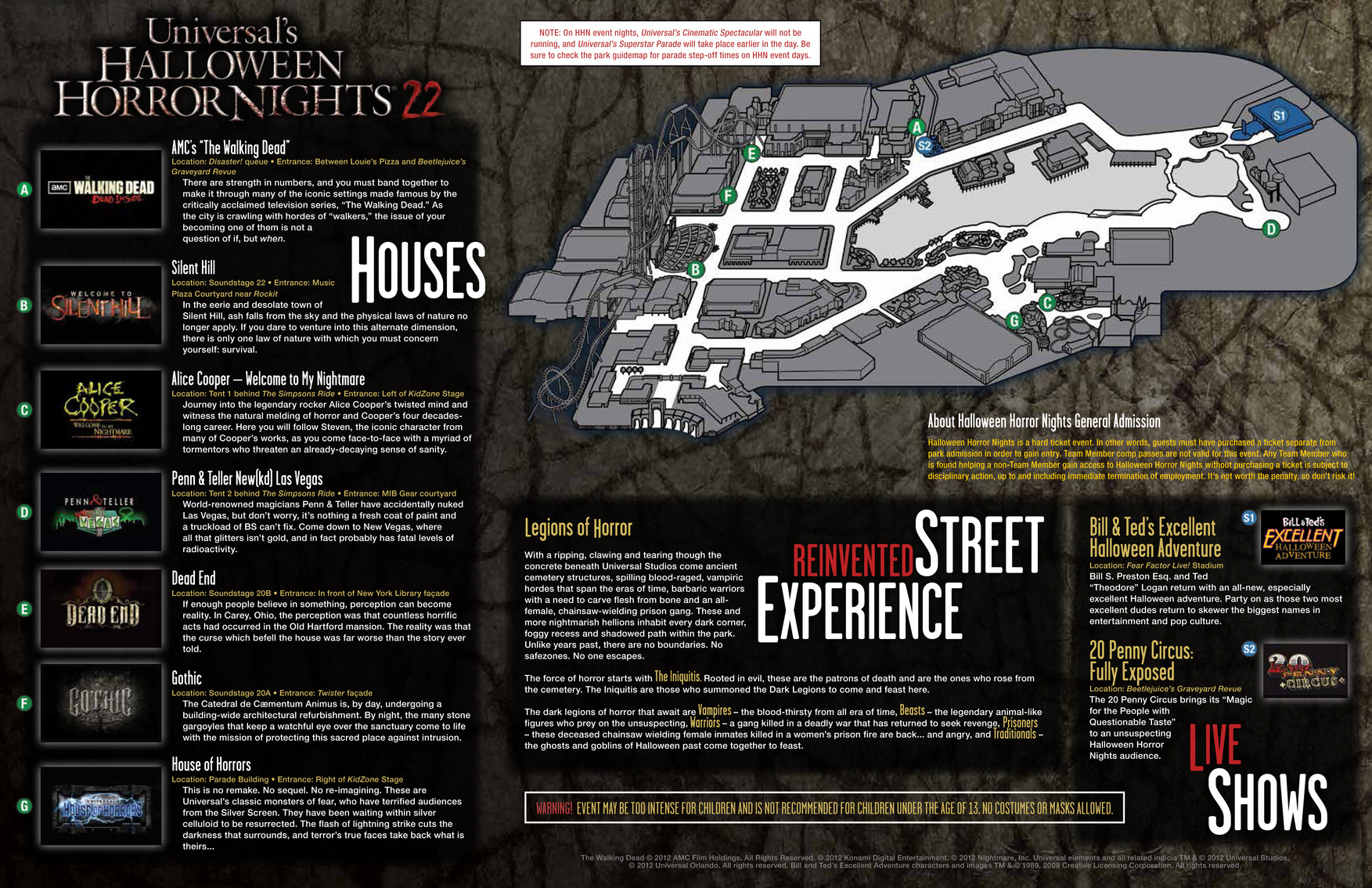 Big thanks to our friends at Horror Night Nightmares for posting the map. Although house locations are confirmed early on in the year through permits that are filed with the city for construction, the map officially confirms the exact locations of houses and shows.
AMC's The Walking Dead: Disaster Extended queue
Silent Hill: Soundstage 22
Alice Cooper – Welcome To My Nightmare: Tent 1
Penn & Teller New(kd) Las Vegas: Tent 2
House of Horrors: Parade Building
Gothic: Soundstage 20A
Dead End: Soundstage 20B
Bill and Ted: Fear Factor Live Stadium
20 Penny Circus: Beetlejuice
One of the many rumored things that would be taking place this year was a Halloween Horror Nights edition of Cinematic Spectacular: 100 Years of Movie Memories. This year's map confirms that Cinematic Spectacular will not take place of HHN event nights.
---
Edit (9/13/12 6:30pm): Universal Orlando has released the official map. The pre-release map posted above has changed.. slightly. Here's the official map you'll pick up when you visit this year.
---
For more information about Halloween Horror Nights, visit the official website.