Construction at Universal Studios Florida has been raging on for the better half of a year. The areas formerly known as Soundstage 44 and Amity have been demolished, and steel beams have risen like a phoenix from the ashes (or in this case  rubble). Crews are working around the clock, however, anytime a question has been asked about what could be coming, the answer reminds many of the Wizard of Oz. "Pay no attention to the man behind the curtain!"
The wait is almost over.
Something big is coming, and while rumors have been swirling around for quite a while, Universal Orlando has been very tight lipped. Finally, Universal has broken a bit of their silence as they have announced that they will finally undo the curtain and show you what the man behind it has been working on for so long.
According to the official Universal Orlando Twitter feed and Facebook page we can expect to learn what the big news is on November 1st at 7:30p.m. What can guests expect? Just how much will be told? All questions that remain to be answered. However, we can speculate a little on the rumors.
In case you haven't heard, the rumors are running rampant that the area that used to be Soundstage 44 (Next to Shrek) will be converted into Transformers:The Ride. The ride will feature motion simulators mixed with live action sets and state of the art 3D. It is said to be identical to the attractions of the same name at Universal Studios Hollywood and Singapore.
On January 2nd this year, JAWS and the entire Amity area was shut down forever. What's been happening in the past 10 months has been astonishing as Universal has completely demolished the entire area and are starting to rebuild it. Rumors have been circulating that this will be the announced expansion to The Wizarding World of Harry Potter in Islands of Adventure. While many have been protesting, and saying this is a wrong idea, the rumors honestly make perfect sense.
The area will be the London side of the Wizarding World, in which Muggles can visit Diagon Alley and Kings Crossing. In Diagon Alley, it's rumored that guests will be able to visit Gringott's Wizarding Bank for a high speed coaster tour through the vaults and encounter waterfalls, goblins and dragons. Shops and restaurants including Olivanders Wands and The Leaky Cauldron are also rumored to be part of the new expansion.
If that wasn't enough, guests will board at platform 9 3/4 at Kings Cross Station and climb aboard the Hogwarts Express which will take them to The Wizarding World at Islands of Adventure. The train ride over will not be just a shuttle, as there are said to be interactive elements such as meeting Hogwarts students, wizard duels and even a Dementor attack. Allegedly the ride will change each time, and you never know just what will happen as you board the Hogwarts Express to Hogsmeade.
Of course these are just rumors, though plans have been "leaked" to other websites. Until Universal officially announces the plans, these are just hopeful rumors. The rumored timeline for the expansion will have Transformers opening in Summer 2013 and The Wizarding World expansion in 2014. Also in 2014 Universal plans on opening their all new onsite hotel (click here to learn more!) Cabana Bay. This will definitely help the huge influx of guests that will once again flock to Universal Orlando.
Edit (10/22 2:50pm):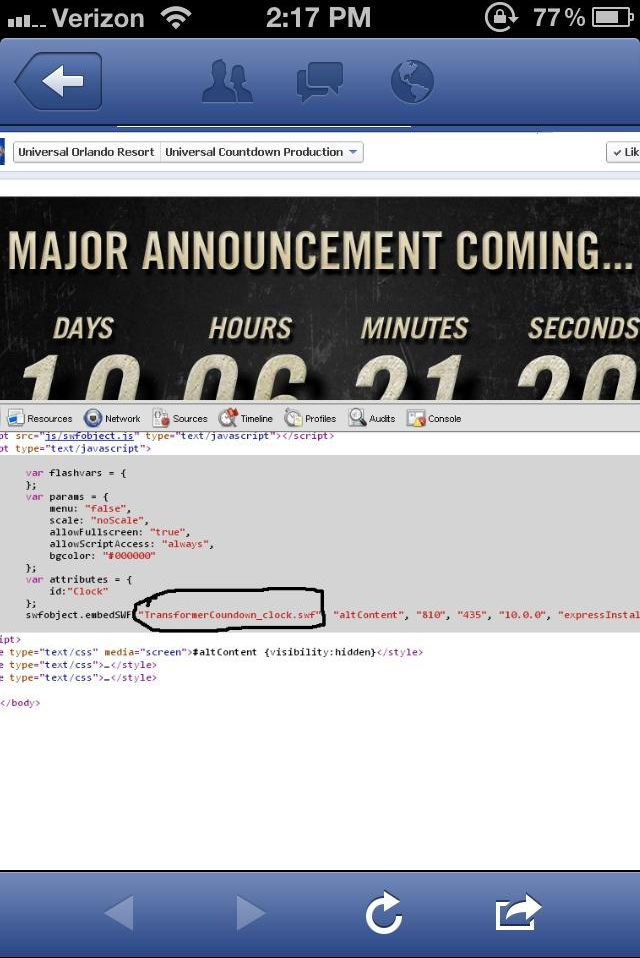 One of our followers on Twitter pointed out the file name for the .swf file of the countdown clock is titled "TransformerCountdown_Clock.swf". Screenshot of coding courtesy of @Mr_NiceGuy529 on Twitter.
Stay tuned as we bring you more, and for more information about Universal Orlando, including tickets, visit the official website!