Christmas is nearly upon us and parks across the nation are hosting Christmas events to their visitors. Universal Orlando is also offering a Christmas event to their guests, but they offer something no other theme park does during their Christmas event.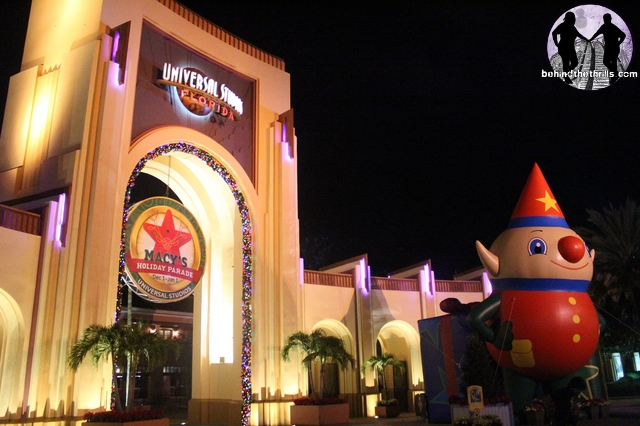 Many people put the Thanksgiving Macy's Parade on their bucket list. Well, if you've got Macy's Parade on your bucket list, there is only one other place where you can watch the Macy's Parade: Universal Studios Florida.
How does Universal Orlando have the Macy's Parade? Well, to begin: they have New York within the park and, although the park has some power lines, they are not in the way of the parade and the streets are roomy enough for the balloons to fit through. Macy's happens in the streets of New York, so it was a perfect match.
Universal also offers several other must-see Christmas shows and festivities, such as Grinchmas. If you've ever read the book or seen the movie, "How the Grinch Stole Christmas", you're already familiar with this show. Universal Orlando brings the who's and the Grinch to life in this 30 minute show. While the show is modeled more after the Grinch movie with Jim Carey, it is still a very fun and heartwarming show that fits perfectly into Seuss Landing, which is also filled with Christmas decorations.
We got the chance to listen to Michael Aiello, one of Universal Orlando's show directors, talk about Grinchmas. Mike provides some good insight about the show and talks a bit about the history of the show and how it has changed over the years.
On select nights, you can also see Manneheim Steamroller live in concert. Manneheim Steamroller is the number one Christmas music artist in history. They will play every Saturday and Sunday through December 23rd at the Music Plaza Stage inside Universal Studios.
On top of all of that, Universal Orlando also offers two other Christmas shows, both at Universal Studios: A Barney Holiday and The Blues Brothers Holiday Show.
The holiday festivities will run daily at Universal Studios and Islands of Adventure now through January 1, 2013. For more information about Universal Orlando, visit the official website.