If there is one thing the history of evolution has taught us it's that life will not be contained. Life breaks free, it expands to new territories and crashes through barriers, painfully, maybe even dangerously, I'm simply saying that life, uh… finds a way. Apparently so do huge blockbuster franchises like Jurassic Park 4. According to ComingSoon.net Jurassic Park 4 will go before cameras later this year for a June 13, 2014 release date. Could a new film also mean new life to the Jurassic Park area at Universal?
The new film will be produced by Steven Spielberg and will be directed by a yet un-named director. This comes twelve years after the last installment in the franchise under performed the other two entries in the box office. Jurassic Park 3 stuck to the same old story of going to an island filled with genetically engineered Dinosaurs, and things going horribly wrong. This next entry in the franchise is rumored to involve talking dinosaur hybrid soldiers, and could very well be the first in a trilogy of new films.
In 2011 it seemed that Universal had picked up filming on the sequel when a sign announcing the filming appeared at Universal Studios Hollywood (click here for original story). The picture ended up being the mistake of a park worker who meant to put Spider Man 4 in it's place.
There's no word yet on what path the new story will take, and if it is designed to open up a whole new trilogy or if it's going to be a stand alone film. Also no word on if any of the original three films stars will return, though we hope upon hope that Ian Malcolm returns.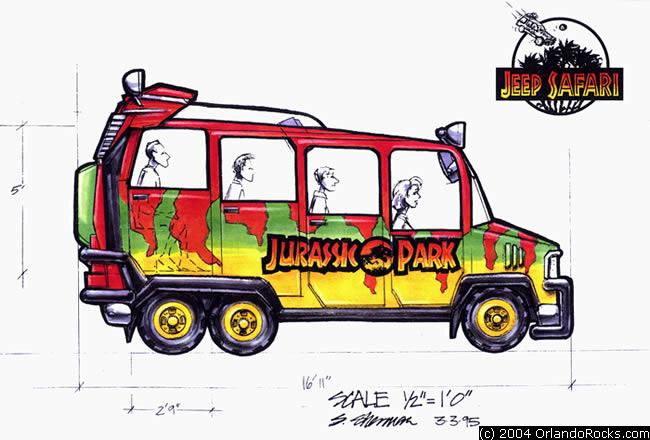 With all the talk of a new movie, could Jurassic Park at Universal Orlando's Islands of Adventure get a long over do rehaul? It's quite possible that with the renewed interest in dinosaurs reaching a fever pitch, that the long forgotten land could see not only some much needed rehabs but also a much needed new ride.
Several years ago the concept art above surfaced, and pretty much confirmed a brand new jeep ride for the area. The ride would see a jeep tour, much like the film, where things went wrong in the velociraptor paddock. The area would include an animatronic raptor that would jump on the hood of your jeep. Instead, we got womping willows, Dementors and a boy wizard. So could the Jeep ride be revived?
At first glance yes…however, much of the land needed for the ride was used for the Wizarding World of Harry Potter. Still, since the popularity of Jurassic Park waned, one of the area's key attractions has since closed. Triceratops Encounter would allow for guests to see a living breathing Triceratops up close. That area was completely shut off and now stands unused, though it was opened briefly in 2010 to help with enormous crowds brought in by Harry Potter.
While we've heard the Jeep ride is pretty much off the table, several other ideas have been tossed around.
Wooden Coaster-A family wooden coaster that extends into the lagoon has been tossed around. The cars would be jeep themed and would use smaller coaster trains. The coaster would make several stops in different areas, with the main one being the Triceratops habitat before racing off for a fun ride back.

Flying Coaster-Another coaster mentioned was a flying coaster themed to a flight with the Pteradons and Pteradactyls. With the introduction of the B&M Wing Rider coaster, that concept has changed to include the new coaster type and feature huge animatronic winged beasts
Revamp of the Discovery Center-A much needed Discovery Center update has been rumored for some time. The Discovery Center is taken right from the first movie and features a hatching center, and several games themed to dinosaurs. Half of the games and exhibits don't work, so it would be a perfect chance to update, and maybe even include the "theater ride" from the film.
New Dinosaur research facility-Instead of a coaster the research facility would take you behind the river adventure and give you a look at how dinosaurs are created and cared for. The dark ride would feature state of the art vehicles…spared no expense! Of course the game will change when a raptor in for a daily check up decides to eat his handler…I wonder if Muldoon will want to "SHOOT HER!"
Keep in mind that these are all just rumors for the moment, and Universal may be done with Jurassic Park…but with a new film coming out in 2014 don't count on it!
Don't forget that Jurassic Park will be back on the big screen in 3D for one week only!
For more information about Jurassic Park at Universal Orlando, visit the official website!