Out of nowhere residents around Oklahoma City were slammed with a series of tornadoes that devastated much of the area. Estimates are still rolling in, but so far this is one of the worst natural disasters to hit the United States. Many people lost everything, some lost their lives. In this time where many people have lost everything, Holiday World in Santa Claus, Indiana is stepping up to help. The park is appealing to their fans to help raise money for relief efforts in the areas most affected by the dangerous storms.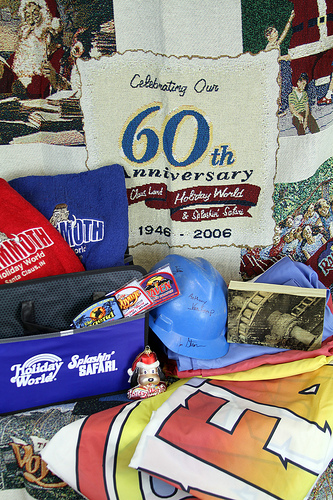 Holiday World will hold an online auction to help benefit the victims affected by the tornadoes in Oklahoma. Some of the items include flags from the park, park tickets, extra perks and more.
Here's a complete list:
8 one-day admission tickets for 2013
First ride of the day on Mammoth (or other ride of your choice)
Private Cabana in Splashin' Safari
Lunch served in your Cabana
Dinner at Plymouth Rock Café, with table service and tour
Holiday World Hard Hat, used, signed by our Coaster Cats
Customized Coaster Art (you choose the photo) on Raven track wood
Holiday World Logo Flag (flown at the front gate)
Splashin' Safari Logo Flag (flown at the front gate)
3 Voyage Flags (flown at the top of the lift hill)
Holiday World 60th Anniversary throw
Roller Coaster Patches (Raven, Legend and Voyage)
2 Mammoth beach towels
Family photo on the ride of your choice
Holiday World laminated trunk organizer
Holidog Christmas ornament
"We've put together an awesome package to appeal to fans of our park," says Holiday World president Matt Eckert. "The auction winner will receive eight Holiday World tickets, meals, use of a cabana, first ride of the day on our Mammoth water coaster, plus a set of park flags, one-of-a-kind coaster art, and more."
The auction is going on now and will end on May 28th. All money raised will be given to the American Red Cross. To bid and see the items, click here!
For more information on Holiday World, including tickets, visit the official website by clicking here!