Mardi Gras in New Orleans is the city's largest attraction. Every year, tourists and locals get together to celebrate Carnival, which boasts tons of parades, millions of beads, and of course the floats. One company makes the majority of those floats for not only Mardi Gras in New Orleans, but also for Mardi Gras at Universal Orlando. Blaine-Kern Studios has been the face of Mardi Gras since 1947. In the heart of New Orleans, they have what is essentially their own little theme park called, appropriately, Mardi Gras World. While it doesn't have any rides, or shows, it does take you away to a place where music is always playing, beads are always flying, and there's always a good time. Did we mention that it's open to the public? Did we also mention there's King Cake?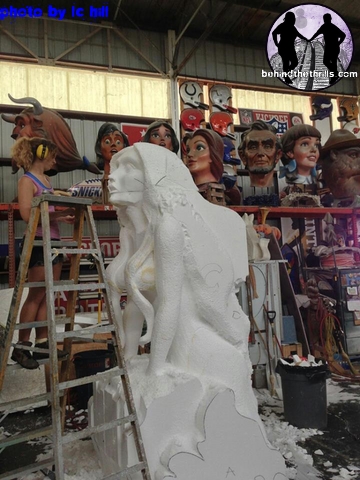 Mardi Gras World is unlike any theme park or museum you've ever encountered, mostly because it's not a theme park or museum you've ever encountered. This is where the world of Mardi Gras floats are born. From the outrageous, to the familiar, and even the traditional, Blaine-Kern Studios makes them all.
Mardi Gras World is the home to the working Blaine-Kern Studios. All the Mardi Gras floats are actually crafted and made here. They are then sent to the different places that order them. Sometimes they get the floats back to change a theme, or to do maintenance work.
The amount of floats and pieces that are on display is astounding, and varies depending on the season. Some have a ton of history behind them, others a lot of tradition. They are all hand crafted, and painted right on the premises. The floats can be for a wide variety of parades, and events. You just really never know what you'll see as you tour the factory.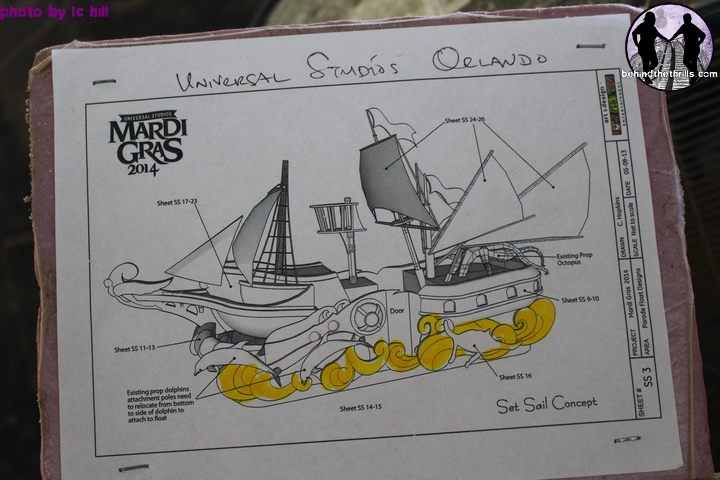 Universal Orlando uses Blaine-Kern Studios to build their floats, right in New Orleans. When they say they have authentic Mardi Gras parade floats, they mean it. Universal Orlando has said in the past that they have several traditional floats they keep every year. These include The Riverboat, King and Queen, and of course King Gator. Other floats are rotated out every so often, and new floats are added to complete the theme. While we there we were able to catch an early glimpse at one of the floats being constructed for 2014 Mardi Gras. The picture above shows off one of three new floats that will be used in the parade. The theme this year is "Around the World in 80 Days" and is based off of the Jules Verne book of the same name. The different floats will feature different modes of transportation-Land, Sea and Air. The drawing above is of the Sea float called (according to the picture) "Set Sail". We were able to spy several of the pieces being constructed for the float while we were touring. Please keep in mind, these pictures were taken way back in August of 2013, so that gives you an idea of just how much work goes into the parade at Universal Orlando.
Universal's Mardi Gras is a decidedly tamed down, family friendly version of the New Orleans version. However, the authenticity and detail in the float designs are just as intricate, if not better in a lot of cases. Also, you get the benefit of having a ton of great attractions, huge concerts and a much longer parade run. Blaine-Kern Studios typically designs the floats of Mardi Gras in New Orleans to last one use. The floats for Mardi Gras at Universal are designed to last the entire run of almost three months.
Check out even more pictures from Mardi Gras World!
If you can't view the slideshow above, please click here.
The cost of the tours are about $20 dollars for adults, and embark every 30 minutes. The tours last about an hour. We happened to luck out, and caught the facility during a slow time. Naturally the closer to Mardi Gras, the busier it gets, and the higher the demands for tours. There is also a cafe that serves all the traditional favorites like Creole Jambalaya, Chicken-sausage gumbo, and of course Po Boys. Pictures are not only allowed, but encouraged. It's a great way to spend an afternoon, and it's a must do if you're a fan of Universal's Mardi Gras and missing home.
Take a video walkthrough of the entire factory!

For more information about Mardi Gras World, including tickets, visit the official website by clicking here!
For more information about Mardi Gras at Universal Orlando, visit the official website by clicking here!