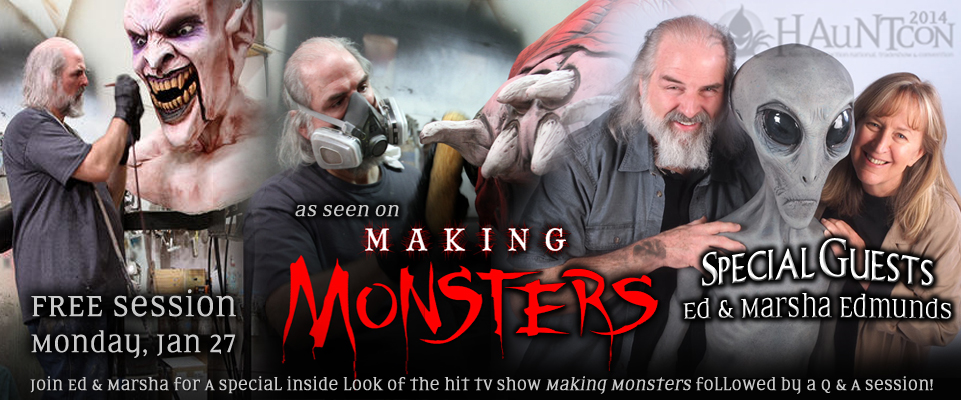 It's not Halloween, but we are going to party in January like it is! HAuNTcon and The Halloween & Party Expo are taking over the George Brown Convention Center in Houston, Texas Jan 23-28! Both shows will feature many great events with an all star lineup of educational classes PLUS just announced, ED and Marsha Edmunds from Making Monsters will be there with their bran new monsters!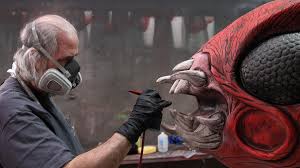 Stars of Travel Channel's "Making Monsters" Ed and Marsha Edmunds will have a special treat for attendees at 3:30 pm on Monday, January 27! – A special inside look of their hit tv show Making Monsters will take place followed by a Q & A session. The duo will present a behind-the-scenes look inside Distortions Unlimited's fascinating world of animatronic and monster making! The stars will also tell the audience their story about how they became television stars. The session is FREE to all HAuNTcon attendees!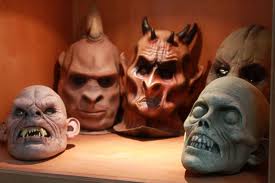 Making Monsters is a reality TV show about the Greeley, Colorado company: Distortions Unlimited, creators of some of the scariest props and animatronics the haunt industry has ever seen. Click here for more information on "Making Monsters"
Distortions Unlimited will also have a booth open to all attendees on the tradeshow floor. Here they will be debuting and selling their newest creations of their 2014 lineup! Stop by, say hello, and get an autograph or a photo with them while you're at the show! We will be posting live on site from the tradeshow all week long so watch for updates!
For more about HAuNTcon and The Halloween & Party Expo check out our huge article here.
For more info visit the official HAuNTcon website at www.hauntcon.com