It's bright, vibrant and definitely grabs your attention as "the dude" spins on a motorcycle on top of a radically bright colored church looking building. Antojitos Authentic Mexican Restaurant is definitely an attention grabber, but is the latest venue to open in a huge CityWalk overhaul at Universal Orlando any good? We attended the gran opening last Wednesday night to sample all the flavors of Antojitos and to find out.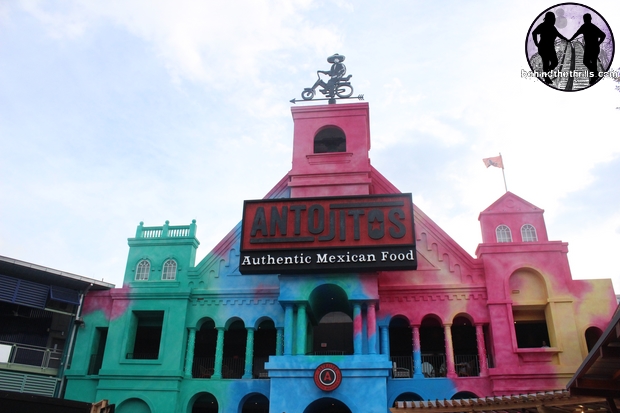 The first thing to say about Antojitos is that the place is certainly eclectic. From the outside of the building with very loud and vibrant colors, to the VW van stationed outside, to even the roaming mariachi band singing versions of popular songs, it's an overload of the senses. That's just on the outside. Once you're inside the smell of food takes over your brain, although the neon lights and graffiti murals do put up a good fight for your attention.
Video-Grand Opening comments from Universal Orlando's Grand Opening of Antojitos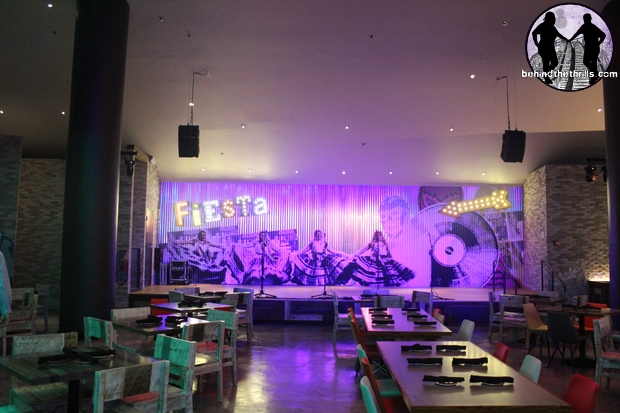 The restaurant is actually split into two different restaurants…but they're the same, if that makes any sense. The bottom floor is themed more to the flavors and themes of a Mexican street fair. You have a lot of different things that we think of as traditional Mexican food, like tacos, burritos included in the menu. Tons of great tastes and flavors that are brought with surprising new takes.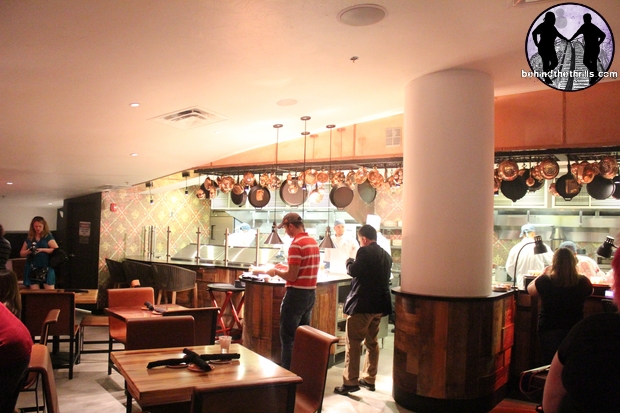 Then upstairs you have a more refined, more of a fine dining menu. The atmosphere also changes from a Mexican street fair to more of a homely Mexican kitchen. Here you'll find more dishes that are more in line with an upscale restaurant, such as the coffee crusted steak, and Menonita Shrimp.
Video-We talk with Executive Chef Steve Jayson about the inspiration and menu of Antojitos

How is the food? Well, a lot of people have described it as "yummy". That's a very inaccurate word. Yummy is a term that moms use to get their babies to eat the strained peas, after the babies realize that it's all they're getting.
No, the food at Antojitos is very flavorful, it's bold and it takes your taste buds to places that it normally wouldn't expect to go with Mexican dishes.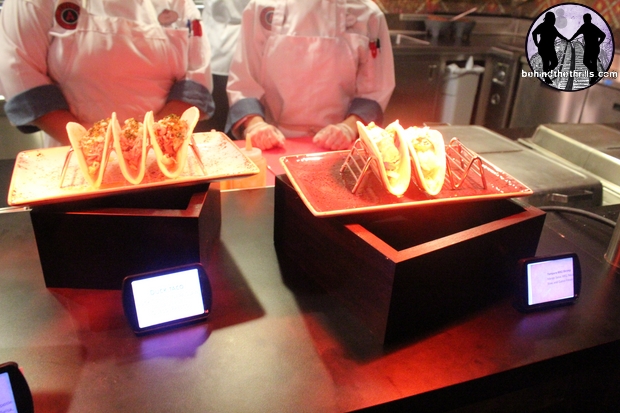 Our favorite downstairs items had to be the Tacos De Le Calle which come in seven different varieties. You can choose from various pork, chiles, chicken, fish, and duck. Yes, duck confit tacos, while not a very appetizing sounding dish is flat out one of the most flavorful tacos I've ever tasted. It's served with duck confit, slaw, salsa and a queso sauce that brings it together.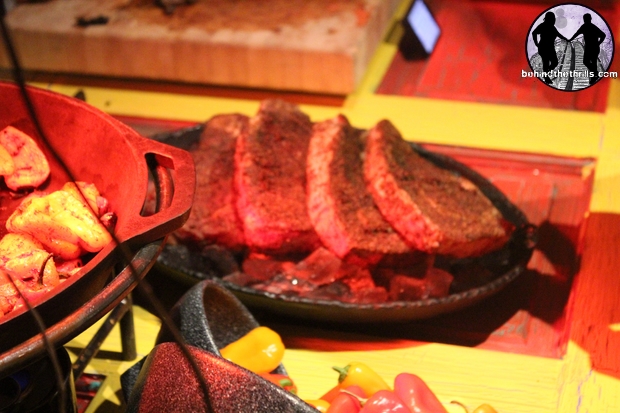 Upstairs the favorite dish has got to be the Carne Asada Brava, which is simply put-Coffee encrusted steak. The restaurant grinds up coffee beans and makes a paste out of it, then sears the steak in it. While I absolutely hate the taste of anything coffee flavored, the coffee actually traps the flavor of the meat and makes it even juicer than it normally would be. The subtle hint of coffee doesn't take away from the steak at all, and instead makes it pop in your mouth.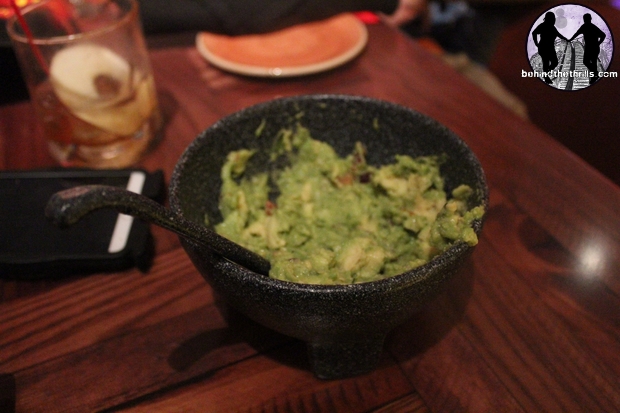 Another great idea that Antojitos has on both levels is the fresh, made at your table guacamole. Now, like most kids, I have this thing about green foods. It means healthy, and yuck. Especially guacamole which (when bought in stores or at taco chains) has a consistency of snot. There's something to be said about seeing it made fresh at your table, with fresh ingredients. There's something more to be said about being able to pick what ingredients you want or don't want in your food.
Video-Make your own guac at Antojitos
The guac is very smooth, losing that typical consistency that most people don't like about it. Instead you have chunks of great veggies, and two whole avocados. We like garlic, and of course had extra garlic added. It was delicious, and really broke the mold of what to expect.
There is a large variety of food to choose from, including several vegetarian dishes and stuff specifically for kids. The menu is on the pricey side, but things like the guacamole is enough for several people. Appetizers such as the Tamlito Fritos are hearty enough to make a meal out of.
Of course there's great drinks, loaded with tequila. There are also specialty drinks, and of course "Mexican Coke" which is the normal Coca-Cola with pure cane sugar instead of corn syrup. Our favorite drinks include the Big Apple of Mexico which is an apple juice infused margarita, with a cinnamon sugar rim. The Handsome George is said to be inspired by George Clooney, and has a very sharp Tequila with a hint of lime. The Horse you Rode in On, is just a killer on the rocks margarita style drink with a splash of black cherry. Of course there's the standard margarita, that is huge and full of great flavor.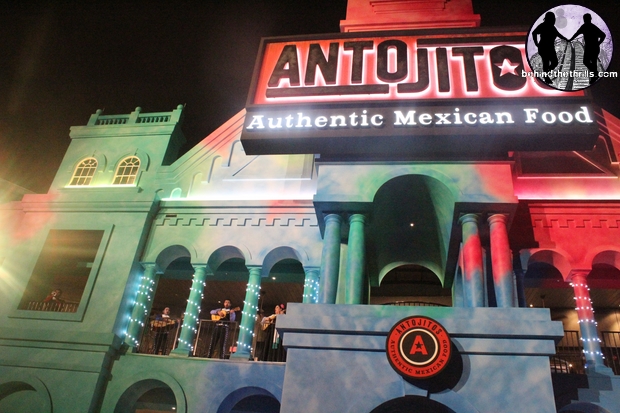 No authentic Mexican restaurant would be complete without a Mariachi band bringing the fiesta to new heights. Antojitos is no exception. The band wanders the entire area, from outside to inside, upstairs and down throughout the night. While the band will play some traditional Mexican songs, the highlight are the Mariachi versions of popular songs like Frank Sinatra's My Way, Don't you want me baby, and Wake me Up.
Video-Commit random acts of Mariachi at Antojitos with a random song mix
If you're not looking to go for a sit down dinner, then you can grab some small bites as well as a few signature drinks in the van outside.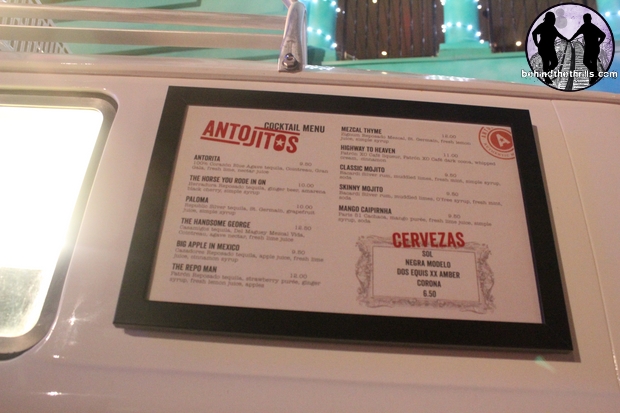 It doesn't offer a full menu, but for quick on the go items, guests can grab a drink and some snacks to go. It's a cool take on the food truck craze that many love.
Slideshow-Check out more from around Antojitos
Antojitos is open for dinner at 5:30 and seating is available both upstairs, downstairs, inside and outside both under the porch and upstairs on the balcony. Reservations are not required, but are recommended for dinner. The mariachi band roams at random times, and a schedule is not listed, which makes it all the more special.
Stay tuned as we bring you even more of the CityWalk expansion, and be sure to follow along with us on Twitter @BehindThrills for more updates.
For more information about Antojitos at Universal Orlando's CityWalk, including menus, visit the official website by clicking here!