While it's not officially summer, it's officially starting to feel like it. Theme parks are getting more crowded, and the temperatures are starting to rise. Universal Orlando is especially getting hotter as they continue to prepare for the opening of the Wizarding World of Harry Potter – Diagon Alley. We take another look around the park this week at all the changes not only around Diagon Alley, but also CityWalk.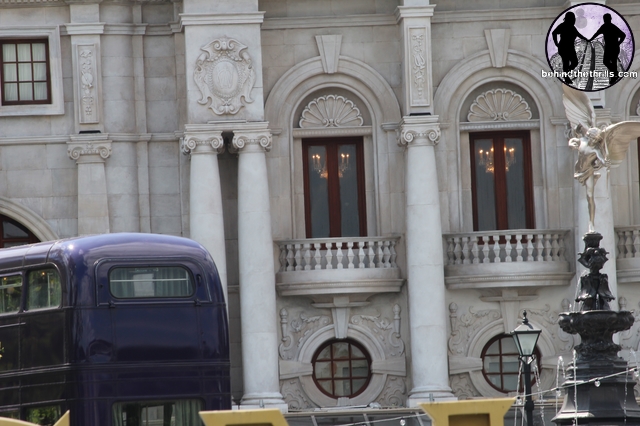 As the work around what is sure to be the biggest theme park attraction of the year, the amount of work being done is becoming less visible, which means that opening day has got to be coming soon. While walls are still up, things like the huge fountain in London has started operation, and lights are on.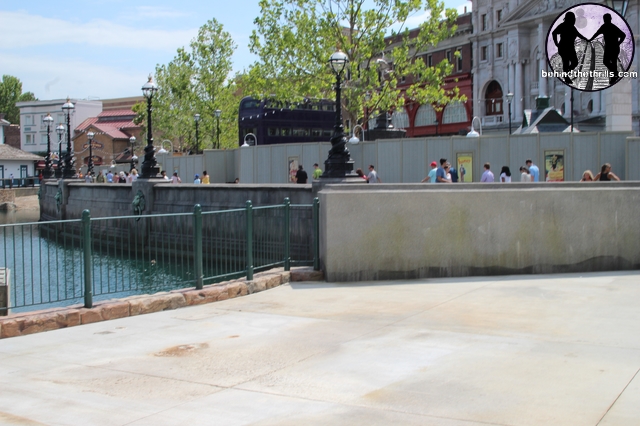 In anticipation of the huge crowds heading to Diagon Alley, the huge snack cart just outside of Diagon Alley, approaching the Simpsons across the bridge has also been removed. It appears that the location is no longer needed for snacks and drinks since Diagon Alley will feature tons of new dining options, including GillyWater and Ice Cream.
The dragon that sits atop of Gringott's Wizard Bank has gotten it's second wing, and is absolutely huge. It's visible near Transformers, but as you get closer, it becomes less visible. Also near Men in Black is a series of Diagon Alley return ticket kiosks. For those of you that remember the craziness of 2010, you'll know that the Wizarding World quickly reached capacity, leaving many to be told to come back at a later time, or simply wait. Of course, return tickets were given out eventually, which made for much lighter crowd control issues. This time around Universal has installed all new kiosks to help with return tickets. Think of them as Fastpasses to get into the Wizarding World of Harry Potter. These passes are not for any of the rides, they are merely to get into Diagon Alley. If Diagon Alley is anything like Hogsmeade was, you can bet that there will be some huge crowds this summer.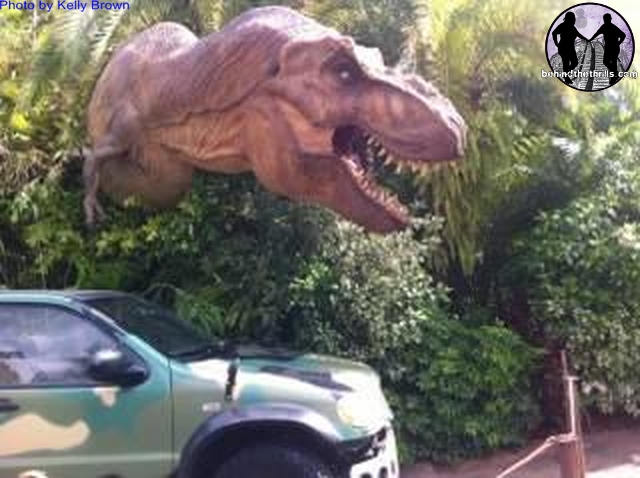 Over at Islands of Adventure, all is quiet on the Harry Potter front. No major changes have been spotted, which means that any work is being done behind the scenes at Hogsmeade Station. Jurassic Park is a different story. We have a T-Rex! Just last week she was missing in action from her normal spot over near Thunder Falls Terrace. There is a major construction project happening behind that area, that many say is an all new Kong attraction that is coming in 2015. Meanwhile, our T-Rex here was moved towards the back, but good news-She's back! She has been spotted near The Discovery Center, poking out from behind the area near the old Triceratops Encounter. That's the good news. The bad news is that you can see her butt…or lack there of. There is some camouflage around the base of the prop, but it's a little sparse, giving you a good look at the stand from the right angle. Still, no one seems to notice too much.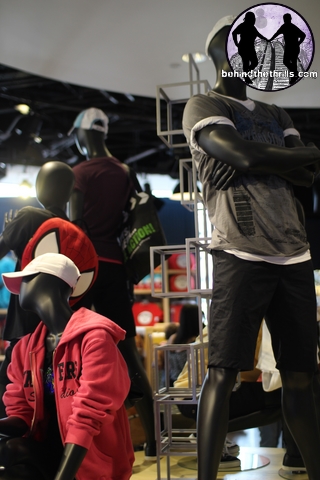 The other huge expansion happening at Universal Orlando is the massive CityWalk expansion. Last week the all new Universal Studios Store opened with an updated look, and larger feeling store. The store is just one of several new additions coming to CityWalk this summer. So far Red Oven Pizza, Antojito's Authentic Mexican, Starbucks, Coldstone Creamery, and Menchie's Frozen Yogurt have opened as part of the new addition.
Remaining restaurants coming to CityWalk will open very soon, with Vivo Italian Kitchen, and Hot Dog Hall of Fame scheduled to open sometime later this month. CowFish and Breadbox will be open closer to July. So far work has gone by at a break neck pace, with the final bits of concrete being poured near Hot Dog Hall of Fame.
Video-Take a walk around Universal Orlando with our latest construction tour!

The all new additions to CityWalk are just the first phase in what park officials have said will be an ongoing evolution of the area. Expect to see more in the coming years.
SlideShow-Check out even more pictures from Universal Orlando and the Wizarding World of Harry Potter-Diagon Alley!

While there are no exact opening dates for any of the remaining CityWalk Venues, or for Diagon Alley, there will be a media preview beginning June 17th. Many, if not all, of the new venues are expected to be previewed during that period. Diagon Alley will definitely be previewed for media as well, and an opening date is expected to either happen right around that time, or to be announced during that preview. Still, we've heard word of a soft opening happening as soon as Wednesday of this week, and walls should be coming down any day now. Fingers crossed!
Stay tuned as we bring you even more from Universal Orlando, and be sure to get social with us on Facebook and follow along with us on Twitter @BehindThrills for the latest updates!
For more information about Universal Orlando, including tickets, visit the official website by clicking here!