If Universal wanted to make a huge impression with Jimmy Fallon and the Tonight Show for the grand opening of The Wizarding World of Harry Potter-Diagon Alley, he did it. How do you make the biggest impression on viewers and park guests? By rolling out one of the sexiest and hottest performers in the industry today. Jennifer Lopez brought down the house at Universal Orlando as the first of many musical performances this week on The Tonight Show with Jimmy Fallon. In case you missed it on television, we have a look at what it was like from inside the park.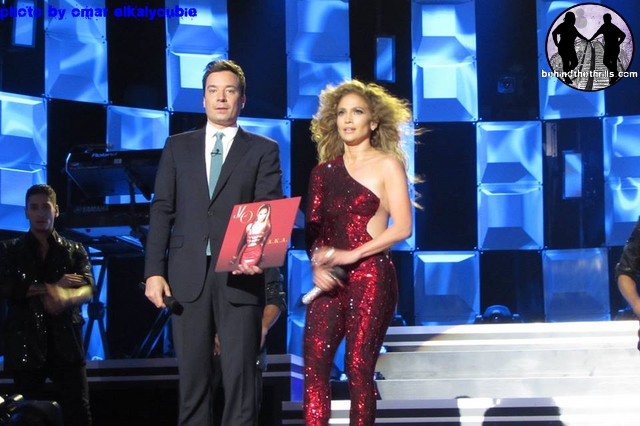 Lopez was on the Tonight Show with Jimmy Fallon to promote her all new album- A.K.A. with a huge musical performance. While guests at home were able to see just one song, her performance was nothing short of stunning at Universal, at the Music Plaza Stage right under Rockit.
Fallon has been in Orlando for the past few days filming parts for this week's shows, which will largely feature the all new Wizarding World of Harry Potter. The all new Diagon Alley was featured in a lot of the show tonight with clips of the Hogwarts Express, and the hilarious Wand Testing bit in which Fallon went to Ollivander's wands.

Video-Watch J-Lo dance on stage at Universal Orlando

As for the musical performance, guests were treated to a huge pre-show rehearsal in which J-Lo and all her dancers took to the stage. While most might expect a whole concert, each musical performance only performs one song, two at the most. It was a great chance for those in the crowd to see the rehearsals, and get a little bit better of a glimpse at what happens before the show.
Slideshow-Check out even more pictures from J-Lo on the Tonight Show at Universal Orlando

The Tonight Show continues taping all week with Jimmy Buffet, FUN and Pitbull rounding out the musical performances. Musical performances for Jimmy Fallon are open to park guests at the Music Plaza Stage right under Hollywood Rip Ride Rockit. Musical Performances happen at 9p.m. but if you want a good view, you'll need to be there much earlier.
While tickets for Jimmy Fallon are not available, guests can try and wait in the standby line. If those people who have tickets do not show up by a certain time, their spots are given away to those in the standby line. Those are given on a first come, first serve basis.
Stay tuned as we bring you tons more from Universal Orlando this week as we venture inside Diagon Alley! Be sure to get social with us on Facebook, and follow along with us on Twitter @BehindThrills for the latest updates!
For more information about Diagon Alley at Universal Orlando, including tickets, visit the official website by clicking here!