July is the time of the year where, for most of the country, temperatures are at their highest. So, it should come as no surprise that July is National Ice Cream Month. July 20th is also designated as National Ice Cream Day. With summer at it's peak, it's also no surprise to find many theme parks at their busiest, and of course, each one selling ice cream of one kind or another. So, in honor of National Ice Cream Month, we've chosen our favorite theme park ice cream!
Banshee Twist Ice Cream-Kings Island
Kings Island came up with the blue ice cream in 1982 when the Smurfs ride was introduced. Since then, it's been a staple for summer treats at the park. This year, with the introduction of it's all new Banshee coaster, the park introduced "Banshee Twist" Ice Cream. It's the same blueberry ice cream, twisted with purple vanilla ice cream. It's served only at the Ice Cream Zone stand near the coaster.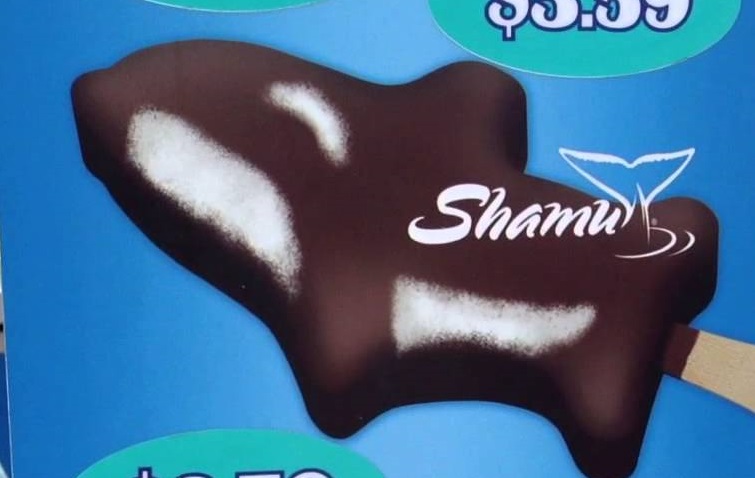 Shamu Ice Cream Bar-SeaWorld
We love Shamu! The awesome killer whale has inspired us for decades, and has kept us cool by providing us with some fun ice cream bars. The vanilla ice cream bar is shaped like the Orca, and is dipped in chocolate with some fun coloring to give it that killer whale look.
Boysenberry Soft Serve-Knott's Berry Farm
Everybody loves soft serve. Knott's has a recipe that includes their signature boysenberries, soft serve ice cream and chunks of the fruit. Great in a cup, or or favorite, in a waffle cone. It's the perfect treat on any Southern California Day.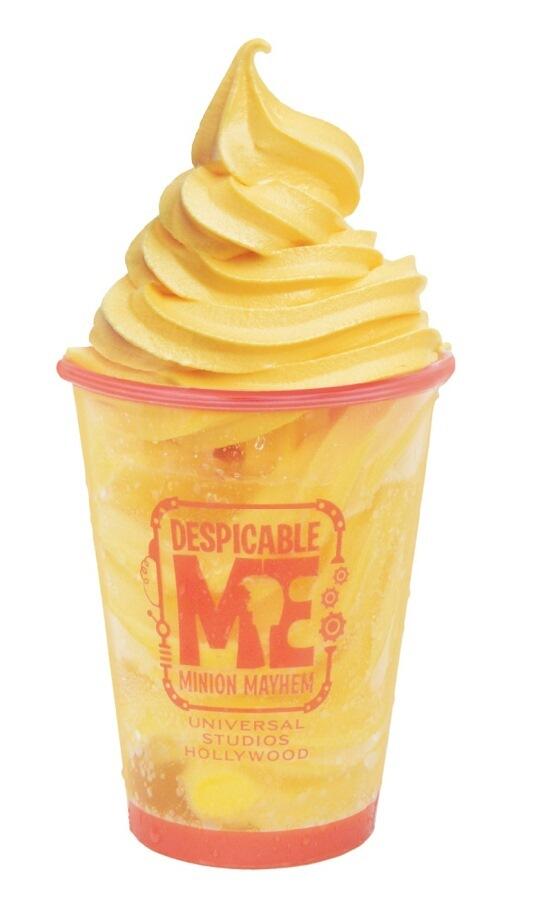 Freeze Ray-Universal Studios Hollywood
Banana? BANANA!?!?! If you're a lover of "whip" style ice cream, you'll love Freeze Ray. The banana flavored  soft serve is found only at the all new Despicable Me area at Universal Studios Hollywood. It's banana goodness will bring out the minion in everyone.
Lard Lad's D'Oh-Nut Sundae: Universal Studios Florida
Jumping the coast, and your waist line, is the Lard Lad D'Oh-Nut Sundae at Universal Orlando's Springfield area. The sundae is a doughnut sliced in half, with ice cream in the middle, topped with your choice of toppings and topped with the other half of the doughnut. Yeah, it makes us drool too.
Dole Whip-Disney Parks
Whether it's Disneyland, Walt Disney World, the Polynesian Resort or at Epcot with rum, it's gotta be Dole Whip. It's honestly not a trip to Disney without a heaping serving of the fresh pineapple flavored soft serve. Originally served in Frontierland, Dole Whip has spread to other parks of the resorts, and has even made appearances at the Epcot festivals where it's served with rum. Rum and pineapple ice cream? Yes…a definite please!
Mickey Ice Cream Sandwich-Disney Parks
When it comes to ice cream, you have iconic, then you have Disney. Disney parks are full of all kinds of great ice cream, and while there's none more iconic than the chocolate dipped Mickey bar, we love the Mickey Ice Cream Sandwich. First-Ice cream sandwiches are an absolute good. Second-It's got cookies and cream ice cream encased in the goodness of cookies. Third-Mickey smiles all the way to the last bite!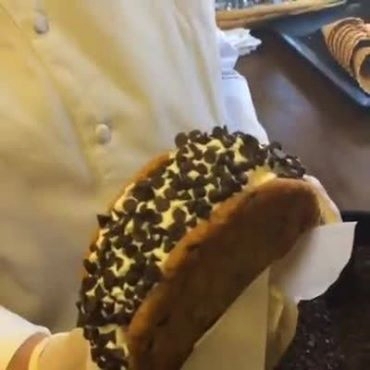 Cookiewich-Knott's Berry Farm
Two crispy, homemade chocolate chip cookies. Vanilla ice cream. Chocolate chips. That amazing combination is the ice cream sandwich of ice cream sandwiches. The chocolate chip cookiewich at Knott's Berry Farms is the absolute, most perfect ice cream sandwich ever.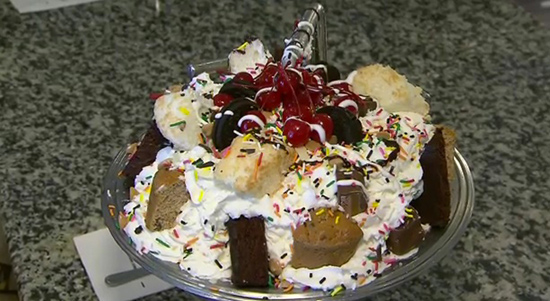 The Kitchen Sink-Disney's Beaches&Cream, Walt Disney World
It's the stuff that ice cream lovers dream about. The Kitchen Sink at Disney's Beaches & Cream is ice cream made amazing. The ice cream sundae is enough for four people, but some try to do it all alone. It comes in a miniature kitchen sink, and has everything in it in the house…including a whole can of whipped cream (A WHOLE CAN?!?)
Here's the list, in case you're curious:
½ cup fudge topping, warmed
½ cup butterscotch topping, warmed
½ cup peanut butter topping, warmed
1 medium banana, sliced in 1/2 –inch slices
1 cinnamon spice cupcake (2 ½ x 1 ¼-inch), quartered
1 angel food cupcake (3 x 1 ½-inch), quartered
2 4-oz. scoops vanilla ice cream
2 4-oz. scoops chocolate ice cream
2 4-oz. scoops strawberry ice cream
1 4-oz. scoop mint chocolate chip ice cream
1 4-oz. scoop coffee ice cream
3 tablespoons chocolate syrup
¼ cup marshmallow crème
¼ cup strawberry topping
¼ cup pineapple topping
1 14-oz can dairy whipped topping
1 brownie (6-inch x 6-inch), quartered
1 regular-sized (2 ounce) candy bar, quartered
4 chocolate cookies with cream filling
1 tablespoon sliced toasted almonds
1 tablespoon dark and white chocolate shavings
1 tablespoon chocolate cookies with cream filling, crushed
1 tablespoon chopped jellied orange slices (approximately 2 large slices)
1 tablespoon milk chocolate chip morsels
1 tablespoon peanut butter chip morsels
1 tablespoon chocolate sprinkles
1 tablespoon rainbow sprinkles
½ cup drained maraschino cherries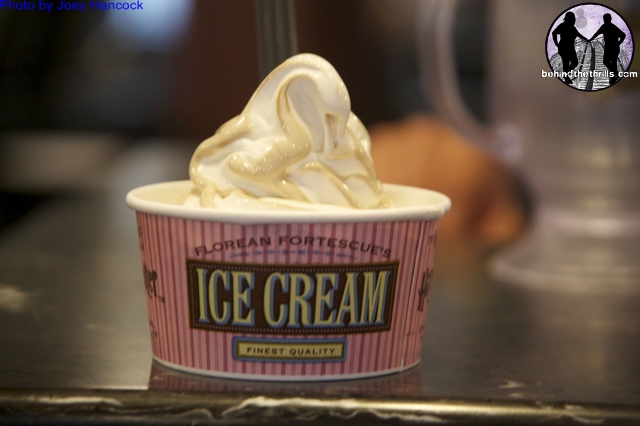 Florean Fortescue's Ice Cream Parlor-Diagon Alley, Universal Studios Florida
When you say "Diagon Alley at Universal Orlando", the first thing that most everyone thinks of is Butterbeer Ice Cream. After all, everyone has already had regular, and frozen Butterbeer…some have even had warm butterbeer. Ice cream, though? Yes, it's just as good as you think it would be. However, Universal didn't stop there. They didn't want you to come in and get ice cream, they wanted you to have an ice cream experience. Florean Fortescue's is Ice Cream Heaven…more than that, it's ice cream nirvana. Once you taste the ice creams of Diagon Alley, you have full understanding of the universe (well, the universe of ice cream anyway). There are many other flavors besides Butterbeer. Some are included in the Harry Potter books, like Strawberry Peanutbutter. Others are just inspired by the area. Flavors like Earl Grey and Lavender, Apple Crumble, Clotted Cream and even Chocolate Chili surpass Butterbeer ice cream in the sheer unique flavor. Butterbeer ice cream is amazing, and worth a try, but chocolate chili gives you a kick in the face, while the clotted cream cools you down. The shop also serves different pastries, and cookies. They also make their waffle cones while you wait, so that the entire area around the shop smells like waffles. While magic comes alive in the streets of Diagon Alley, the true magic happens when your taste buds explode in Florean Fortescue's.
There are so many different theme park ice cream varieties that we left off, we couldn't possibly name them all. These are just a few of our absolute favorites. So which theme park ice cream is your favorite? Let us know in the comments below, and be sure to have a scoop today and all month long! Happy Ice Cream Day!
Be sure to get social with us on Facebook, and follow along with us on Twitter @BehindThrills for the latest updates!