Comics have been a staple in the movie industry for going on 20 years. If you want a huge box office, you put in a huge comic book character, stick pretty close to their story and make it a spectacle like you've never seen. The comic book universe has expanded into cinematic universes, at least for Marvel. DC announced this week that, along with Warner Brothers, they will be launching a huge amount of franchises all their own. This is in direct competition to the Marvel/Disney partnership that has been extremely successful so far with movies. Theme parks have been very hit and miss with transitioning comic book characters into successful theme park attractions, however it' s the next big wave of attractions that have yet to happen. The latest move by DC comics could spell the beginning of a very huge wave of attractions, and could also spur some very big competition between the different theme park chains.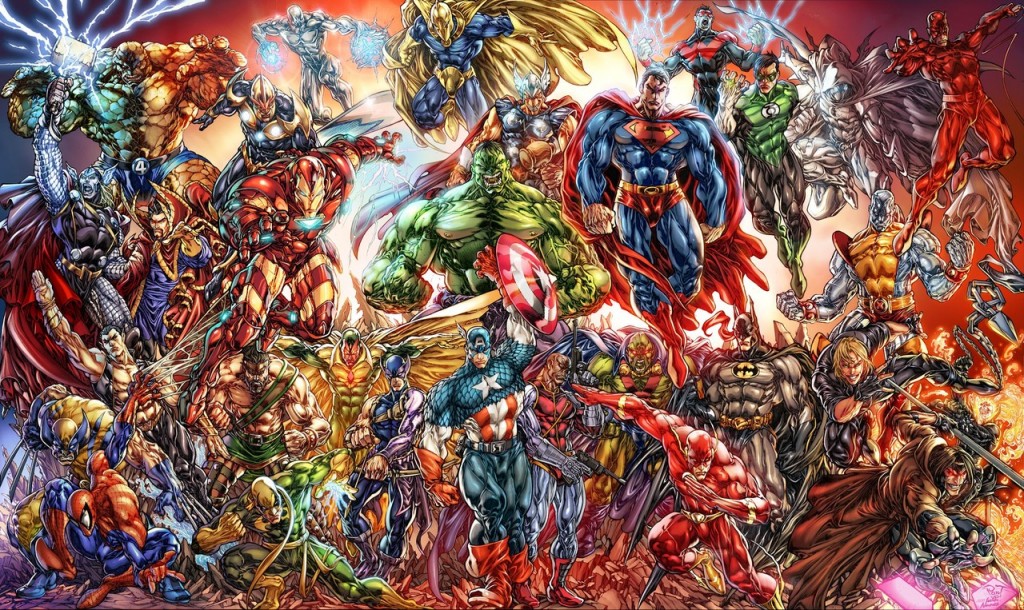 DC Comics, and Marvel Comics are the two of the oldest, and most recognizable brands in the world, with a huge cast of characters that span generations, genders and race. The two have been seeing a huge numer of successes lately, all thanks to the massive movies that they have launched. While DC was officially first in the huge superhero franchise with Superman, and later on Batman in the 80's, it wasn't until Marvel blasted onto the screen with X-Men that Hollywood really started to take notice. Marvel has built an empire of huge films that has broken, and set more box office records than we care to mention. They are getting so huge that Disney took notice, and bought the whole company, movie rights and all.
DC also started to notice, and had huge success with their Christopher Nolan directed Batman series. However, DC hasn't had the same success that Marvel has in bringing their characters to life. They also haven't had the same interest.
In 2016, Batman vs. Superman looks to change that with a battle of epic proportions on screen that will hopefully put pieces in place to bring the entire DC universe to life. Both stand alone films and huge films like Justice League are on the slate for the next five or so years. This week Warner Brothers announced their huge slate of films for the next couple of years.
2016:
BATMAN v SUPERMAN: DAWN OF JUSTICE (previously announced for March 25, 2016)
SUICIDE SQUAD (August 5)
2017:
LEGO BATMAN (recently announced HERE) – May 26.
WONDER WOMAN solo film (she's introduced in BATMAN v SUPERMAN) – June 23.
JUSTICE LEAGUE PART ONE (Affleck, Cavill, Amy Adams – Zack Snyder directing) – November 12.
2018:
THE FLASH (solo, starring Ezra Miller as The Flash) – March 23.
AQUAMAN (Jason Momoa) – July 27.
2019:
SHAZAM (Dwayne Johnson as Black Adam) – April 5.
JUSTICE LEAGUE PART TWO (Zack Snyder helming) – June 14.
2020:
CYBORG (solo, starring Ray Fisher) – April 3.
GREEN LANTERN (reboot) – June 19.
Marvel Cinematic Universe gets more "civil"
While the DC Universe of movies is just starting to get off the ground, Marvel is about to take things in a completely new direction. Marvel has already introduced huge characters. They've already "Assembled" the Avengers, and all of those are in the second phases of their stories. A new crew of characters is about to come onboard, including Ant-Man, Dr. Strange, and join those Aholes-The Guardians of the Galaxy. The "getting to know you and save the universe" phase of the Marvel Universe is over, and now it's time to get right to the roots, and kick some serious ass.
It was revealed earlier this week that Captain America 3 would feature an appearance by Iron Man, which sparked off a lot of talk that it would be the start of Marvel Civil War. If you're unfamiliar with the Civil War series, basically the entire Marvel cast of superheroes are divided by whether or not heroes should be documented and held accountable for the damage caused by them while saving innocent lives. Devin at Bad Ass Digest goes more into detail. 
If the Avengers are any indication, Civil War is going to be huge. It's going to be unlike anything you've seen in cinema before, and it's going to take some of your favorite characters and put the in new lights that you have never seen. It will also, allegedly, mend the bridge that was torn apart by Sony and Marvel by bringing the wall crawler back into the Marvel fold, and perhaps making some really great Spidey movies.
Theme Park Battleground
Way back in 1999, before Marvel became a huge staple of Hollywood, and they were just a massive comic book company, Universal Orlando took notice of the company and built a huge theme park land around the characters. It was almost DC, but that deal fell through at the last minute, and the likes of Batman and Superman have been used instead on roller coasters at Six Flags…but more on that in a minute.
So, Universal builds Marvel Superhero Island, and it's pretty much the greatest, most immersive damn thing to ever be built. It captures the spirit of the comics, and has some damn amazing rides. Spiderman broke all the molds, limits and barriers, while The Incredible Hulk merged story with a coaster. AND IT WORKED SEEMLESSLY!
Universal signs a deal with Marvel expressly forbidding any new theme parks using Marvel characters to be made East of the Mississippi. They also get sold, and sold again. Any hopes for a massively expanding theme park land with new rides are squashed, and we're stuck with the same four (albeit amazing) rides that we have been since 2001.
So why doesn't Universal just build more Marvel rides? Well, that was the plan, until Disney bought the rights to all the Marvel characters, including rides in theme parks. Disney gets a profit from Universal's sales on Marvel related merchandise, and (I believe) part of the admission. They also prohibited Universal from building any new rides in their park.
Disney's also rubbed raw in this deal, as they can't build any rides based on the characters that Universal had in the parks before the deal, and movies, and they can't utilize the characters in anyway inside the parks at all. Disney got smart, and took the meaning literal by keeping the characters outside of the parks, and running monorails with huge character stickers all over the resort, without putting one inside the parks at all.
While that's great, everyone is pining for an amazing Marvel based attraction, or even land done Disney style. Under the current contract, that's not going to happen.
Meanwhile, Six Flags is over there pushing out coaster after coaster with Batman and Superman plastered all over it. The park chain has just announced a really cool sounding dark ride shooter by Sally Dark Rides that will be in place in several Six Flags parks. That ride will feature the Justice League and several of the villains. Six Flags isn't known for the best quality product, so we'll just have to wait and see.
Let Them Fight
Universal, Disney and even Six Flags are missing out on a huge opportunity by keeping the comic book properties all locked up. Every Marvel film that comes out, where there's not a Disney ride to go along with it, countless people are crying. Okay, maybe not crying, but they are going to Universal to ride Harry Potter instead. Disney isn't hurting for attendance, but it's also not gaining huge ground on everyone year after year. Universal, meanwhile, is jumping in attendance by percentages in the double digits on a yearly basis since 2010.
Universal, on the other hand is sitting with a great comic book area that really could take advantage of the current boom in superheroes by making a few new rides, or even changing a few around.
Six Flags is just happily making coasters with the DC comics name that really has no effect on the industry whatsoever. While the coasters are great, the themes aren't. Sure, walking into the batcave is neat, but it kind of loses whatever themeing it had when that coaster hits the lift hill.
So, what would be the best way to do settle all these problems, and in turn, be able to do what you want with these properties?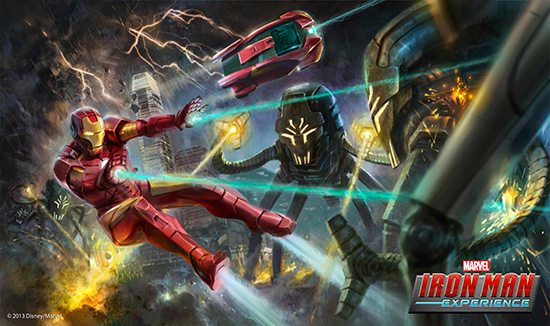 Let's just start throwing money at everyone.
Disney could definitely buy Universal out of their contract with Marvel. By tossing a bunch of money at them, and just getting that damn contract over with, Disney could finally build a huge Marvel area, or Marvel area of a new theme park in Florida. They could stop hemming and hawing in California, and just use up what little space they have left, and let's turn the Imagineers loose. Spiderman was great, it was AMAZING. Let's see what Disney can come up with when their best and brightest are let go with no limitations.
The only problem with that is that it leaves Universal without a themed land for their Marvel area. Well, let's use that same approach and get into talks with Warner Brothers. Warner Brothers owns DC Comics. They also have a deal with Six Flags. Let's throw a bunch of money at Six Flags and get out of that deal.
Warner Brothers and Universal already have a very lucrative deal with the Harry Potter series in the parks. Together they have changed the way that most people look at theme parks. If Warner Brothers helps, the two can just completely get rid of everything in Marvel Superhero Island and start from scratch. Yes, it will be expensive. Yes it will be time consuming. Yes it will be amazing.
On top of all that, Universal Studios Hollywood is undergoing a huge change. DC Universe would be a perfect fit for that up and coming park. Let's not forget the two parks in Asia, as well as the one that is coming in 2019, as well as Russia. EVERYTHING IS BATMAN!
As for Six Flags? Well, they tried. They really did. They just have to many fingers and not enough rings. They do have a similar contract with Warner Brothers, and DC that Universal does with Disney, but with the money they would make from the buyout alone, they could really amp up their game and turn every single park into a huge coaster mecca, and maybe even add some other unique rides as well.
What do you think? What would you like to see happen with DC, Marvel and theme parks? Let us know in the comments below!
Stay tuned for more from Disney and Universal, and be sure to get social with us on Facebook. Also, follow along with us on Twitter @BehindThrills for the latest updates!