Mes amis, mes amis! Laissez les bons temps rouler! Let the good times roll! The annual celebration of good times, good food and amazing music is back at Universal Studios Florida beginning  February 7th! Mardi Gras o's one of the biggest events not only at Universal, but it's also the biggest (and longest) party East of the Mississippi. Universal has released this year's concert line up, and it is one extremely eclectic mix of new, old and artists that span all genres!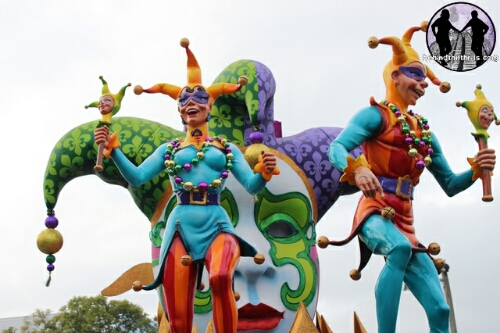 One of the biggest aspects of Mardi Gras at Universal Orlando is the music. It's a tradition that goes back for the entire history of Mardi Gras in New Orleans,  and it's a huge tradition that Universal takes very serious.  So which artists are included in this year's line up? Country, rock, 80's pop, and so much more come to rock Universal this year.
Here's the official line up so far:
-FEB 7 (SAT) Olivia Newton-John
-FEB 14 (SAT) JESSIE J
-FEB 15 (SUN) BARENAKED LADIES
-FEB 21 (SAT) KELLY CLARKSON
-FEB 28 (SAT) HEART
-MAR 7 (SAT) TRACE ADKINS
-MAR 13 (FRI) TBD
-MAR 14 (SAT) STYX
-MAR 15 (SUN) AMERICAN AUTHORS
img-MG-Concerts-corner-bio
-MAR 20 (FRI) BECKY G
-MAR 21 (SAT) YANDEL
-MAR 22 (SUN) THE B-52s
-MAR 28 (SAT) TBD
-APRIL 4 (SAT) THE ALL-AMERICAN REJECTS
-APRIL 11 (SAT) THE BAND PERRY
-APRIL 18 (SAT) TREY SONGZ
The concerts are included with theme park admission,  and are standing room only, so if you want a good spot you'll have to arrive early.
The fun continues in the French Quarter with some of the biggest names straight out of the Big Easy with Cajun and Zydeco music from bands that make New Orleans home. Rockin Jake, Big Al and the Heavyweights are just some of the bands playing The French Quarter.
Here's the line up:
-Feb 7 Rockin' Jake
-Feb 14, 15 The Big Easy Playboys
-Feb 21Grady Champion
-Feb 28Cha Wa
-Mar 7Beth Mckee & The Sliders
-Mar 13, 14 Mississippi Rail Company
-Mar 20, 21 Soul Project
-Mar 28 Naughty Professor
-Apr 4 Daddy Mac Blues Band
-Apr 11Big Al and the Heavyweights
-Apr 14 Gravy
The music is a huge part of the line up, but it is still only just a part of the line up. There will also be amazing food inspired by the flavors of New Orleans, with Jambalaya,  Gumbo and much more.
Then of course the big event is the huge Mardi Gras Parade. The parade features huge floats, built in New Orleans specifically for Universal. Each year sees a different theme, and this year is sure to be no different.
Video-Check out the full Mardi Gras Parade from 2014
Stay tuned for more from Universal Orlando and be sure to get social with us on Facebook and follow along with us on Twitter @BehindThrills for the latest updates!
For more information about Mardi Gras at Universal Orlando, including tickets, visit the official website by clicking here!