Escape the Room is an all new attraction that has taken the world by storm…and it's hidden the key. Escape room attractions are popping up all over the place, and they range in theme from just simple puzzles, all the way to zombie interactive haunts. The USA Network is getting in on the fun by teaming up with the room that started it all, and bringing an all new touring experience to several different cities all over the country! It's all in preparation for the all new mystery event series-DIG, and it's coming to both Universal Orlando and Hollywood!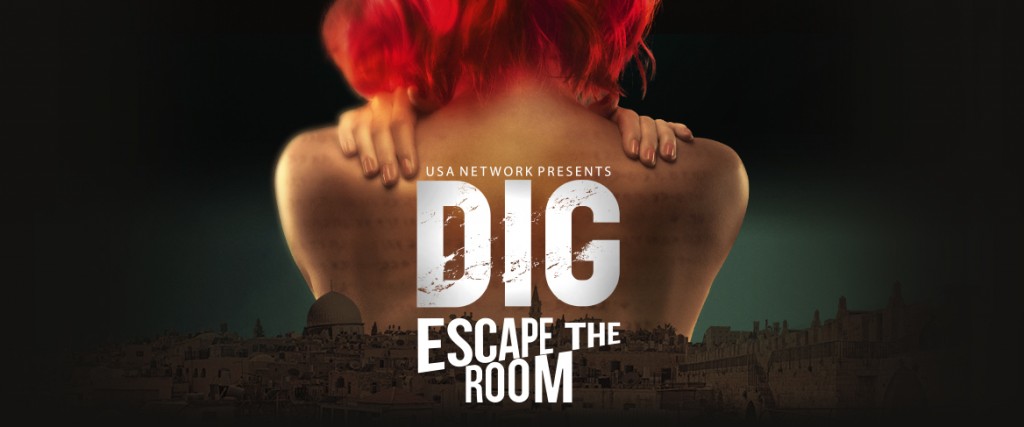 DIG is an all new epic mystery event series that follows an FBI agent station in modern day Jerusalem who is trying to solve the murder of a young American in the city. The mystery will take him into the the Holy Land's darkest secrets, uncovering a conspiracy thousands of years in the making that threatens to change the course of history. The new series is from the executive producers of "Heroes" and "Homeland" (Tim Kring and Gideon Raff), and stars Jason Isaacs (Lucious Malfoy in the Harry Potter series, among countless other films). It promises to be a mystery that you can't miss a minute of.

Now comes DIG-Escape the Room. The all new touring production will take the fun of Escape the Room and mix it with the elements of the show. Guests will have to crack codes, solve puzzles and try to find the right combinations to find a way out of a locked room…or be trapped forever (or until park closing).
The show will be live, beginning in New York and will have shows set up all over the country. The show is making a special stop at Universal Orlando on Tuesday March 3rd until March 8th. It will also hit Universal Studios Hollywood on February 28th, until March 5th. Theme park tickets are required to experience DIG-Escape the Room.
Here's the complete schedule:
NEW YORK
When: February 26 ‐ March 8
Where: 22 Little West 12th
BOSTON
When: February 28 ‐ March 5
Where: 33 West St, Boston
PHILADELPHIA
When: February 28 ‐ March 5
Where: 1528 Walnut St, Philadelphia
UNIVERSAL STUDIOS HOLLYWOOD *
When: February 28 ‐ March 5
Where: inside the park
UNIVERSAL ORLANDO RESORT *
When: March 3 ‐ March 8
Where: inside the park
Registration begins Thursday February 19th, and you must register in order to participate. Of course, the entry will be limited. Click here to visit the official website, and to find out about registration!  
It sounds like a fun spin on an amazing experience, as DIG will challenge you to Escape the Room.
Stay tuned for more from Universal Orlando, and be sure to get social with us on Facebook, and follow along with us on Twitter @BehindThrills for the latest updates!
For more information about Universal Orlando, including tickets, visit the official website by clicking here!