This weekend is a triple doozy. It's Friday the 13th, it's Valentine's Day on Saturday AND President's Day on Monday. It's something so rare that it has to be a sign of the apocalypse, or something, right? While we're not so sure about that, we are sure that it means that if you don't do something with your Valentine, your luck is going to be bad for a very long weekend. This year haunted attractions are using the triple threat as a great way to scare the hell out of you, by creeping out of Halloween mode and entering the love fest. This year there are more haunts than ever, but have no fear (or maybe you should), we have the guide to haunts that want your heart…and lungs…maybe your spleen?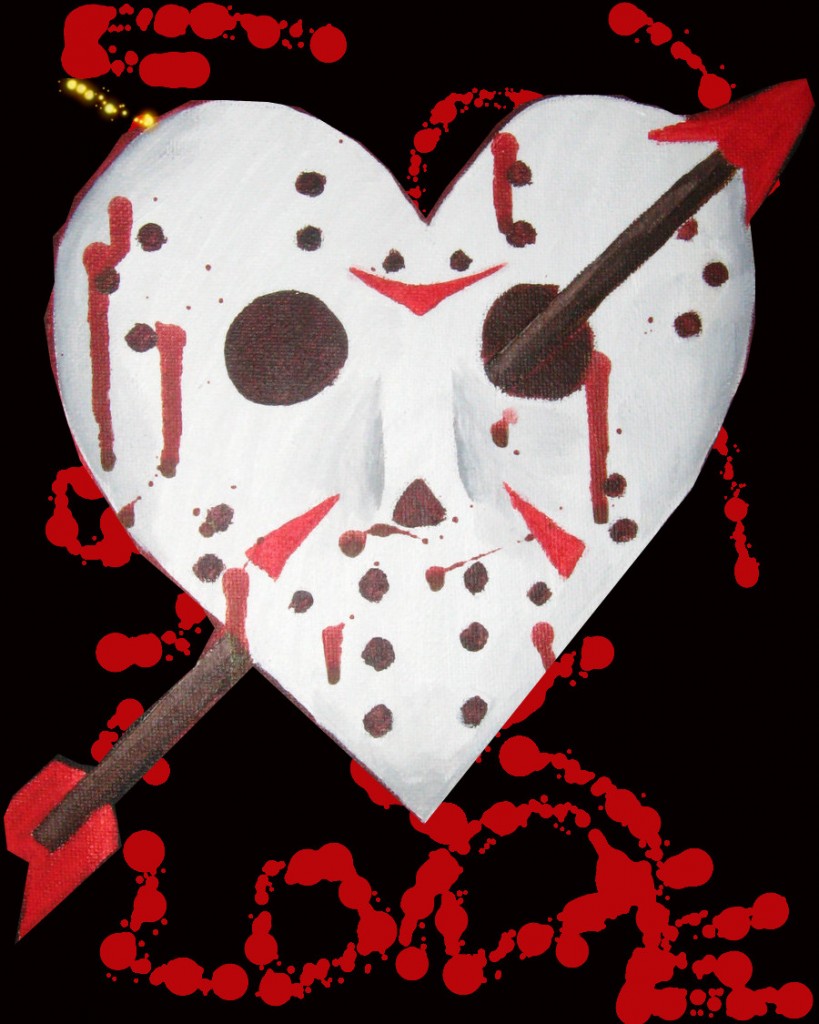 There are so many different haunted attractions open this year that it's hard to know where to start. More haunted attractions are open for Valentine's Day of 2015 than any other year to date. People love to be scared with the ones they love. Or maybe it's just that they love horror. Whatever the case may be, there's tons of haunts open this year, and they are looking for love…or blood…or whatever.
There are so many haunts this year, that we're going to break it down by state. We're trying to get all of the haunts in the U.S. but if we miss some, don't freak out! It's a ton of haunted attractions open for a very small amount of time!
Alabama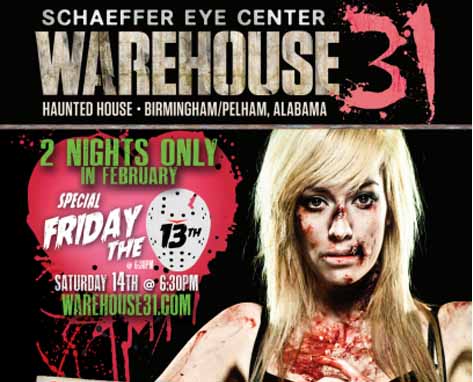 Warehouse 31-Birmingham Alabama
For two nights the blood will fly, and the love will splatter as they bring their brand of horror to life for the weekend. Details here.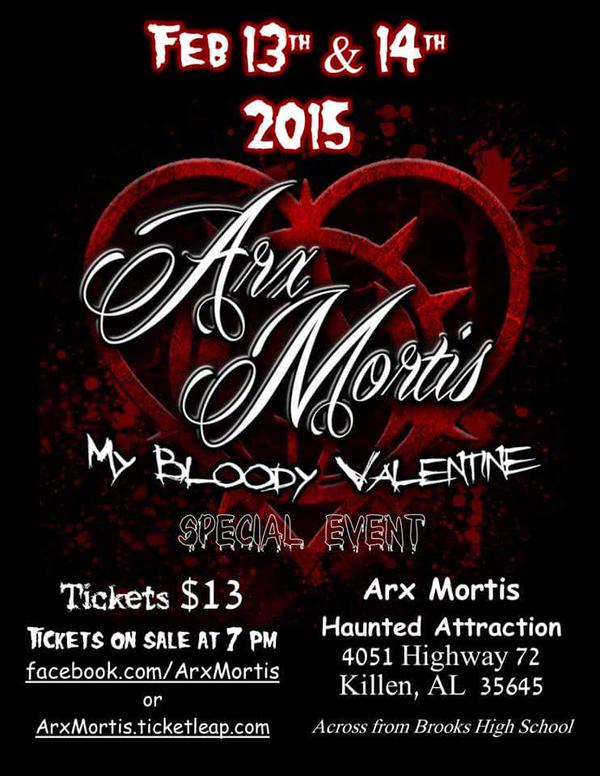 Arx Mortis-Killen AL
The third annual "My Bloody Valentine" is back, and it's huge. Special priced tickets and more. More details here!
Arkansas
Fear Factory 501-Jacksonville, Arkansas
For one night only, the Arkansas haunt is back, and scarier than ever with tons of gore, and love as they present their "My Bloody Valentine" event. More details.
Arizona
The 13th Floor-Phoenix, Arizona
The 13th Floor brand is huge, but Phoenix is doing something really special with an amazingly romantic night by candlelight. Of course, you'll be running and screaming and have things chasing you, but won't it be romantic? More details here!
California
Talldega Frights-Bakersfield, California
Two nights, two themes, it's going to be a nightmare…and that's a good thing! The Bakersfield haunted attraction is pulling out all the stops with two amazing horror themed runs. More details here!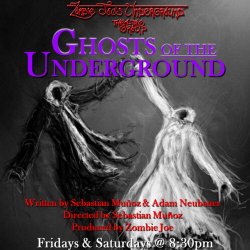 Zombie Joe's Ghosts of the Underground-North Hollywood, California
We don't know much about Zombie Joe's, but it's not just a Valentine's thing. It's a haunted performance that happens every weekend, and it sounds pretty damn amazing. More details here!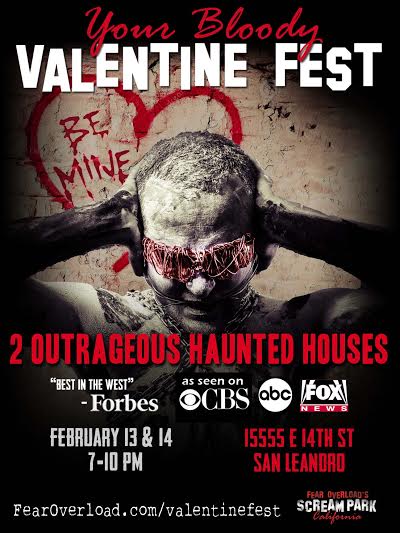 Fear Overload-San Leandro, California
Bloody Valentine Fest spreads over two days with two houses. Tons of gore, blood and love! More details!
Reign of Terror-Thousand Oaks, California
This special event isn't as much about the scares as it is about coming together for one of their family members. Proceeds for the event will benefit Tom Hood, a haunter, who was diagnosed with stage four lung cancer. It's an amazing thing from the haunt community. More details.
Colorado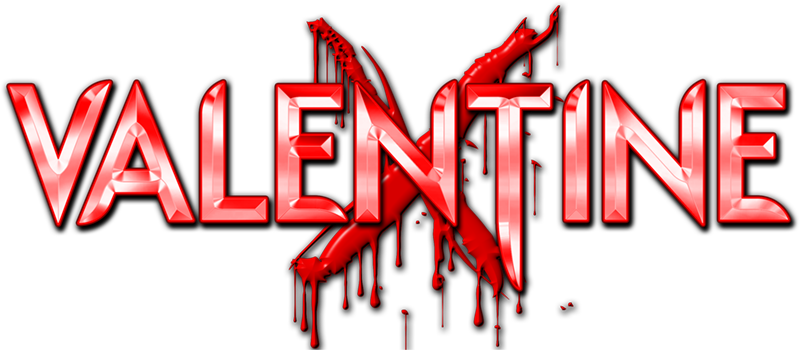 The 13th Floor – Denver
Ten years ago, Bear Butcher went on a rampage. His copycats have been mimicking his style for years. This Valentine's Day, you will come face to face with Bear in this candlelit maze. More Details
Hellscream Haunted House-Colorado Springs
Vampires, homicidal maniacs and tons of love as Hellscream brings two different themes for the weekend. Friday will see Friday the 13th fully realized, while Saturday will have your heart bleeding. More Details!
Connecticut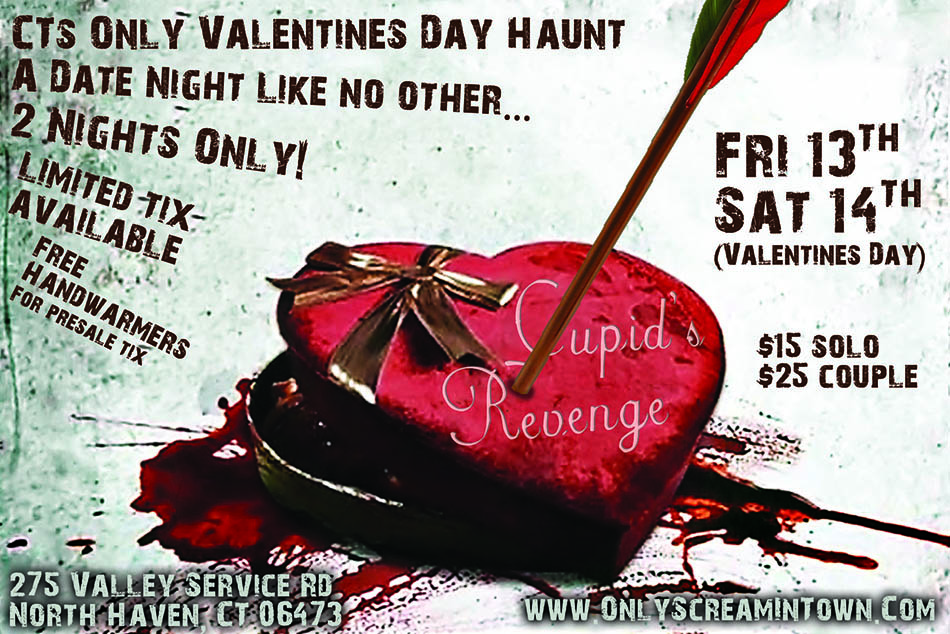 Only Scream in Town-North Haven, CT
Free Handwarmers! That kills me! But you can get a free handwarmer for ordering your tickets early, and you better do it quick, because tickets are extremely limited. Cupid is taking his revenge, and you really don't want to miss it. More info
Florida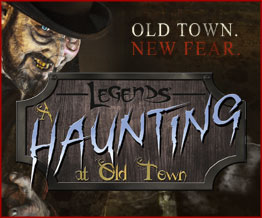 Legends – A Haunting at Old Town – Kissimmee
Legends isn't doing anything major for Valentine's Day. When we tried to ask Mr. Ashdown about it, he replied "if I want to win someone's heart, I just take it while they're sleeping". Ah, Ashdown, can't really argue with that logic. It's fear all year, as always at Legends, and you really don't want to miss it.More Details
The Shallow Grave – Winter Haven
One of our favorite haunts of 2014, The Shallow Grave is having a "Night to Dismember". Law Enforcement and military gets in free with paying combo ticket. The haunt will also go "lights out" on Saturday. Just you and a glowstick. Trust me, that's not a good thing. More Details
Illinois
Basement of the Dead – Aurora
They'll take your heart, and eat your soul, as a special Valentine's Day edition of Basement of the Dead comes up for the weekend. More Details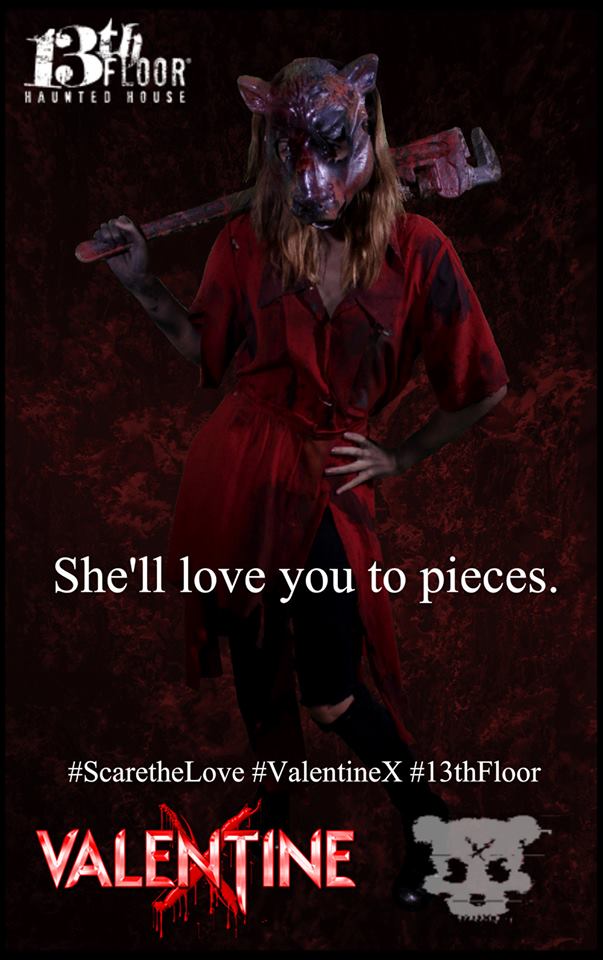 The 13th Floor – Chicago
Yes, Chicago is in trouble. Friday and Saturday, the 13th Floor is unleashing an army of misfits to help the one they admire the most. More Details
Factory of Fear – Moline
This is an awesome idea! They're not going with the same old Bloody Valentine, instead you need to be on the run from the "Teddy Bear Killer". It's only for the 13th and 14th,a nd tickets are limited. More Details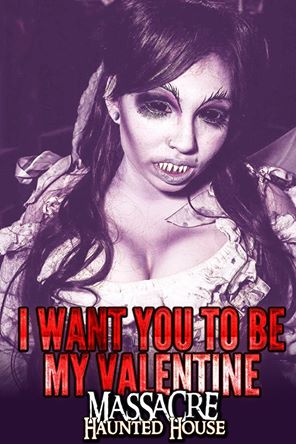 Massacre Haunted House – Montgomery
Massacre wants to steal your heart…and do things with it. Valentine's Day Weekend the haunt will be open for singles, couples, and those just like to scream. More Details
Psychosis Haunted House – Elgin
The most interactive haunted house is back, and this time they want lovers! In fact, couples get a discount…but singles are also welcome…no one will miss you when they're through with you! More Details
Nightmare on Fairgrounds Road – Princeton
We have a feeling your heart might be mended, but the rest of you is pretty much doomed. The nightmare rages on all weekend! More Details
Kansas

Asylum Haunted Attraction – Chetopa
Two separate themes on two different nights. Will you make it out, or will you become part of the game? More Details
Kentucky
Scream Acres – Covington
Everyone is doing the "Friday the 13th" theme, but Scream Acres is doing a bit more. It's the unluckiest prom you've ever been to! Plus, the theme and mood changes on Saturday for the Bloody Valentine! More Details
Michigan
Exit 13 Haunted House – Mt. Morris
The Massacre hits Friday, and if there's anything left, you'll get to "Blackout". We honestly love blackout haunts. You never know what you're going to find in the dark. Presale tickets will help you save, but they are almost gone! More Details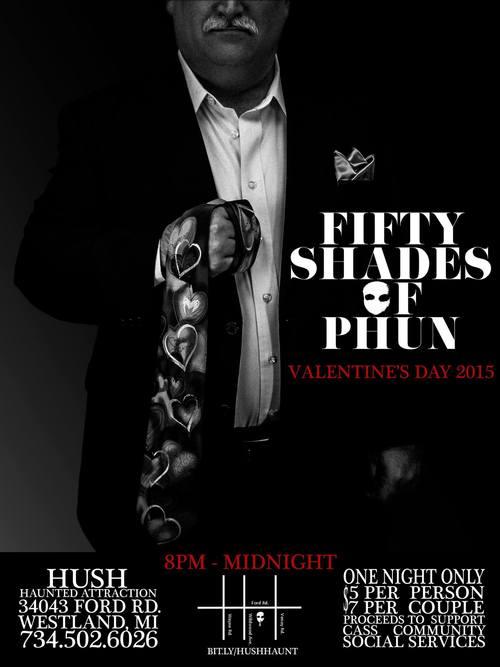 Hush Haunted Attraction – Westland
This one is intriguing. The other major event happening this weekend is of course, 50 Shades of Grey. This haunt is taking a poke at the movie, and playing with the theme. Proceeds go to support Cass Community Social Services, so it's a good cause with a good time. More Details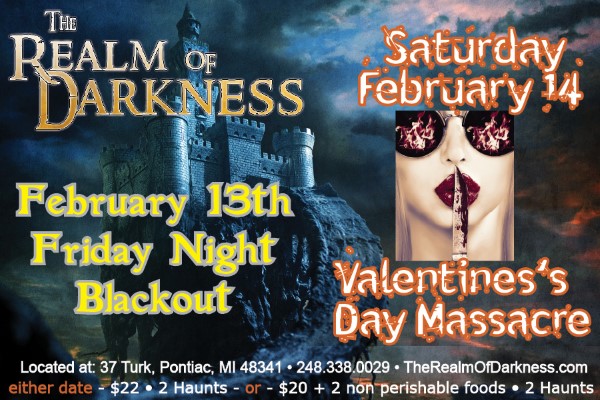 Realm of Darkness-Pontiac
Blackout haunt on Friday, followed by a bit of fun with the Valentine's Day massacre on Saturday. More info
New Jersey
Brighton Asylum – Passaic
The Dark Valentine gets very literal with no lights, and only a glow necklace. Once you accept it, it becomes a FULL CONTACT haunt. So good that you have to be over 18 to experience it! More Details
New York
Blood Manor – New York City
The premiere New York haunt is back for tons of great blood curdling fun all weekend long! More Details
Times Scare – New York City
The year round haunted attraction will be open, not only for haunted house tours, but also for Scaryoke, and so much more! More Details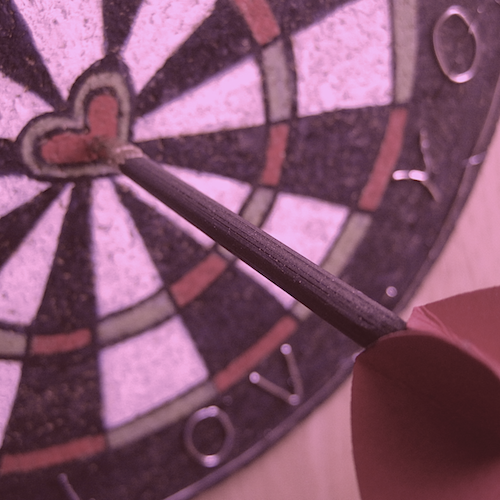 Nyctophobia Haunted House – Eastport
Not so much an attraction, as it is an experience. It's a show that takes you to the edge and sees if you want to get pushed over. For those who did the show, they're doing a sequel. For those who didn't, they're doing an encore performance. More Details
North Carolina
The Haunted Pyramids-Lawndale
Two different themes on each night of the weekend. Loads of fun, and scares! More info
Ohio

The Fear Experience-Cleveland
Oh dear. Tickets are selling out fast, and it sounds like you really want to get in on this fun. More info
Oklahoma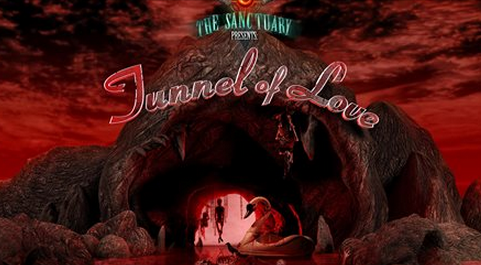 The Sanctuary Presents:Tunnel of Love-Oklahoma City
The tunnel of love has been the romantic go to for every lover, and lovers to be. Now, it takes a very demented twist, one that you may not want to see through to the end. More info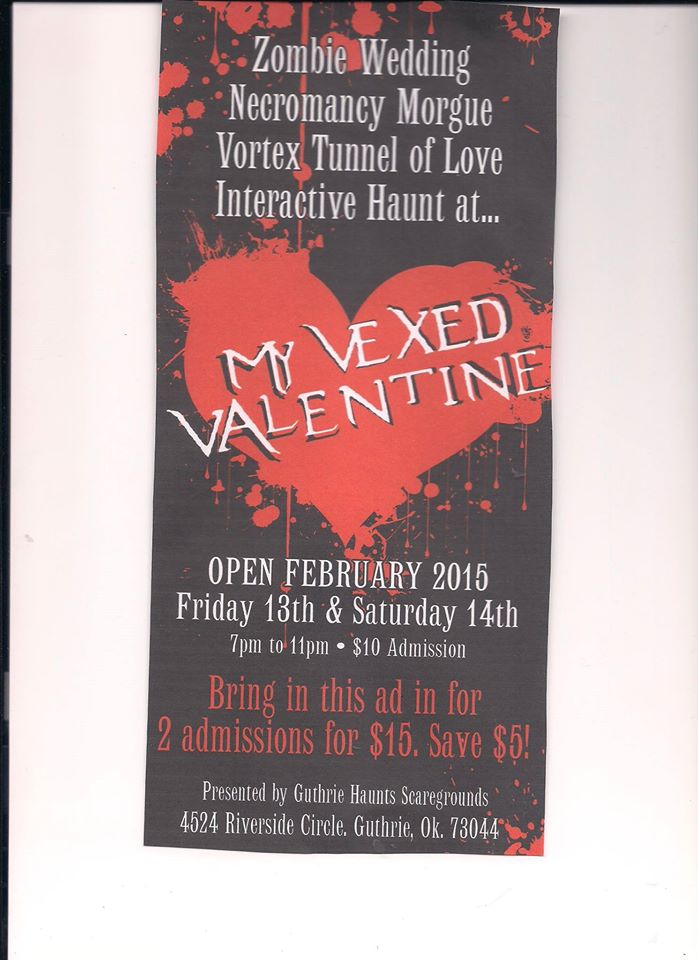 Guthrie Haunts – Guthrie
Guthrie brings a bit of everything for the season. Zombie weddings, tunnel of love and more! More Details
Pennsylvania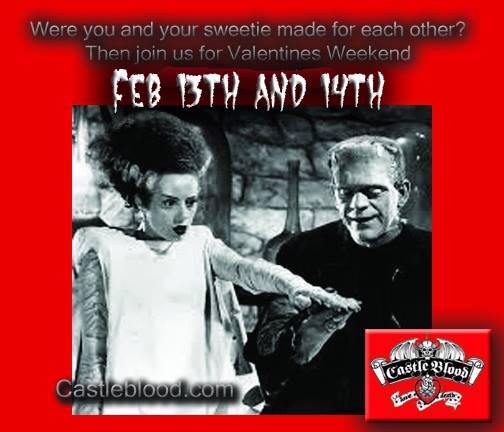 Castle Blood – Monessen
The special show just for Valentine's Day returns! Perfect for dates, or someone you happened to dig up. More Details
South Carolina
Dark Knights Terror Trail-Elgin
Two hour adventure, blowing the brains out of zombies! Hell yes! More info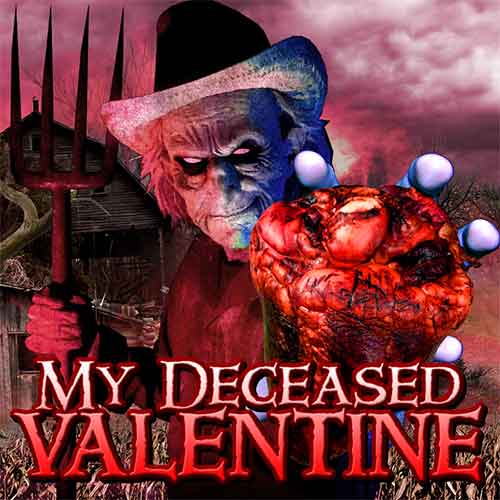 Deceased Farm – Lexington
Love can make you do terrible things…terrible things. Love also never dies, no matter how many times you shoot it! More Details
Tennessee
Frightworks-Powell
Love is scary, and damn is is painful. Frightworks is pulling out the stops on Friday the 13th for one night only! More details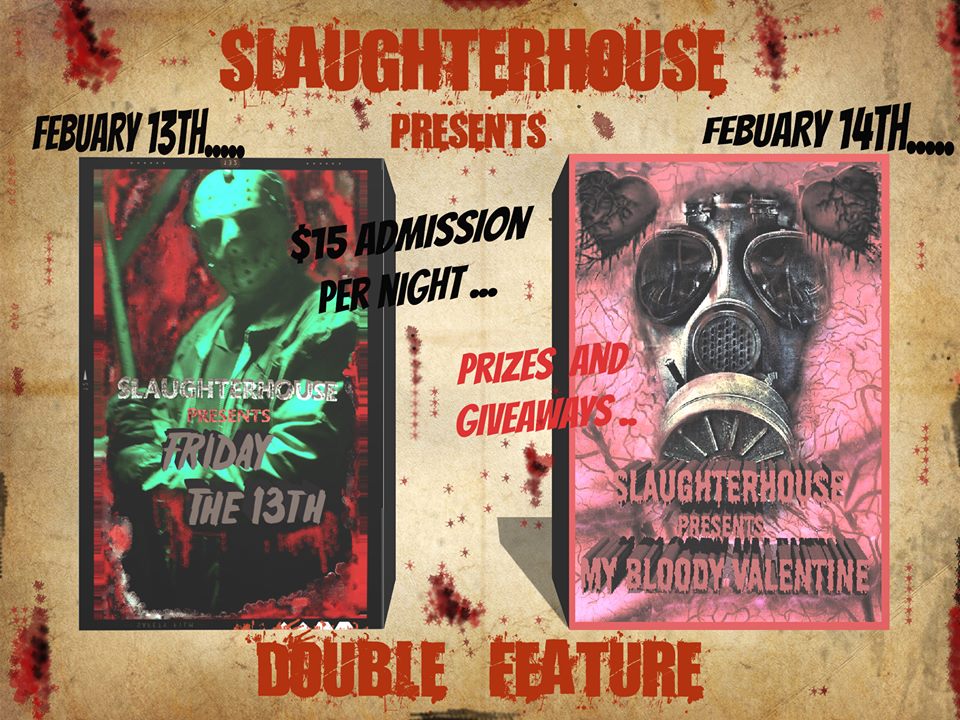 Slaughter House – Hermitage
It's a double feature! Horror movies in the lobby, tons of fun at ever turn, with prizes and giveaways! More Details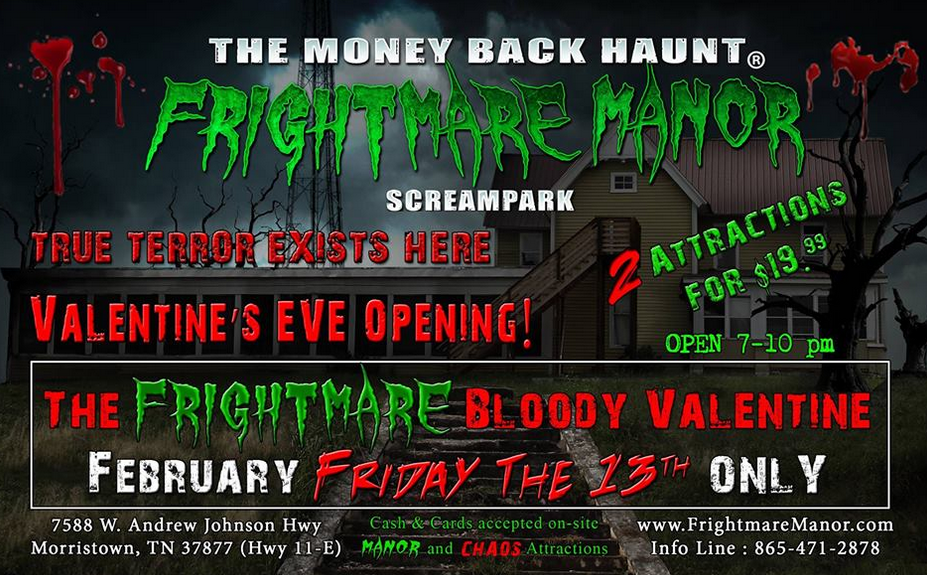 Frightmare Manor – Talbott
One night only! Two big attractions, and a money back guarantee…what else could you want? More Details
Haunted Hell – Nashville
Don't be a chicken shit! Take the full contact experience! Two different experinces, but you know you want full contact, it's more fun that way! More Details
Texas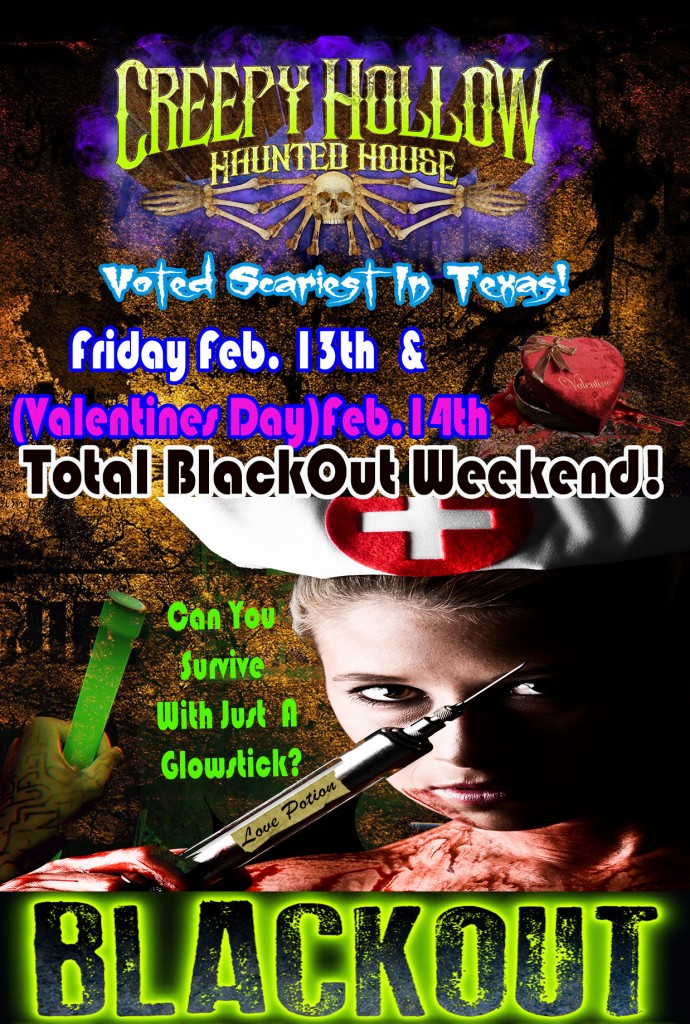 Creepy Hollow-Rosharon
It's a total blackout weekend! The lights are off and the terror is high with the huge Creepy Hollow! More info
House of Torment – Austin
The love is spreading, too bad it's coming from the tip of that ax. Candlelight can be romantic, but not this time! More Details
Moxley Manor Haunted House – Bedford
Heartbreak…it can kill ya. The award winning Moxley Manor is back for the entire weekend with tons of gore and fun. More Details
House of Horrors – Clyde
Why do we hurt the ones we love? Because sometimes it's just so fun. Join the messenger as he tries to kill you over Valentine's Day weekend! More Details
Hangman's House of Horrors – Fort Worth
50 Shades of Grey is huge, with tons of women diving into the world of blindfolds and bondage. The question is, do you trust your lover enough to guide you through a haunted attraction? First 50 couples gets a free custom box of chocolates! More Details
Cutting Edge – Fort Worth
Need a date? Cutting Edge may be able to "dig" one up for you. Open all weekend! More Details

Tayman Graveyard – Midlothian
Lots of haunts are showing their hearts this Valentine's Day weekend by donating proceeds to charity. This is another that not only does that, but also makes you go through using only candlelight. More Details
Dark Hour Haunted House – Plano
Holy crap! The Dark Hour has some serious mojo happening this weekend! Not only are they doing a huge Valentine's Event, but they are also doing a "Fine Food& Frights" where you can have a romantic meal, which is catered by a gourmet restaurant. If that wasn't enough, they are even doing "Singled Out" on Sunday! Alone, in the dark, that's pretty much how love ends anyway, right? More Details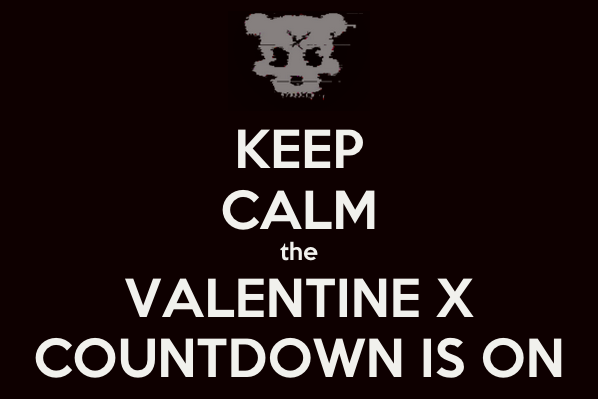 The 13th Floor – San Antonio
Candlelight and killers! What more can you ask for?  More Details
Utah
Castle of Chaos – Salt Lake
The terror happens all weekend long as Castle of Choas comes out of the dust for a huge Valentine's Day celebration. More Details
Virginia
Night Watch Haunt – Hillsville
It's the Dark Hearts Blackout! Tons of gory fun, and Jason Voorhees on Friday the 13th! More Details
Shocktober – Leesburg
My Bloody Valentine will rage through for two nights this weekend at the scariest haunt in Virginia! More Details
St. Albans Sanatorium – Radford
This haunt goes on for a few more days! It's a Fatal Attraction and we bet you can't stay away! Continues Valentine's Day Weekend, and ends the following weekend on the 21st! More Details
Wisconsin
Hallowed Chambers-Berlin,WI
Conjugal visits? Somehow we don't think we want in on that action. The terror is coming in the dead of winter, so better bundle up. More info
THAT is a lot of haunted attractions, and that's just in the United States! We're sure that there will be more gory fun throughout the rest of the year. While we're getting closer to Fear All Year, we're not quite there yet. Valentine's Day makes for the perfect weekend to go to a haunt, and get scared with the one you love…or sorta kinda like.
Stay tuned for more gory goodness, and be sure to get social with us on Facebook, and follow along with us on Twitter @BehindThrills for the latest updates!