The waterpark hasn't been officially announced yet, but according to IDriveDistrict.com, Universal Orlando's waterpark could be opened earlier than anyone could have anticipated. The theme park has yet to make any announcement on the heavily rumored waterpark, but according to the information on the official International Drive District website, not only do we have a name but also an opening date.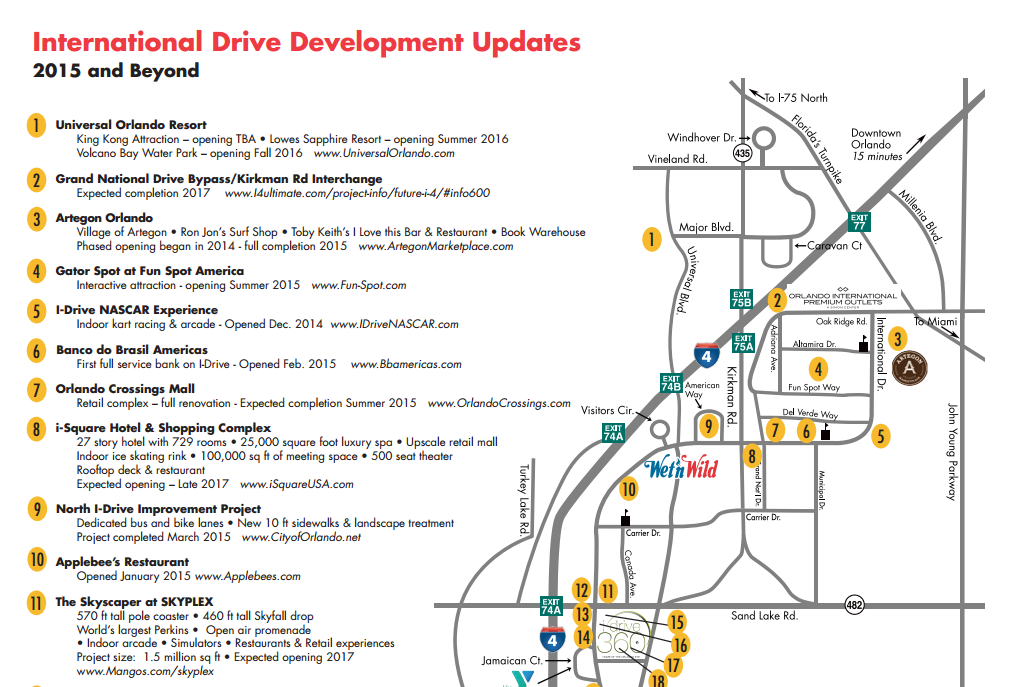 The map above lists the new projects, and major attractions all along I-Drive, or a short distance from it. While the map lists several major attractions that have been announced, including Skyscraper and I-Drive NASCAR Experience, it also lists Universal Orlando Resort. Apparently this was all part of a huge "State of I-Drive" meeting. It was open to the public, and was mainly a focus of growing tourism in the area.
The meeting did also unveil some huge news about Skyplex Skyscraper, with an all new zip line attraction coming to the complex, as well as the world's tallest drop tower and roller coaster.

The real interest, however, lies within the description of Universal Orlando Resort. The park has been under undergoing a huge construction streak, making new attractions and hotels. However, the description lists the unannounced waterpark. Volcano Bay Water Park-Opening Fall 2016.
WOW. If this is true, that puts the new waterpark, which has barely broken ground, opening in just over a year. The original time frame had it opening around 2017, just in time for Avatar land at Disney. It could be that the park wants to get a huge jump on the new Disney attraction, and have it poised and ready to go before Summer.
While this is definitely a huge bit of information, we're still treating it as a rumor. However, it's not the first time that the gun has been jumped. Earlier this year, during a earnings call, Comcast Execs spilled the beans on the all new Kong attraction coming to Islands of Adventure. Before the announcement of the Diagon Alley expansion at Universal Studios, Mayer Buddy Dyer let the news slip. These things do have to undergo permitting, and approvals before they can start construction, so it's possible that this information wasn't ready to be released yet.
Still, it could be that the district saw the construction and jumped the gun on the name and date, only making assumptions based on rumors. We'll find out soon enough. Like we said, until this is officially announced, it's not happening.
Stay tuned for more from Universal Orlando, and be sure to get social with us on Facebook, and follow along with us on Twitter @BehindThrills for the latest updates!
For more information about Universal Orlando, including tickets, visit the official website by clicking here!