It's still Spring Break for many parts of the country, but it's definitely slowing down. While the crowds are still a little busy, it's starting to slow down a bit at Universal Orlando. The latest major attraction, however, is picking up full speed at Universal's Islands of Adventure. While the attraction hasn't been officially announced by the park, King Kong has been announced as returning to the resort by an earnings call earlier this year. While there has been no confirmation that new construction is indeed for King Kong, it's pretty obvious. We take a look at the construction, as well as other happenings around the park.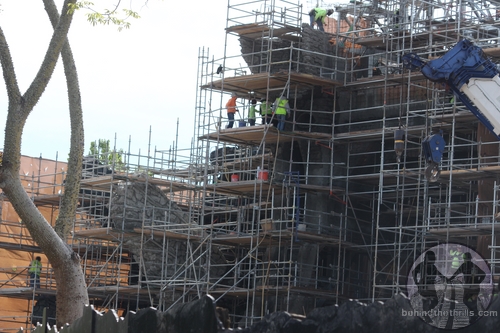 The first thing about the project is that it is massive. No details about the ride have been released, but if we are to believe rumors, then we can expect to see a variation of the hugely popular "King Kong 360" at Universal Studios Hollywood. That attraction is simply an add on to the Studio Tour, but seeing that Universal Orlando has no tour, the challenge was to create an attraction that could believably add that element to the park.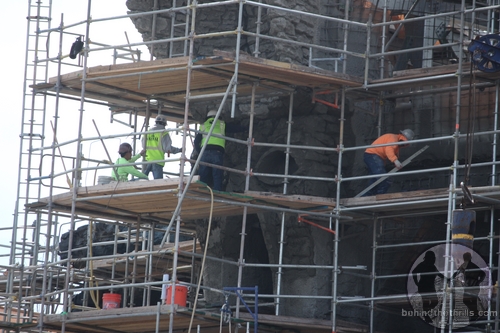 So, how do you make an attraction based off a tram tour? You create an entirely different island. It looks as if crews are creating Skull Island from the King Kong movies, which will house the attraction. The area is located between Toon Lagoon and Jurassic Park. It's believable that Kong could live in this new area, right next to dinosaurs, simply because Jurassic Park is an area where Dinosaurs roam the earth. We're not sure how the attraction is going to shape up, but from rumors there will be a massive screen where Kong confronts dinosaurs, but there will also be some animatronics as well.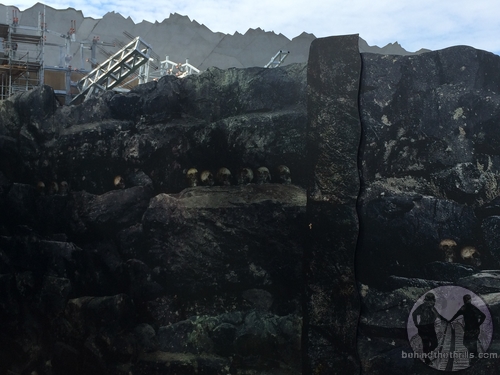 Construction walls around the area now depict cavernous shelves, with rows of skulls. It's a clear hint as to what is coming to the park. There has been no official park announcement, nor has any official details about the attraction been talked about. The assumption is that the ride will be open this Summer, but the park has been extremely quiet about anything, leading many to believe that the ride will be ready later in the year, perhaps by Christmas.
Video-Get a glimpse of Kongstruction at Islands of Adventure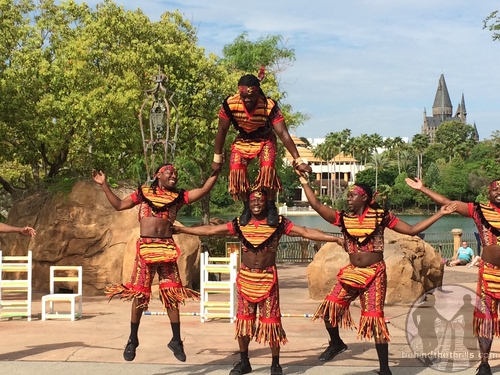 One of the more fun aspects to Islands of Adventure, and Universal Studios Florida is the possibility that you will see something you've never seen before. The park has roaming entertainment throughout, and on any given day, you're never sure exactly who, or what you'll see. One such act is a group of "tribal" acrobats performing feats of death defying balance and strength. There could be a band playing cartoonish hits on one corner, and even a baby dinosaur and it's handler. It's one of the unique features about the park.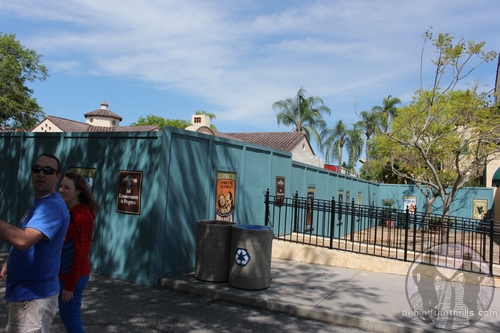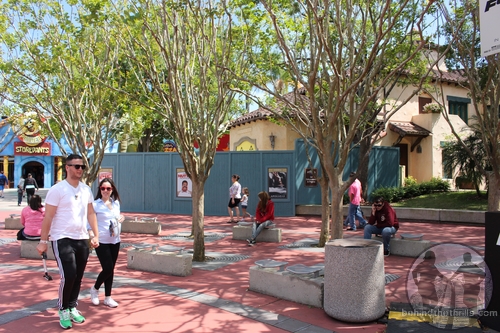 Over at Universal Studios Florida, work continues in the Garden of Allah village. The work is rumored to be for a new media center, but other rumors persist that this media center will be used as a museum for the upcoming 25th anniversary of Universal Orlando. Again, the park has not released any details on any such celebration, so we're not exactly sure what's going on.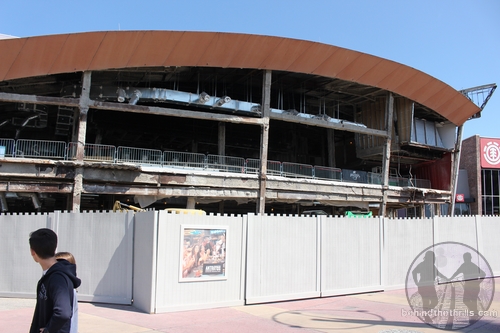 In CityWalk, work on the former Nascar Cafe has seemingly stalled. The venue started demolition in 2014, on November 1st, and has been slowly progressing ever since. No word on exactly what the new venue will be, though rumors suggest another sports themed restaurant and bar.
Slideshow-Check out even more pictures from Universal Orlando Resort

The next few months will be very interesting around the resort, as construction ramps up on an all new hotel, and the rumored waterpark that should be opening right next to Cabana Bay Beach in 2017. The resort is also rumored to start a second phase of construction on CityWalk as well.
Stay tuned for more from Universal Orlando, and be sure to get social with us on Facebook, and follow along with us on Twitter @BehindThrills for the latest updates!