Memorial Day is the unofficial start to the summer season. Kids are getting out of school, families are planning vacations, and theme parks are gearing up for the biggest season ever. This year, there are so many new attractions, shows and events, that it makes it really hard to decide which you have to see. To kick off the summer, we have compiled a list of the MUST SEE new attractions that are coming to theme parks near you.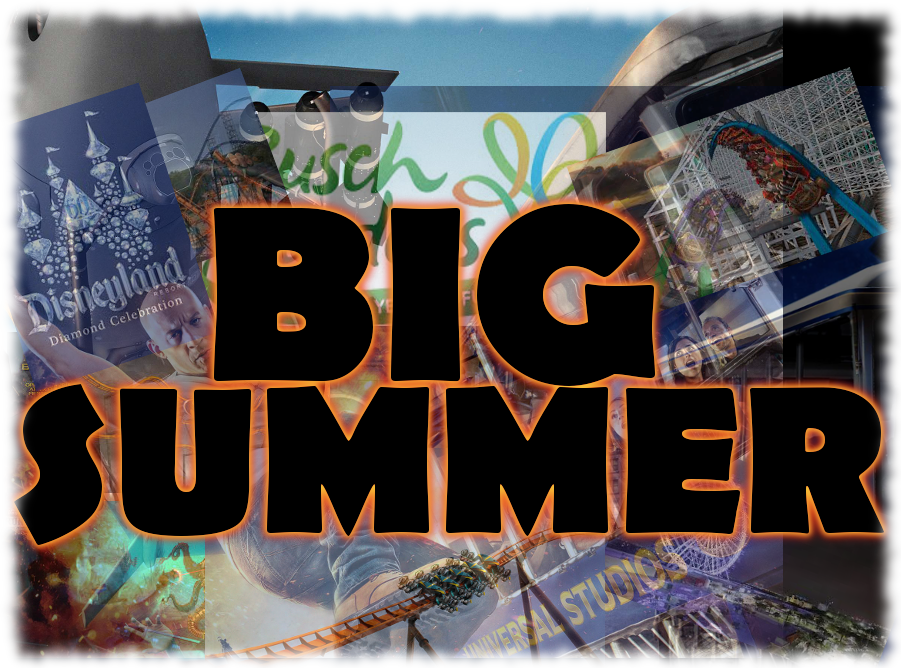 This summer is going to be absolutely huge for theme parks all across the country. From dark rides, coasters, and even huge celebrations, there will be tons to choose from this summer. Here is our list of the MUST SEE theme park attractions and rides this summer!
Twisted Colossus-Six Flags Magic Mountain
Colossus was featured in so many movies and TV shows, it's really hard to picture it being anything but that huge landmark. However, the twisted minds at Six Flags and Rocky Mountain Coasters have added yet another steel hybrid to the mix, with Twisted Colossus. The coaster has been reborn with insane drops, twists and inversions…everything that you're not supposed to be able to do on a wooden coaster.
For more information, visit the official website!
40 Years of Fun-Busch Gardens Williamsburg
Normally a "must see" attraction wouldn't be a celebration, but Busch Gardens Williamsburg is celebrating 40 years in a BIG way. The Williamsburg Virginia park is taking guests back in time, with tons of pictures, celebrations and fun that remembers the past of the park. The park is even moving forward with a huge new coaster, Tempesto.

The park is also rolling out an all new show with "Roll Out The Barrels" and new revamps to some of their existing attractions, like Le Scoot. Plus there's tons of great new merchandise, including old throw back merchandise.
Visit the official website for more information!
Justice League:Battle for Metropolis-Six Flags St. Louis and Over Texas
Yes, Six Flags making a dark ride? Doesn't sound like it's going to be the most over the top, huge attraction does it? The chain is known mostly for their roller coasters. Well, in steps Sally Dark Rides, and completely throws what you think you know about Six Flags rides out the window. The new attraction uses huge screens, massive sets, and animatronics to take you through a battle against the Joker, and several other major villains. Oh, and it's a game! You get laser zappers and try to rack up as many points as humanly possible. It's a hugely fun, and amazing ride that will most likely be coming to other Six Flags parks very soon.
Visit the official site for more information!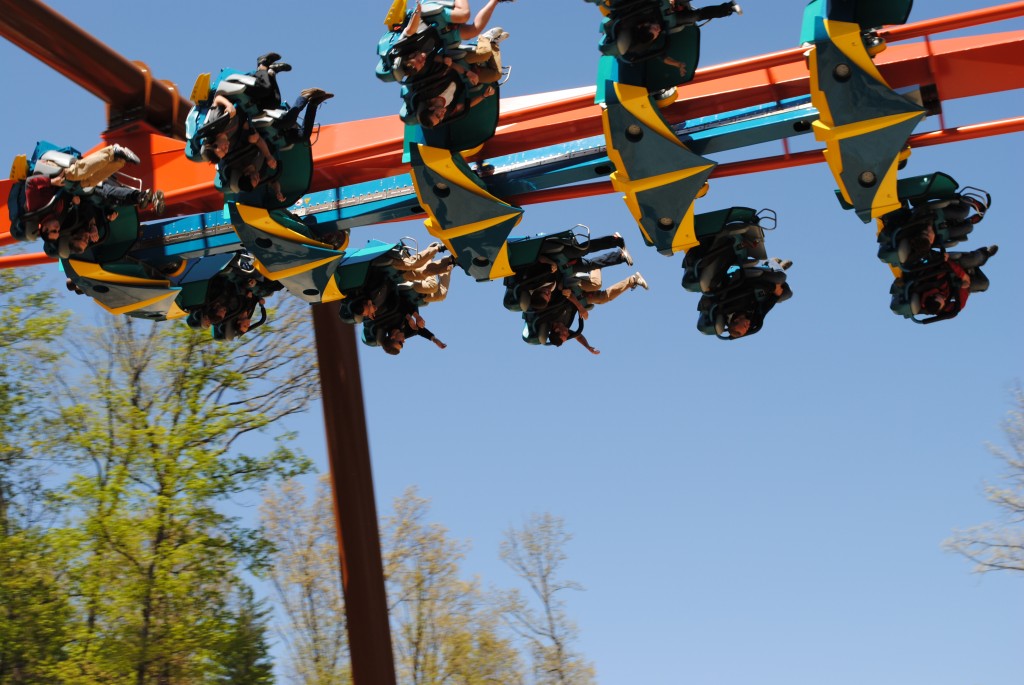 Thunderbird-Holiday World
The little theme park in Indiana has called on the ancient spirits, and has summoned a steel animal unlike any you've ever seen! The park's first major steel coaster is a big one. Thunderbird is the nation's first launched wing rider coaster, and fits in so well with the family park that it's crazy to think they haven't done it sooner!
The park has really outdone itself with this huge new coaster, and that's nothing easy to do for Holiday World. The coaster perfectly blends the scenic landscape with the other nearby coasters and rides for an unforgettable experience.
Visit the official website for more information!

Voyage to the Iron Reef-Knott's Berry Farm
The long anticipated ride takes guests on a battle for the very park they are in as they blast their way through some huge mechanical beasties from under the sea.
Voyage uses state of the art 3D, set pieces, and mixes an interactive game to create some amazing new rides, and to make sure that no two rides are the same.
Visit the official site for more information!
I-Drive 360 featuring The Orlando Eye
The Orlando Eye has been a big piece of controversy since it was announced. However, no matter what your opinion is, it's an experience that you just have to do. The 360 degree view of Orlando, including Disney, Universal, and SeaWorld parks is simply breathtaking. It all starts with a 4D show, and ends with you peeking at the world around you from 400 feet up.

The Orlando Eye is just one piece to I-Drive 360, which also features Madame Tussauds Wax Museum, and Sea Life Aquarium. The area also features several other attractions, such as Skeletons, and tons of new restaurants.
Visit the official site for more information!
Batman: The Ride-Six Flags Fiesta Texas
Six Flags is known for insane, crazy coasters. Batman the Ride at Fiesta Texas delivers in a big way. The coaster isn't very big, but it delivers tons of drops, dips and turns as a "first of it's kind" free fly 4D coaster. Essentially, as you ride along the track in the cars, the cars spin out of control. You also do insane beyond 90 degree drops, and tons of flips.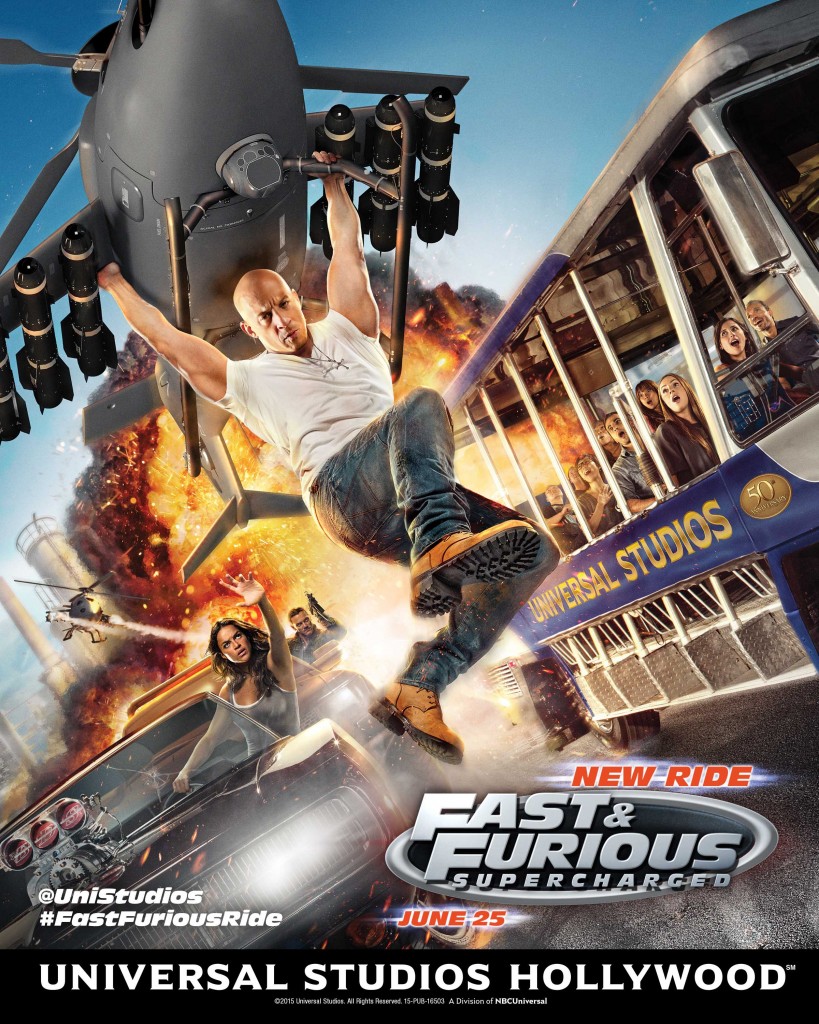 Fast&Furious:Supercharged-Universal Studios Hollywood
Universal Studios Hollywood is jumping this year! The SoCal park not only opened an all new land, full of food and fun based on the Simpsons, but also a nighttime version of their Studio Tour to help celebrate 50 years. If that wasn't enough, the park is also opening up a huge ride, based on the biggest film of the year (so far). Fast & Furious Supercharged will be a high octane finale to the park's Studio Tour and will feature all the characters from the films, including Dom, Letty, and Roman. They'll be mixing huge screens, sets and high speeds as you go on a huge chase through Los Angeles!
Visit the official website for more information!
Kentucky Kingdom-8 FRIGGIN NEW ATTRACTIONS!
Kentucky Kingdom reopened last year with several big thrills, and tons of fun. This year, they up what every other park in the country is doing with eight new attractions for 2015, including the return of one of the legendary suspended coasters, T3! The park is also opening several other rides which range from kid friendly to, "hold on for dear life!"
Disneyland's Diamond Celebration
The park is doing more than just a little merchandise to celebrate their diamond anniversary. They are rolling out a TON of new merchandise! Plus, they are rolling out a new show at each park, plus a massive parade! California Adventure gets an updated version of World of Color, complete with Neil Patrick Harris, and Disneyland gets the fireworks show to end all fireworks shows, Disneyland Forever! If that wasn't enough, they are also bringing a huge new parade, Paint the Night, which will feature tons of lights, and just tons of magic.
Wait…you want more? Are you sure you can handle it?
Disneyland is also doing amazing things to some of their most memorable attractions, including bringing back a legend…The Hatbox Ghost!
The Hatbox Ghost was a Disneyland legend, only existing for a short time before being removed. Now he's back in an all new form! Plus, the Matterhorn has upgraded the entire system, including a new abominable snowman! Many other attractions are getting huge make overs as well. It's huge, and it lasts a year!
Visit the official website for more information!
This year seems like it's bigger than ever, with tons of new attractions, and tons of huge celebrations. It's going to be a huge summer for parks, and families everywhere! And this list is just the beginning! Almost every single park in the country is adding and celebrating something huge! Which park will you visit this summer?
Stay tuned for more theme park fun, and be sure to get social with us on Facebook, and follow along with us on Twitter @BehindThrills for the latest updates!