Harry Potter has already cast his spell over theme park crowds to produce record attendance,  and huge profits everywhere his magic lands. Universal Orlando has two huge sections of Harry Potter, both with groundbreaking attractions.  Universal Studios Japan opened their own version in 2014, which also broke records for attendance in that park. Now it's time for Universal Studios Hollywood to unveil their magic, and bring the Wizarding fun to Southern California!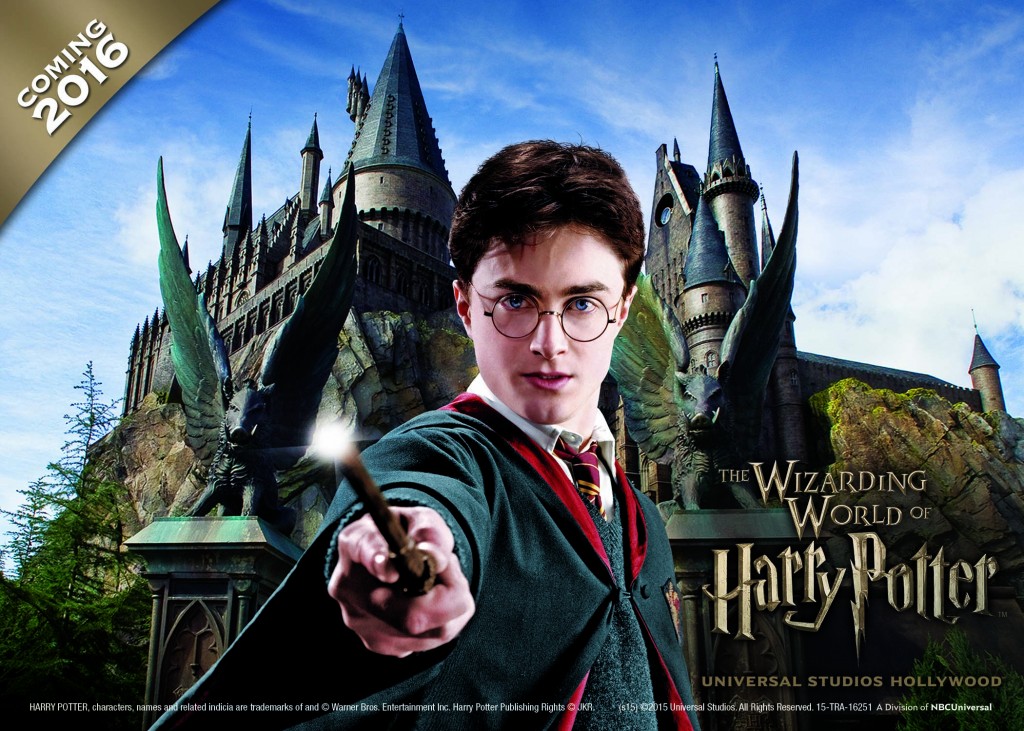 The all new Wizarding World of Harry Potter will appear at Universal Studios Hollywood in Spring of 2016. Universal has announced the full line up of shopping,  dining,  and attractions that will make up the West Coast version.
Here's the line up:
Attractions
Harry Potter and the Forbidden Journey in 3D
For the first time in United States,  the signature attraction that set the precedent for theme parks will be in 3D! The ride will take guests on a journey through Hogwarts School of Witchcraft and Wizardry on enchanted benches. Muggles will fly with Harry, Ron and Hermione as they encounter dragons, play quidditch and battle Dementors. This is the same attraction at both Universal Orlando and Japan. The ride is only one part of this huge attraction,  as guests will venture through Hogwarts and encounter tons of amazing sites from the films and books. You'll even encounter the Sorting Hat!
Flight of the Hippogriff
This will be the first outdoor roller coaster for Universal Studios Hollywood, and will take guests on a magical flight as Hagrid teaches you how to handle a magical creature.
Ollivanders Wands
There is no finer maker of wands than Ollivanders. In this shop, the wand chooses the wizard,  and magic happens.
Shows
The Wizarding World of Harry Potter is home to amazing shows, and huge shows of support for the Tri Wizard tournament. There are two main shows that will be seen in The Wizarding World.
Frog Choir
Double double toil and trouble, you'll get to sing along with the Hogwarts Frog Choir as they perform magical songs with only the most talented of Frogs and Toads.
Tri Wizard Spirit Rally
Enjoy the witches of Bauxbatons as they perform their traditional ribbon dance, and the wizards of Durmstrang as they show off their excellent dueling skills. The show is taken directly from Goblet of Fire.
Shops and Dining
The Wizarding World of Harry Potter is filles with magical places for shopping and dining,  all taken right from the pages and films of the Harry Potter series. Each dish is represented in the series and is created specifically for the Wizarding World of Harry Potter. Also, each piece of merchandise is something that guest's would find in the Wizarding World.
The Three Broomsticks
The Inn from the books and film series is brought to life with amazing detail. Guests can enjoy British food, Butterbeer and Pumpkin Juice in the comfort of an old English Inn.\
HogsHead Pub
The legendary Pub serves Butterbeer, and of course Hogs Head Ale, the signature alcoholic beverage of Hogsmeade. There will also be other beers on tap in this cozy little pub.
Honeydukes
Enjoy sweets and weird snacks like Chocolate Frogs, Pumpkin Juice, Bernie Botts Every Flavour Beans and more!
Zonkos Joke Shop
It's a laugh riot as guests can browse the huge assortment of gags, jokes and weird candy. Extendable ears, Fang Flyers and more will be available.
Other shops coming to the Wizarding World of Harry Potter:
Dervish and Bangs
Filch's Emporium of Confiscated Goods
Owl Post
Butterbeer Cart
The lineup is very similar to what is already at Universal Orlando,  but there are two major exceptions. Gladrags Wizardwear, and Wiseacres Wizarding Equipment were just facade windows in Orlando. In Hollywood,  however, they will be full fledged shops, selling specific merchandise such as shirts, hats, and robes.
The Wizarding World of Harry Potter has redefined the theme park industry,  for both fans of the series and vacationers. It's set a huge precedent of how themed entertainment can definitely take guests to the next level, and the experience doesn't have to end with a ride. For those in Hollywood,  the experience will completely immerse guests in the world created by the books and films.
"Harry Potter is an exhilarating multi-generational global phenomenon that has captivated the world's attention across every one of its mediums, from books and movies to exhilarating theme park adventures," said Larry Kurzweil, President of Universal Studios Hollywood.  "With its imminent arrival to The Entertainment Capital of L.A., Universal Studios Hollywood is thrilled to bring our guests a new, compelling experience of 'The Wizarding World of Harry Potter' as we embark on this next chapter in our storied history."

"The momentum behind J.K. Rowling's wizarding world is as strong as ever and we are incredibly excited to bring Hogwarts to Hollywood," said Brad Globe, President, Warner Bros. Consumer Products. "Fans around the world have experienced the magic at 'The Wizarding World of Harry Potter' in Orlando and Osaka and we look forward to continued success with our partners at Universal Studios Hollywood as we offer more fans a chance to step into this immersive environment."
The new land is the latest in the huge evolution of Universal Studios Hollywood.
The amazing new experience will open in Spring of 2016, however, if you want to get your hands on some Harry Potter merchandise a little early, including wands, Chocolate Frogs and robes, Universal Studios Hollywood already has merchandise available. The Feature Presentations shop at the front Universal Studios Hollywood (click here) has rolled out some brand new Harry Potter merchandise, and there's tons more to come!
Stay tuned for more from Universal Studios Hollywood, and be sure to get social with us on Facebook and follow along with us on Twitter @BehindThrills for the latest updates!
For more information about the Wizarding World of Harry Potter at Universal Studios Hollywood, visit the official website by clicking here!