You've seen the massive construction in the middle of CityWalk at Universal Orlando, which has been moving at an amazing pace since the resort closed NASCAR Grille last November. The rumors have been swirling, the permits have been filed, and now it's official, NBC Sports Grill & Brew is coming this fall to CityWalk at Universal Orlando. The announcement was made during a presentation for IPW 2015, a huge expo for the travel industry, which is presented by the US Travel Association.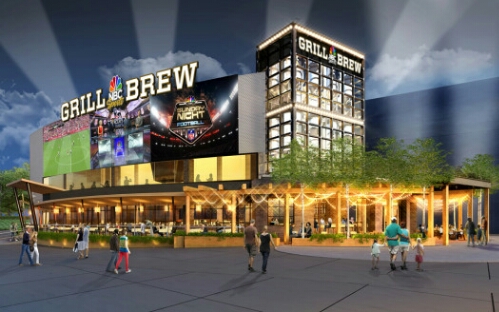 The presentation included a sneak peek at tons of things happening at Universal Orlando within the next few years, including Volcano Bay, Reign of Kong and Sapphire Falls Resort. While all of these have been officially announced before, the one thing that has not was the huge space in CityWalk, that formerly housed the NASCAR Grille.
Video-Take a look at NBC Sports announcers giving details about NBC Sport Grill and Bar
According to Best of Orlando on Twitter, the new place is officially NBC Sports Grill & Brew.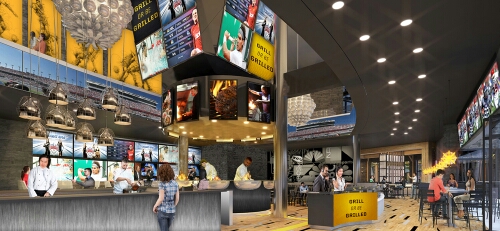 Permits have been found previously stating the name and location, but this is the first time that Universal Orlando has officially announced it.
"This new restaurant represents our vision of delivering the ultimate sports dining experience. It's like crossing your favorite sports restaurant with stadium VIP suites." Says Modesto Alcala, Vice President of Revenue Operations at CityWalk "Fans of all types will be able to enjoy the very best food alongside award-winning NBC Sports coverage."
The new venue will focus more on food than sports, though the sports aspect is certainly a huge part of it. There will be more than 75 different items in the menu, with over 100 beer choices, with an exclusive new beer made just for the new restaurant. There will be an outdoor "beer garden" area as well for those wanting to do some people watching and relax. Of course, sports will be a huge part, and the new venue will feature almost 100 HD Televisions, all playing the best programming from NBC Sports. There will even be a massive screen outside the building for those passing by on their way in or out of the theme parks.
There is currently an "NBC Sports Arena" in Philadelphia which shows huge sporting events on a massive television, and includes a huge selection of beer, and food. Judging by the look and scale of the "Arena" the NBC Sports Grill & Brew will be a scaled down version of that, with more of a focus on food and craft beer.
Universal Orlando is known for bringing one of a kind experiences to it's park and CityWalk area, and it has done so many times with the huge CityWalk revamp that began in 2013. An exact date of opening isn't known, but we'd guess it will be sometime in November.
Stay tuned for more details as we hear them, and be sure to get social with us on Facebook, and follow along with us on Twitter @BehindThrills for the latest updates!
For more information about Universal Orlando, including tickets, visit the official website by clicking here!