It's no secret that there is something truly magical about The Wizarding World of Harry Potter. From fire breathing dragons to the interactive wand experience, there's something that is sure to make anyone say 'wow' within Diagon Alley. In fact, Universal has taken theming and raised the bar for theme park entertainment with not only Diagon Alley, but also Hogsmeade.
Prior to Diagon Alley, guests could visit Hogsmeade and experience what it was like to actually visit the village of Hogsmeade and a little bit more. Hogsmeade offer several attractions, several shops, a restaurant, and more. Just a year ago today, Universal Orlando unveiled Diagon Alley to the general public, adding even more magic to the Wizarding World. Diagon Alley added even more experiences to The Wizarding World of Harry Potter, further delving visitors into the series like never before.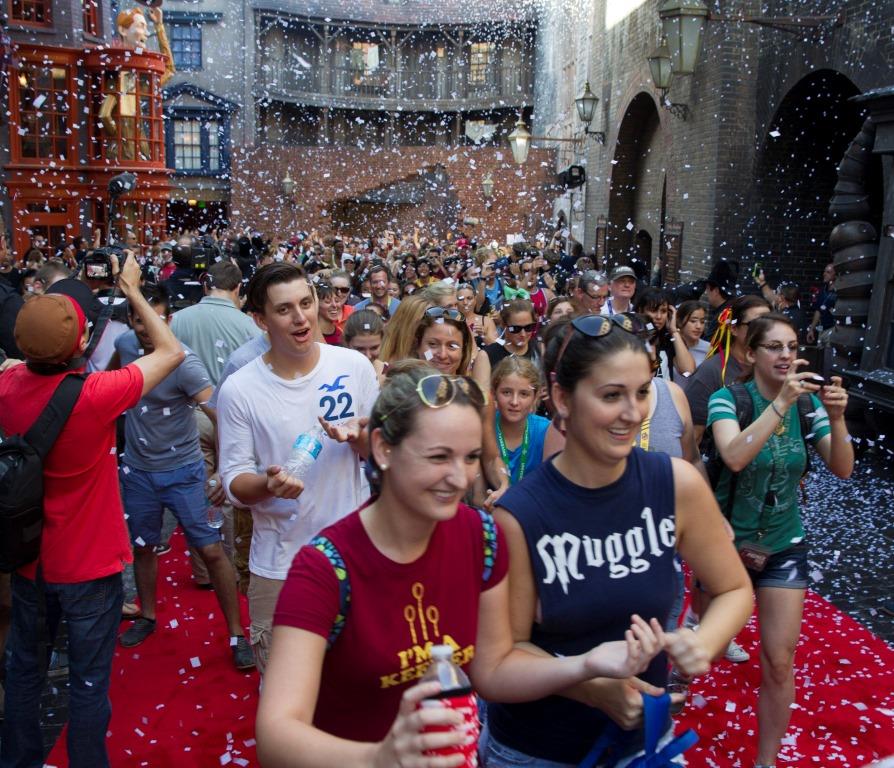 Diagon Alley offers plenty of shops for visitors to browse through that will make them feel like they're getting ready for their journey to Hogwarts, delicious foods and beverages, attractions, and plenty of interactive experiences.
Today celebrates the one year anniversary of Diagon Alley's official grand opening to the public.
Video: Grand Opening Ceremony of Diagon Alley

Video: Full Walk Through of Diagon Alley

Shopping
Browsing the shops within The Wizarding World of Harry Potter is probably one of any Harry Potter fan's favorite things to do. Diagon Alley includes Weasley's Wizarding Wheezes, Borgin & Burkes, Magical Menagerie, Madam Malkin's Robes for all Occasions, Wiseacres Wizarding Equipment, and Quality Quidditch Supplies. While all of the shops offer something different from one another, many of them offer items that were mentioned somewhere throughout the Harry Potter series.
Ollivanders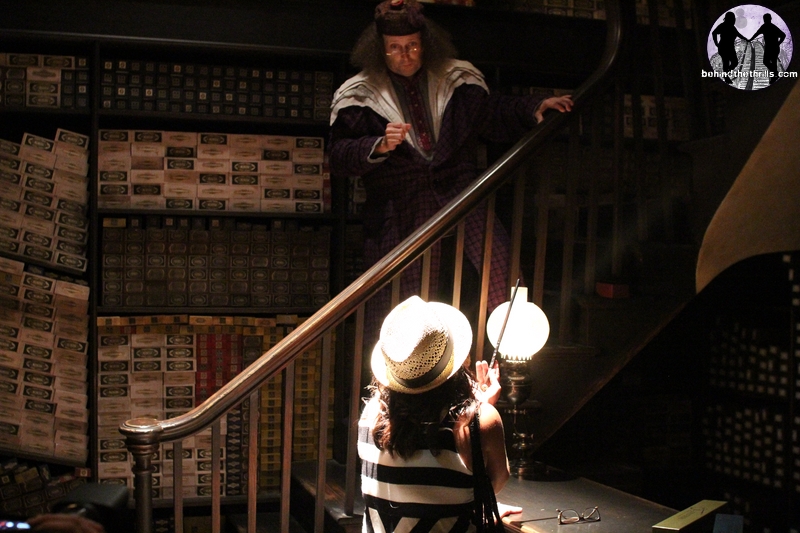 During your visit to Universal Orlando, you can visit either Hogshead or Diagon Alley and experience Ollivanders Wand Shop. While you'll pretty much get the same show at either park, the Ollivanders at Diagon Alley does have a few different show rooms which makes for a faster moving line. You'll also spend a little bit more time in the air conditioning at Diagon Alley as part of the waiting area is indoors where the entire line for Ollivanders is completely outside. Regardless of which park you see it at, you'll have the same spine-tingling experience.
The Hogwarts Express
The Hogwarts Express not only tells a story, but it allows guests to travel from one park to another (with park to park admission of course) without having to go back to CityWalk to visit the other park. Guests entering from the London side (Universal Studios) of the attraction will make their way through the brick wall at Kings Cross Station where they will pass over to Platform 9 3/4. While there isn't as much to see on the Hogshead side, the station fits the area perfectly with a more country-feel to the station. The Hogwarts Express offers a different ride experience each way as well, offering double the fun for guests.
Video: The Hogwarts Express (London to Hogsmeade)

Video: The Hogwarts Express (Hogsmeade to London)

Video: Kings Cross Station Walkthrough

Interactive Wands
When the Wizarding World of Harry Potter first opened, Universal Orlando offered collectible character wands. They were cool to have and guests would carry them all over the parks. When Diagon Alley was unveiled to the public, they also unveiled a brand new experience that was built into Diagon Alley first and then added to Hogsmeade closer to the grand opening of Diagon Alley. Universal Orlando still offers wands, but now they offer Interactive Wands. While the Interactive Wands are a little more expensive, each wand comes with a map which points out locations where they can be used at both parks. Guests can then go to these locations and give their wands a go and perform different spells and watch the magic happen right before their eyes… literally.
Video: Interactive Wands in action

Harry Potter and the Escape from Gringotts
The center piece attraction for Diagon Alley is all based around Gringotts, the Wizard Bank. Fans of the Harry Potter series might recall a specific quote from the first novel, touting Gringotts as the safest place in the world except maybe Hogwarts. Harry Potter and the Escape from Gringotts places readers into the plot of the Deathly Hallows on their own separate story line. Riders have come to visit Gringotts to tour the vaults. In the mean time, Harry, Ron, and Hermione set off intruder alarms and riders end up caught in the mess. Harry, Ron, and Hermione help riders escape Gringotts as they also escape on the back of a dragon.
Video: Full Walkthrough of Gringotts queue

Speaking of Dragons, a Dragon sits atop the Gringotts bank in Diagon Alley and randomly spits fire above the streets of Diagon Alley.
Live Entertainment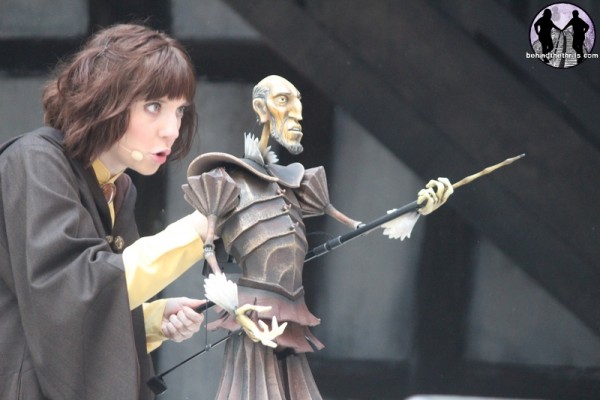 Diagon Alley features plenty of live entertainment and may feature more in the future. Currently, Diagon Alley features three live shows: Celestial Warbeck and The Banshees, The Tales of the Beetle Bard, and The Fountain of Fair Fortune.
Video: Fountain of Fair Fortune (Full Show)

Good Eats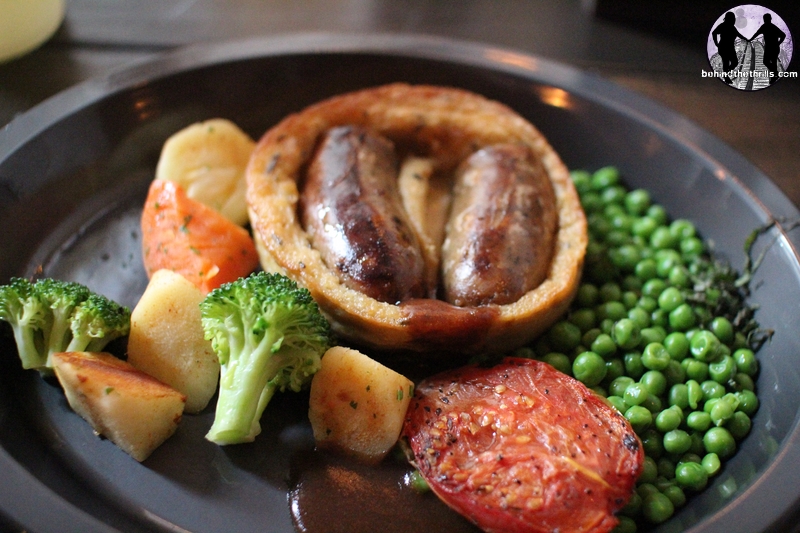 A staple of Diagon Alley is the food. Diagon Alley does offer food, but there is more than just food to sample the savory flavors of. There is also Florean Fortescue, which is an ice cream shop. While it does serve some traditional ice cream flavors, it also offer specialty flavors, such as Chocolate Chili or Earl Grey and Lavender. As strange as both of those flavors sound, they are quite delicious. In fact, having tried every flavor of their hard packed ice cream and many of their soft serve flavors, you really can't go wrong. It's all delicious. And yes.. they serve Butterbeer ice cream.
There's also a few other drinks, including two types of Beer (Wizards Brew and Dragon Scale Ale), Fishy Green Ale, Gilly Water, and more. There's plenty to try!
Butterbeer
Butterbeer comes in a wide variety of selections in Diagon Alley. Straying away from the original flavors, Regular Butterbeer and Frozen Butterbeer, Butterbeer is also served Hot and in ice cream form. The Hot Butterbeer was originally offered for a limited time only during The Harry Potter Celebration Weekend in 2014 to on-site hotel guests, but became a permanent addition to the Butterbeer line up in Winter of 2015, shortly after Diagon Alley opened.
Of course, The Wizarding World of Harry Potter did replace Jaws, one of the original attractions that opened with Universal Studios back in the 1990's. With the removal of Jaws, Universal Orlando did place a few hidden nods to the attraction and film within the Wizarding World, including the shrunken heads in Diagon Alley that sing a familiar tune from the film.
Video: Shrunken Heads sing Show Me The Way Home from Jaws

Diagon Alley is such a huge part of Universal Studios that guests can easily spend hours within the area exploring the shops, rides, and experiences Universal Orlando has to offer. Diagon Alley still offers magical experiences every single day and will for many more years to come.
Slideshow: Diagon Alley Preview

You too can look back over the last year (and then some) by visiting our Diagon Alley page.
For more information about Universal Orlando, visit the official website by clicking here.