The thing about walkers, there just seems to be a never ending supply of them. With three record breaking mazes at both Halloween Horror Nights Orlando and Hollywood, and continuous record breaking seasons, it should come as no surprise that the Walking Dead is returning to Halloween Horror Nights.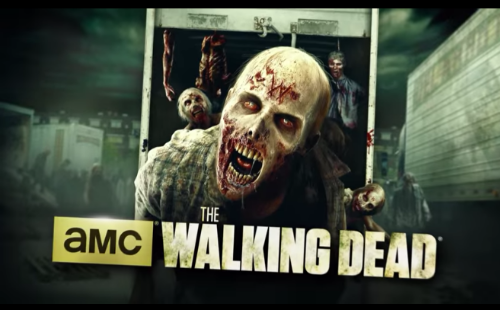 Season five of The Walking Dead was one of the biggest record breakers in TV history. The show left many fans chomping for season six. As the summer comes to a close, fans of the series can expect a companion series, Fear the Walking Dead, and now a huge announcement for Halloween Horror Nights.
The Walking Dead will return to Halloween Horror Nights at Universal Orlando Resort and Universal Studios Hollywood.
Universal Studios Hollywood will bring the longest maze in West Coast Halloween Horror Nights history, with The Walking Dead: Wolves Not Far.
The house will see tons of never before seen walkers, and will take guests on the journey to Terminus and more.
In Orlando, The Walking Dead: The Living and the Dead, guests will not only see Terminus, but encounter the wolves, and go into the flooded food bank. Think about that one… flooded food bank. We hope it's as cool as it sounds.
Despite anger from HHN fans last year, this is the fourth consecutive year that The Walking Dead will be a part of Halloween Horror Nights. The show has hordes of fans, and closed season five with 15.8 million viewers. The mazes, based on events from season four, had huge lines throughout the event. While HHN fans may not be excited, the sheer number of fans of the show greatly outnumber the fans of the event.
"I couldn't be more delighted to continue and expand 'The Walking Dead' universe with Universal Studios Hollywood and Universal Orlando than by having fans experience some of the most harrowing and suspenseful moments of our show," said Greg Nicotero, executive producer and special effects makeup supervisor for "The Walking Dead."  "'Halloween Horror Nights' is the gold standard to which all other Halloween-themed events try to emulate, so to bring authentic walkers to this event, alongside other horror greats, is the ultimate thrill."

 

"We love giving fans of 'The Walking Dead' as many ways as possible to experience the series, so we're thrilled to be collaborating once again with the teams at Universal Studios Hollywood and Universal Orlando on these mazes that really bring the intensity of the show to life," said Theresa Beyer, senior vice president of promotion, activation and partnerships for AMC. "We're excited to have fans come face to face with some of the most memorable and shocking scenes of season 5.

"Just like the fans who wait anxiously for the next episode or season return of 'The Walking Dead,' this phenom of a show has become a 'Halloween Horror Nights' tradition and our guests look forward to a new 'Walking Dead' maze each year," said John Murdy, Creative Director at Universal Studios Hollywood and Executive Producer of "Halloween Horror Nights."  "We're fortunate to have the expertise of the show's creative team working collaboratively with us to create an authentic living representation of the series, and for fans, our maze experience is the next best thing to living in the aftermath of a zombie apocalypse."

"We've been fortunate to recreate many horrific moments over the past few years, and as the series raises its own bar every season, so have we with our environments, said Michael Aiello, Director of Creative Development for Universal Orlando's Entertainment team.  "Faithfully representing season 5 has brought with it all-new elements, and we will literally place our guests in the lead role as they escape hordes of walkers."
This is third maze announcement for both events, with both events getting The Walking Dead and Insidious. Halloween Horror Nights Orlando will also be battling out with Freddy vs Jason, while Hollywood will take you into Guillermo Del Toro's Crimson Peak.
There will be tons of new announcements in the coming weeks, as both events are scheduled to launch September 18th.
Stay tuned for more from Halloween Horror Nights, and be sure to get social with us on Facebook and follow along with us on Twitter @BehindThrills for the latest updates!
For more information about Halloween Horror Nights at Universal, including tickets, visit the official website by clicking here!