San Diego is apparently where the Promisedland is, or at least will be in the fall of 2017. Visioneering Studios has tapped Hollow Studios,  formerly Hollow Studios 4D, to bring the media for all new attractions for a $180 million dollar mixes use project. The new project is being called "Promisedland" and will be a religion based themed entertainment complex.

The new Promisedland project will strive to bring the sights, sounds and tastes of Israel to this huge new interactive experience. The experience will feature two huge new attractions, the media for which are being done by Hollow Studios. Both attractions will feature larger than life animations, and even a ride. This is a first for a religious theme park in the United States. The only other religion based theme park currently in operation, The Holy Land Experience, does not use attractions, but rather shows, walkthroughs, and cardboard cutouts of religious figures on motorcyles.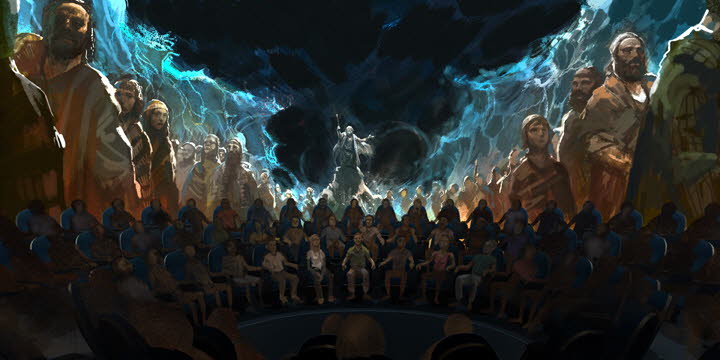 The two new attractions will be:

• "Wings Over Israel" – a film which will take viewers on an epic fly-over journey around and through the major sites of the Holy Land
• "HIStory Dome" – a fast paced, twelve minute journey from the Garden of Eden to New Jerusalem in an immersive dome environment.
"We are thrilled to be embarking on this project with Visioneering," stated Hollow Founder, Dave Love. "Kevin and Chadd bring great experience and incredible attention to detail to every project. They are producers who really raise the bar on media development for every project."

Visioneering's team is led by President John Parker, a former Disney Imagineer and Thea Award winner for his role in the development of the groundbreaking Soarin' Over California attraction. "It is humbling to tell a story through space which is considered sacred by millions."
The ride concepts sound a little more classy than the Holy Land Experience, and it looks as if it will be something for the entire family. The new experience is expected to open in Fall of 2017, in the San Diego area.
Stay tuned for more, and be sure to get social with us on Facebook and follow along with us on Twitter @BehindThrills for the latest updates!
For our latest theme park videos please be sure to subscribe to us on YouTube!